Fear Town's Elaborate Scenes Make Halloween Screams (5 stars)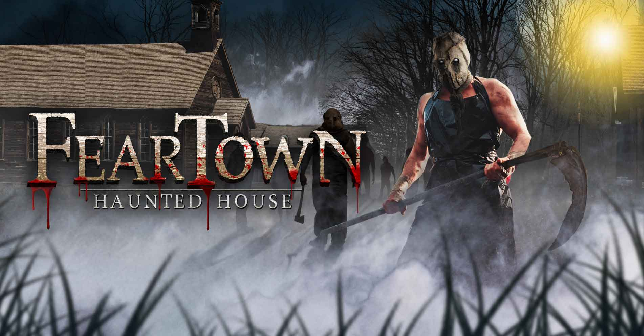 The strength of Fear Town is its theatrical scenes, played out in a woods walk under the beautiful night stars. Any New England forest is spooky at night, and with actors and set design even more so. The attraction is set at the Seekonk Speedway in Seekonk, Massachusetts, but you won't see a race track as part of the attraction. It's very close to Providence, Rhode Island, and a bit more than an hour's drive from Boston.
It's exceptionally creative, and I'd be curious to know if the themes change year to year as with the amazing Barrett's Haunted Mansion, which takes the edge this year. You'll find an upside-down room where the furniture is bolted to the "ceiling". Actors play out 60-second scenes, such as Madame Guillotine who taunts you, a captured prisoner treated like a tied-up rabbit, and a catfish lady who smells something fishy. There's an entire building and cast devoted to "crazy cat lady". The weird, elaborate theatrical scenes are enhanced by beautiful, unique costuming and makeup, such as a goblin who breaks down an entire wall to assault you.
The attraction is long, a 34-minute woods walk. Instead of making you wait in line, they give you an entry time so that you can hang out in the common area, similar to but not as extensive as the one at Fright Kingdom. Buy popcorn and candied apples, throw baseballs at plates to break them and win a prize, buy t-shirts, get your caricature drawn, or throw stuffed rabbits at bloody mousetraps in a wonderfully horrific carnival game called Fear Pong. There's a big chair to take photos in, and sometimes they have a fire spinner. Get a flower from Satan or a lap dance from Pig Man.
Fear Town is careful to space out the groups that walk through, so that you don't get bunched up, but with such a long woods walk, and with some long actor scenes, we did unfortunately get bunched at times. Fear Town has an innovation I've never seen before, gates that actors can close to stop groups and prevent bunching up.
The paths have been carefully cleared of stones, but unfortunately a few tripping hazards remain: in the oil drum area, the post just before the church, and tree roots in the possum man building. As a tall guy, I'm not a fan of being forced to stoop over for long stretches in three places.
Fear Town has an exceptional laser fog area where there's a spooky "lake" of light with actors hiding beneath, and a "wall" of light, but otherwise the lighting was basic, and the set design basic as well. Normally I would call out "filler" such as the cobweb sheeting and chain link fence towards the end as unattractive and lazy, but there's nothing lazy about the amateur-level fencing because it seemed lovingly constructed from scraps, rather than purchased in bulk. The found objects used in the set design are good enough, though basic.
Actors knew exactly where to hide, and were well trained, although a couple of areas lacked actors. With not quite enough to do in the common area to keep you for an entire hour, and with basic set design, Fear Town's astounding creativity remains only an almost-perfect 4.5-star attraction. However, I'll give it 5 stars anticipating their "Extreme Fears" event November 3-4, which I haven't seen yet, where you sign a waiver and actors are allowed to touch you and act out even bigger theatrical scenes. The lights stay on, unlike at Barrett's Mansion, and I am looking forward to seeing it and really hoping it's excellent.
So a full 5-stars for Fear Town!
See www.fear-town.com.