Fear Town Pioneers the Future of Halloween, New England's Most Theatrical Halloween Attraction (5 stars)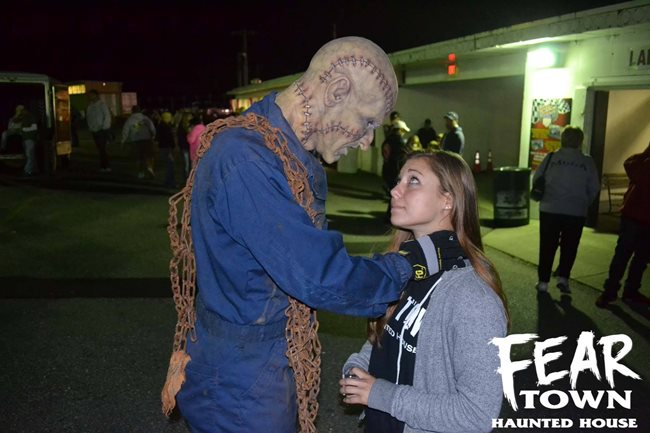 Based in the woods next to the Seekonk Speedway, in Southeastern Massachusetts, Fear Town has two main attractions, The Witch Hunt, and a haunted woods trail. There, they are pioneering the future of Halloween attractions.
There's plenty of free parking, and delightfully, there's a central midway where you can hang out with your friends before and after getting spooked. This turns the attraction, which is already a decent length, into a place you can stay for a few hours. Entry to the attractions is timed, so instead of waiting in line, you're welcome to wander around while waiting for your time slot. Owner Mike Quill told us, "You get 45 minutes of an attraction. Timed entry cuts the wait time down a lot, to have a better time than just standing in line all night."
Try the carnival games including axe throwing, throwing rings onto skeletons, throwing rocks to break plates, and using a hammer on a little seesaw, to flip a flying chip into a coffin. There's a gift shop selling t-shirts, soda, and snacks, and a an unbranded food truck selling fried macaroni and cheese, Italian sausage, fried Oreos, cheesy nachos, cheesy fries, chips, fried peanut butter and jelly, chips, chicken and fries, cheeseburger, hot dogs, corn dogs, fried dough, and soda, water, and hot chocolate. They have several portable toilets. I would love to have seen a bonfire, more food trucks, and a seating area for those eating.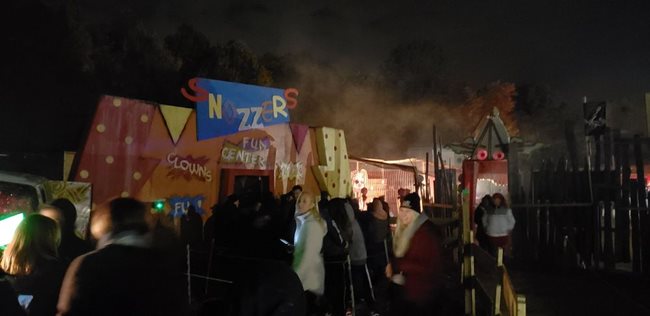 Best of all, they feature live performances. We saw a fire spinner, a performer who juggles or spins objects that have been set on fire! Actors in costume wander the midway and lines to scare and entertain you while you wait.
It's funny how different Halloween attractions have different specialties. Early in the season, I noted the unique and creative set designs at Nightmare on Wolcott Street (4.5 stars), which incorporate staging from real movie sets, and really set you in a scene, but called out their having few costumed actors. Fear Town is the opposite. They have poor set design in most places, but great actors, creative encounters, and audience participation and immersion that make it great anyway!
Start with the haunted trail! It's a 32-minute trail through the woods. It begins with a green screen where you can get your photo taken, and then winds through pathways lined with plastic sheeting and scrap wood. Thankfully, some areas of the path are simply empty woods, which I like. Woods at night are naturally scary, and arguably more immersive than junkyard barrels and abandoned cars, which could be taken away and, in my view, improve the attraction.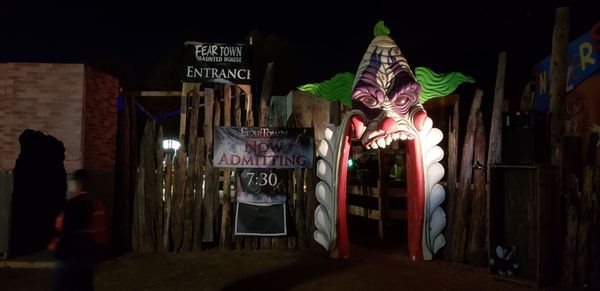 It's low budget, but that's offset by having a few creative, theatrical themes, such as a haunted gingerbread house, an oversized dollhouse, a clown town, and a haunted town library. The emphasis is on the actors, not the staging. Some actors banged drums and wood trying to startle us. Note: to startle us, make it loud, but not so loud that it's painful. Several actors had lines to say and acted out a little scene with us. Actors popped out of unexpected places, hidden behind hinged panels, for example in the haunted daycare and haunted town library. A haunted "arcade" contained faux videogame machines built from plywood. There's a house with a giant rabbit head entrance. There's a haunted movie set and movie theatre, where a monster wonders whether she's the director's "favorite".
There are almost no props and few mannequins along the trail, and no animatronics, but we did see a laser swamp. This is when you take a plane of laser light, add fog, and it creates a horizontal plane of opaque green light at waist height, as though you're walking through a swamp. It's my favorite Halloween illusion, and monsters of course hide underneath. We also saw a laser light wall (the same thing but vertical), a giant head in the junk yard that wasn't lit well enough to be clearly seen, an 8-foot-tall monster statue, and a giant, six-foot-tall boar's head. So I guess that's five special effects, but the junky quality of the remaining decorations makes it hard to give that credit. Halfway in, we finally passed some plywood that someone had bothered to paint like it was a stone wall. (To show some empathy, let me acknowledge that for fire safety, most outdoor Halloween attractions have no roof, so they're getting their staging beat on by the weather all year.)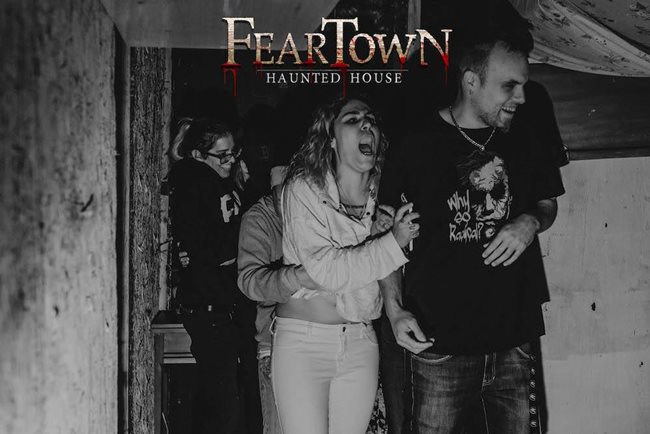 Walking through the woods path, you'll find several wooden shacks with actors and sometimes scenes. The dirt forest path has been carefully cleared of rocks, but stepping up into and down out of these buildings was often a tripping hazard that should have had ramps or simple lighting, for example coming out of the haunted daycare, into and out of the elixirs and balms hut, into and out of the haunted town library, and the rabbit house, where it ends with a curtain of plastic you push through, so you can't possibly see the 4-inch drop coming. We did get bunched up with groups ahead of us and behind us, halfway through the attraction, but an actor held us up briefly to separate groups.
There are a few places where you have to crouch over, but not severely, and then a 3-foot doorway that you have to crawl through. I get it; it's supposed to be scary because it's claustrophobic, but I think if you asked around, guests would you tell you that it's just annoying. And I got my hands and knees dirty.
However, the actors were very impressive. Some had basic costuming, but many had good costumes and masks. Even after Halloween, in early November, they had the energy to race around enthusiastically, with some taking short cuts to scare every group two or three times. Actors really make an attraction!
The haunted trail was interesting, but where Fear Town really shines is the all-new attraction, Witch Hunt. It is a 13-minute experience where you pass through maybe five rooms. Have you ever been to speed dating? You sit at Chair 1, but when the bell rings you move to the Chair 2 and someone comes in behind you to Chair 1. That's how they pipeline these rooms. In each room in a series, you spend 2-3 minutes with a couple of actors, acting out an entire scene! (Meanwhile, the group behind you is in the previous room.)
This year it's a witch hunt theme. It's so engaging! In one room, you're asked to move "corpses" around. Another has a guillotine scene where an actor gets chopped. Some of the rooms have benches so you can sit, which is a nice touch. In one, actors tell you to do a little scavenger hunt in a "graveyard". There's hardly any props or decoration, actors with only thrift store costuming, and just one special effect, but the immersive, interactive audience participation is like nothing else in New England. And kudos to the actors who were so fierce and passionate, even though we didn't give them much reaction to work with. (I was all in my head analyzing and mentally writing the review, sorry!)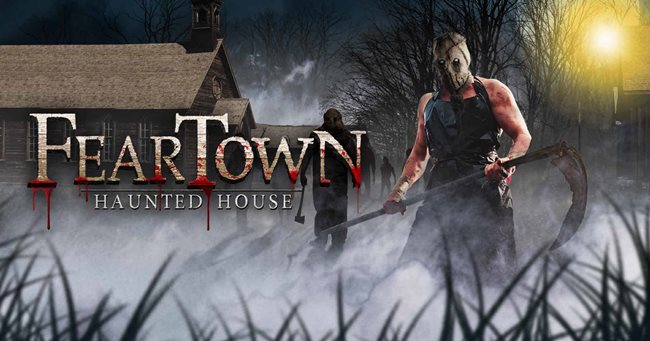 Such extremes! On one hand, having reviewed 70 Halloween attractions, I am sorry to say that Fear Town hits rock bottom in some sections of its set design. I'm used to scrap wood that looks amateur and is painted an uninteresting black, but Fear Town's unpainted plywood and maze of barrels are just plain ugly, the opposite of how beautiful a nighttime walk through the woods can be. On the other hand, because of its acting and interactive scenes, Fear Town is a must-see destination, the most forward-thinking Halloween attraction in New England. Enthusiastically, I can say that Fear Town is the creative future direction of haunted Halloween houses. (And I spoke with a staffer who said that they were indeed thinking about investing in better set design.)
Last year, the most theatrical Halloween attraction in New England was Evidence of Evil (5 stars). This year, Fear Town is the most theatrical attraction in New England.  I'll give Fear Town 5 stars for the third year in a row, and they're heading for my rare 5 stars plus at this rate.
Fear Town is still open this weekend, Friday and Saturday, November 8 and 9, for "extreme fear", where actors are allowed to touch you, but there's no hazing, gross stuff; it's all just fun.
For more, see Fear Town online.