Fear on the Farm at McCray's Farm is New England's Longest Spooky Hay Ride (5 stars)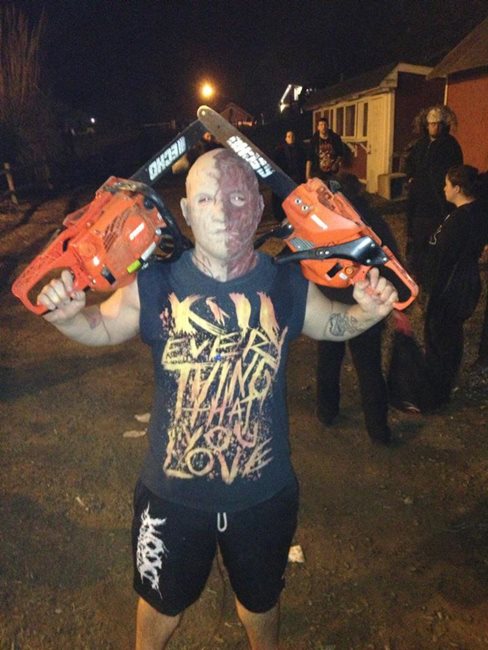 McCray's Farm, near Springfield, is a family farm that has daytime attractions including a farm store, a petting zoo, mini-golf, pumpkin rides, pumpkin picking, and a creamery with a full variety of ice cream, meals, and snacks. For 28 years they have partnered with Dan Augusto, the creator of Fear on the Farm. Fear on the Farm has a not-so-scary kids' haunted hayride until sunset, and then an adults' haunted hayride, and two haunted houses: DON, which is very scary, and Massacre Manor, which is even scarier. Each year they redecorate a different part of the hay ride, keeping it fresh. You can visit the table where they sell cider donuts, nachos, pretzels, hot chocolate, and hot or cold cider. Or go next door to the creamery.
Arriving early, we took the kiddie hay ride first. It's a 10-minute ride, a flatbed pulled by a tractor through fields at McCray's Farm to visit dioramas. You sit to either the left or ride side, facing inwards on real seats — there is no hay. Having the back support was welcome, although we could not easily look over the side and down to see the actors and dioramas. The night sky was beautiful, and you could see many stars.
As the kiddie ride began, with failing light from the setting sun, "Sherlock Gnomes" introduced herself. She was a gnome detective searching for Doctor Watson and asked for our help. Actors playing other gnomes came up onto the truck and give clues that eventually lead to the detective, as we got pulled along a bumpy path to different dioramas.
Microphones are needed, because shouting little kids make it impossible to hear the actors. More than half of the visitors didn't even try to pay attention to what was said. There was too much rhyming, and the actors didn't try to project. Still, we had a good time out in the field, see dioramas and with the big finish a hanged stuffed toy elephant who dangled at head level, so that we had to duck it. At the end, everyone got stickers of accomplishment.
After sunset, we then went on the scarier Haunted Hayride, which uses the same trails. It's a remarkably long 27-minute journey. The best place to sit is at the very the front, with your back facing the tractor. That way, you can see both left and right, and the tractor hitch at your back keeps you safe from being menaced by monsters. You pass through wild grassland, and it's relaxing to admire the night sky, though the bumpy trail detracted from bonding with the pastures.
You'll thrill to see their 10-foot tall animatronic Grim Reaper, and another animatronic that jumps out at you. Meanwhile monsters come along, such as a guy hitting the side of the hay ride with a hammer. Kudos to haunted clerics for their presentation. Because visitors sat 5 feet from the ground, actors needed to leap up to tag us on the back and try to startle us.
Monsters also climb aboard the hayride, including a cute kid in overalls and a monster mask, who growls at every single person. Then a chainsaw guy gave each visitor attention too, putting his (fake, obviously) chainsaw between slats in the wood and between neighbors sitting on the ride. Although most costumes were just street clothing and masks, and few or no one had theatrical lines to say, the actors had great energy, being far more crazed than at other hayrides. You'll see an abandoned school bus, a plywood village, a pig man, a bridge with fog, a broken-down RV, a corn field, a kissing booth with a ghoul, an animatronic guy in an electric chair, and the plywood false fronts to "buildings", and, strangely, a spooky gas station attendant. You'll get plenty of time between stages just to admire the night.
Unfortunately, at one point, a ghoul fires a mounted machine gun just a few feet from visitors, and at another point, a clown fires an air horn. These effects are too loud and will damage hearing at such a close distance. Also, just before the hanging teddy bear, there are branches on the left that scratch visitors and should be pruned.
The hay ride ends when you enter a barn, whose doors close to around you to the front and back. Then they start up a fog machine, nightclub lighting and laser lights, and screaming rock music. For three minutes a chainsaw guy and other clowns go wild racing back and forth scaring you. It's a sensational ending, and you haven't even gone into the two haunted houses yet! It may be the best haunted hay ride in New England, competing with Field of Screams in Rhode Island.
Next enter DON, which begins with an impressive facade of a mansion, made from plywood with spray-painted thin plastic decorations. Although they separate visitors, so that you don't get bunched up in the attraction, they let through groups of 10-15 people at a time. This is too many, as the ones in front get surprised and the ones in back see each scare coming. After DON, enter the Haunted Mansion, which is even scarier, if you dare. Together, the two haunted mansions total thirteen minutes, along dirt pathways, mostly open to the night sky above.
The set design is often unsophisticated, with filler such as unpainted plywood, or plywood with only blood streaks, camouflage netting, stacks of wooden forklift pallets, and white metal grating, which don't help visitors suspend disbelief and become immersed in the story. However, you'll see a mountain of animatronics, from homemade pieces cobbled together, to expensive storebought supermonsters. You'll see an electronic snake, a huge snake head, a guy on a zip line, great fog effects, a writhing hanged man, and interesting dioramas, such as mannequins stirring a cauldron.
You'll find my favorite special effect, a "laser lake" created by a plane of laser light in a fog-filled room, and an animatronic giant evil clown from IT, the only one in the Northeast, and one of only 8 made, I was told. You'll see a 15-foot animatronic skeleton creature, an animatronic monster doctor, and a giant animatronic dragon head that makes a noise. It was unnerving to find such amazing props amongst such basic set design, including hanging plastic hoses, sheets ripped to look like cobwebs, and junk props such as someone's leftover chair, washtub, wheelchair, and computers. A corridor of complete darkness I found uninteresting. But then you'll turn a corner and find a haunted bathroom which traps you, a snake emerging from a mannequin's chest, and a giant alien eating a pig!
Meanwhile, actors playing monsters jumped out from all over. A grim reaper followed us, a chainsaw guy chased me down, and we were horrified of Psycho Sally, and there were plenty of mannequins. My advice is, if set design is not a strength, make a woods walk attraction. Walking through the woods is naturally spooky at night, requires no decoration beyond the trees already there, and can be peppered with dioramas and effects, which at McCray's Farm are some of the best that I've seen in New England.
With New England's longest hayride, great energy from the actors, and one of the best collections of animatronics, Fear on the Farm at McCray's Farm despite its set design is impressive and great fun. They would benefit from having a central gathering area or carnival walkway with a campfire, seating, and vendors, though visitors can always gather next door at the lights-on creamery. I'll give Fear on the Farm at McCray's Farm a full 5 stars.
Thanks to staff for allowing us to shoot video! This is just a small, small slice of the spooks and scares you'll find.
See fearonthefarm.com.