Explore the Cathedrals of the Earth with Borikua Tours' Cave Land Tour (5 stars PLUS)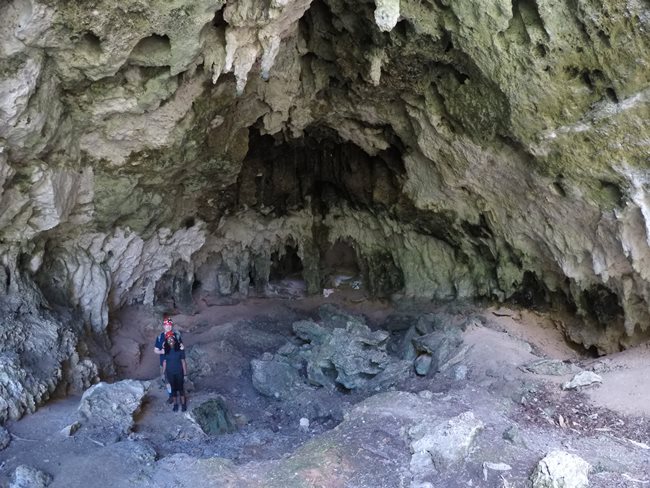 When you're on an adventure vacation, you want to have a new experience, check off an item on your bucket list, and learn something. You want a challenge with great photos that you can brag about to friends back home, but is secretly not too hard to do. Meeting Robert Moreno was the highlight of our trip to Puerto Rico.
Robert is the owner of Borikua Tours, which will pick you up from San Juan, where most tourists will be based, and take you on an eco-tour. You can travel to the "Bio Bay" and swim among bioluminescent algae, go hiking in the rainforest, or take the trip we selected, to the Las Cabachuelas de Morovis caves.
Las Cabachuelas are a connected series of 60 caves that are more private and remote than the typical tourist routes of the Indian Cave, Window Cave, and Camuy Cave. Robert plays caretaker for the three caves that we visited, clearing out the access paths through the rainforest and removing any trash, and he's the only person giving tours there, while Puerto Rico is recovering from its recent hurricane.
Visiting any cave is thrilling, but Borikua takes you to the next level. It's a treat to travel to a remote home, where to judge by the live chickens and trash in the yard you'll find nothing of interest, and then discover the magic of caves right in their back yard. The caves are huge and majestic.
Wear clothing you can get dirty, and wear either boots or sneakers with a grip. It's fine to wear shorts, but full-length pants will protect you from the brush you walk through, if they don't restrict your movement. Getting to the caves is a medium-level hike, not an easy walk, and if you want to get the most from the experience, you'll walk up a wall using a rope and slither through a hole. But Robert has taken people from 4 years old to 79 years old through the caves. "If you think you can't do it," he told us, "I'm going to help you all the way. It's a fun place to go, and it's nature. You have to get in touch with nature."
You will get a lot more nature than you expect in a dark, moist cave! Puerto Rico is an island of karst, a kind of limestone, and you'll see drips of water forming the stalagmites and stalactites while you watch. The caves are beautiful beyond the power of words and photos to capture. Just for them to exist is a miracle, a cathedral of the Earth. The family that's owned this land for generations used to shelter in these caves in the past, actually living there, to weather hurricanes.
Robert is an expert in the science and creatures that you'll encounter, making the tour educational in a way that was deep, rather than learned by rote, as some tours can feel. We could ask any question and he had the answer. You'll need some courage to encounter the cave's inhabitants, which are surprisingly enormous. But, with my rugged hiking boots and Robert next to me, I felt impervious to them. We saw fruit bats in their natural habitat, hanging from the roof of the caves. We approached river crabs and giant toads. We got close to spiders 10 times bigger than any we'd seen before. They included the golden weave orb spider and the tailless whip scorpion spider — as if just being a spider wasn't scary enough, it had to be both a scorpion and a spider. You'll see snakes, and even — my God! — an entire wall of huge cockroaches. We also saw droppings from cats who hang out in the caves.
Don't be hesitant to come. The animals aren't dangerous. Instead it's a wonderfully interesting world where you'll learn about recent and ancient history. They've even found fossils in the cave, including the cranium of a giant sloth and bones of prehistoric manatees. If I had one wish, it was that I took more time just to stop and admire the caves. I spent too much time watching my feet, and we did not have a natural "let's stop for 15 minutes" part of the tour as we did at the Window Cave. You'll also find petroglyphs, ancient carvings from native peoples. I like to imagine that they were teenagers fooling around, not great artists.
Robert was encouraging when we needed a moment to face a cave creature, and made it okay for us not to be macho in the medium-level physical challenges, which we could have skipped, but were glad we didn't. We even saw a baby bat that had fallen to the ground, and we could approach. We hope it survives. The tour was exactly the right length, with our returning to the van before the hiking might have been too tiring for fun. We took a ton of photos.
As if that weren't enough, the tour includes a visit to an authentic Puerto Rican restaurant a humble, local place with corrugated metal rooftops that is always packed with customers and serves "life changing chicken". We can attest to that! It was a religious experience to eat chicken with exotic starch vegetables, rice & beans, and soda, while live roosters and chickens walked about. This has got to be one of the most interesting and exotic places in all of America, expertly and warmly led by Robert Moreno.
Events INSIDER takes no advertisements. We do it for the joy of connecting great experiences with people who want to feel inspired by them. So take my word for it. Borikua Tours was the height of our Puerto Rico trip, a perfect experience that blew our minds and made memories for a lifetime. It's the only activity from my week in Puerto Rico that gets my rare 5 stars PLUS, making it a must-see.
Do yourself a favor and take one or more of the Borikua Tours in Puerto Rico. Robert also plans a nighttime eco-tour of the Camuy Cave when it reopens.
See more at borikuatourspr.com.