Evidence of Evil Has the Genius to Play with the Halloween Haunt Format (4 stars)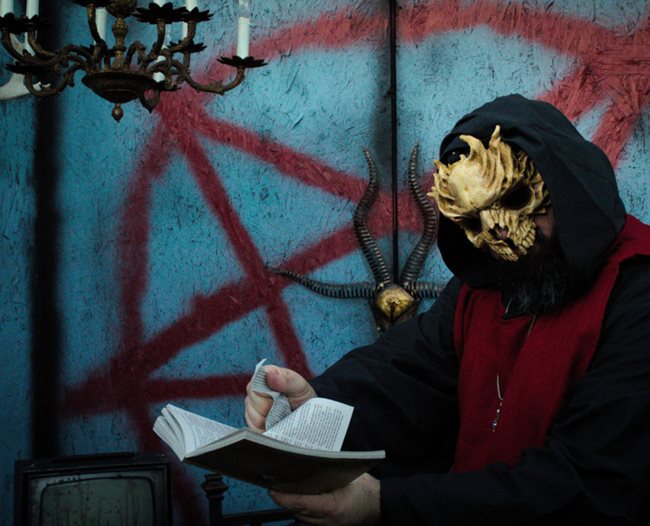 Evidence of Evil is at the forefront of a new type of Halloween attraction, where you don't just stroll through spooky rooms. Actors engage you in immersive, interactive scenes. It's not just a more frightening and fun way to experience a Halloween haunt, it's also good use of space. If you have a quarter mile route, guests can walk that in only six minutes. (And especially indoors, it's a real challenge to build a space that long.) But if actors stop you on your route, engaging with you, toying with you, and even commanding you to take on challenges and participate, you can keep guests much longer in the same space. Last year, we wrote that Evidence of Evil is the Best Theatrical Halloween Attraction in New England (4.5 stars). As with last year, they need better signage as you enter the parking lot, and then enter the building.
This year is an all-new theme, a military theme with no real background story. They ask you to wear a plastic gas mask, which has covered-up eyes, so that they can lead you blind out to the parking lot. The masks are far more comfortable than last year's hoods, and we were glad to put them on and take them off on our own. Then you enter a 180-foot corridor filled with fog. That is a very long route, perhaps the longest straightaway corridor I've ever seen in a Halloween attraction.
We did interact with the actors, for example, being asked to throw electrical switches on the wall — one of which causes an unknown creature to scream. In general, this year featured fewer and less involved scenes than last year. The attraction is larger, but compared to last year seemed less filled with theatrically creative set design, and a bit of filler such as camouflage netting and plywood. I suspect that this year their focus was on growing the size of their attraction,  adding many more corridors, rather than content. They give out free ice water. There are no animatronics. It takes 11 minutes to go through.
Evidence of Evil is the brainchild of two geniuses who previously worked at the Haunted Graveyard at Lake Compounce, which is close by enough that you could visit both on the same night. Their innovations, for example, include giving you a timed entry so that you don't need to wait as long in line. There's a place where those who wish to can crawl through a tiny corridor of wood (watch your head, and could use a gym mat placed over the asphalt). And it's great that their attraction takes place inside and next to the Crystal Bees arcade, with a whole evening of activities to do.
This is only the second year at Evidence of Evil, so keep in mind that they are still experimenting and pioneering a new type of Halloween attraction. Although this year had a lesser set design and actor interactivity, Evidence of Evil from 2018 remains the most theatrical Halloween attraction I've ever seen. I feel confident that, as they gain experience and funding this year and in years to come, we can expect great things and eventually 5 stars PLUS. This year, 4 stars.
See the Evidence of Evil website.