Evermore Park is the Best Roleplaying Theme Park in America (5 stars PLUS)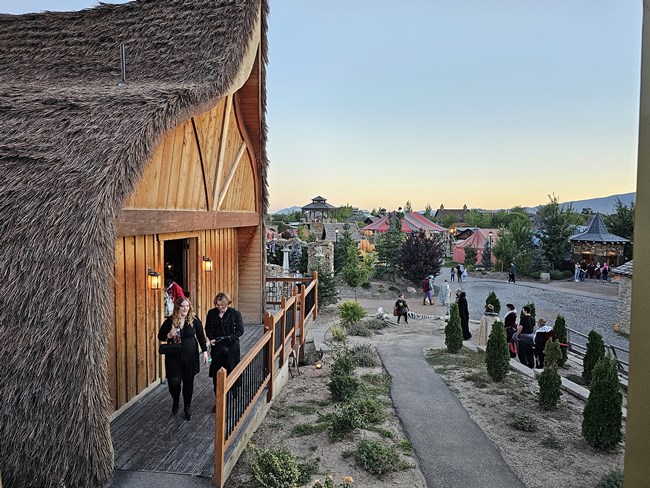 Interactive theatre is a form of roleplaying and a cutting edge new trend in the arts. Last week we visited Evermore and found that it's the best theme park for this form of art in the country.
In interactive theater, performers engage with you personally. For example, a comedian may speak with individual people in the audience, or you're at a Halloween attraction and the monsters single you out, or you go to Disney World and meet Mickey Mouse. Perhaps you've heard of Sleep No More, a spooky adaptation of Macbeth in New York City.
Managing Editor Matt Martino and I have more than 20 years' experience in interactive theatre, having written or played in dozens of LARPs (Live Action Roleplaying Games), built video games, worked at several Halloween attractions and Renaissance Faires, and reviewed more than 100 interactive attractions over 17 years at Events INSIDER Magazine.  So we speak from experience when we say that Evermore Park is a must-see venue in Utah that combines the best parts of Renaissance Faires, theme parks, Halloween attractions, and interactive theatre.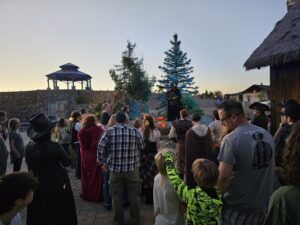 Based near Salt Lake City, Utah, Evermore Park is a year-round venue that changes its theme to suit the seasons. They just completed their Oktoberfest celebrations, and we happened to see "LORE", their Halloween show. For winter they will soon have a Christmas theme.
Evermore isn't the kind of theme park that has roller coasters, though they do have a train ride, Evermore Express, around the perimeter of the park with astounding views of Utah's mountains. Everywhere in the Salt Lake City area you'll find long views and beautiful mountains keeping you company: strong, silent, dependable friends.  
Evermore more like a Renaissance Faire theme park, with extensive grounds to explore. Most Renaissance Faires have only tents and temporary buildings, though sometimes you'll find a "movie set" level of set design that are painted facades with nothing inside. Evermore goes far beyond that, with high quality, purpose built settings and finished buildings of the type that you'd find at Disney World. What makes them unique is that both inside and out they are incredibly detailed and heavily themed.  
For example, you'll find a large dinner hall, Vander's Keep, with dark wooden beams, a high arched ceiling, and walls with decorative weapons. It can be re-themed for any old-timey celebration, from the year 500 to 1900, and rented for private functions. Vander's Keep is also the starting point for a murder mystery dinner theatre experience called Ripper's Cove. (See our review of Ripper's Cove.)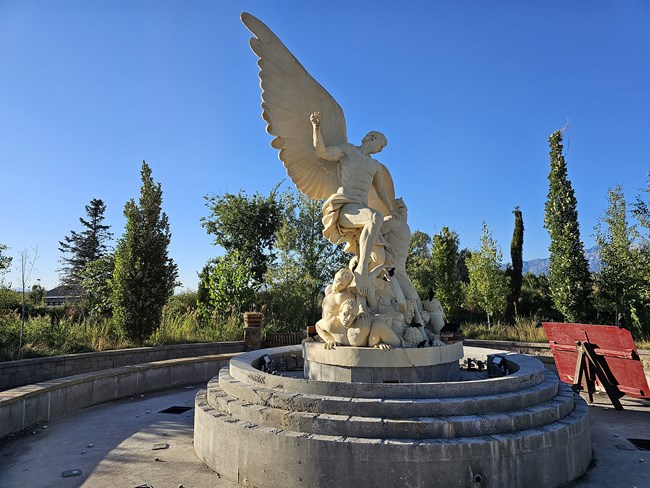 For the Halloween season, paths are lined with lit pumpkins. You would never see actual paved or stone pathways like these at a Renaissance Faire. The buildings have that old time European look, either built from stone and brick, or with "post and beam" timber frames with rough cut dark wood beams. The space is well lit enough for safety and socializing, but dark enough to be spooky and not obscure the night sky above and mountains beyond.
Pigmyweeds Inn is a timber beam fantasy tavern with odd plates and serving bowls. For those who like shopping, there's a row of vendors offering everything you would expect at a Ren Faire: costuming, leather armor, wooden swords, and gaming supplies such as dice.
Loudon's Rest is a real old time stone church brought over from France, which overlooks a fountain and graveyard. The fountain features a giant, grotesque sculpture of the winged archangel Michael defeating Satan, and the cemetery has real headstones that were left over from a European stone carver. A statue of Saint Apollonia, also a real sculpture from Europe, eerily holds pliers to yank out teeth.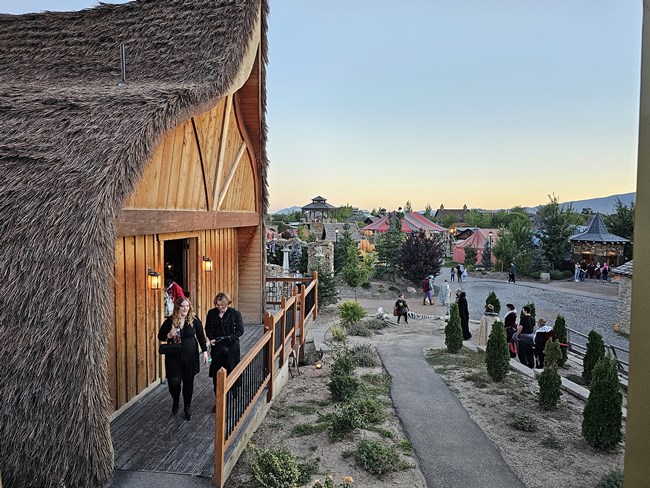 You'll see real gardens, including a bridge that crosses a pond. Old timey "gas lamps" dot the path. There's a "glass house" with a brick and mortar base, a greenhouse roof, and stained glass windows. Guests can pay for a "Combo Pass" that includes meals, or pay on-site at counter shops and a self-serve, sit down restaurant. They sell food that's a step up from carnival food: pizza, salads, and hamburgers. There's even a the Copper Confection, which sells desserts including ice cream. You'll find at least another 8 buildings all following the old time architecture, many of which were also brought from Europe. The wood on the buildings is real wood, and the stones of the chapel are real stones. Most haunts just paint plywood, while even well funded theme parks simply create a theatrical treatment over plaster and concrete. But Evermore uses the real material adding to the feel you are in a real fantasy setting.
You'll also find old time carnival games! They offer knife throwing, a hay bale maze, and an archery range to test your dexterity. There is also a combat arena that teaches patrons the art of mass combat. You are given foam shields and swords and asked to engage in a battle with your friends and fellow visitors. It was a fun and safe way to experience a mock war.  
Also like a Renaissance Faire, you'll find performances through the park. They have a circus stage, a battle arena, dueling pits, and a main stage with comedy and song. The singing pirates needed harmonies or instrumental accompaniment, and some lacked microphones, but I loved the knights' comedy show. Inspired by the movie "Weekend at Bernie's", some of the performers pretended to die on stage, and the others ran around trying to perform a show with their corpses as props! Other performers simply told spooky ghost stories to a gathered crowd.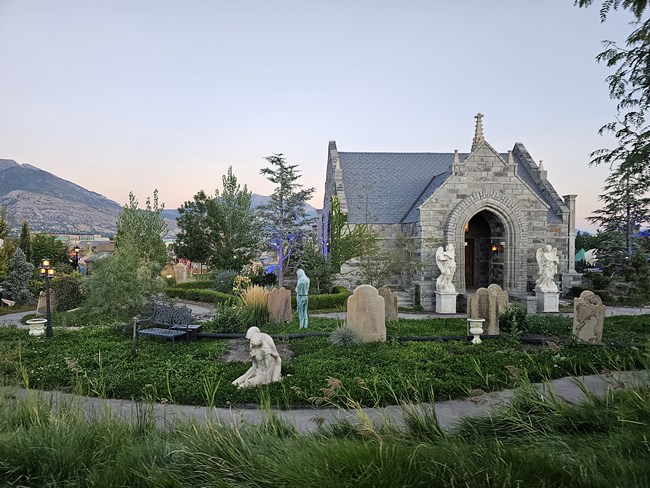 Not on display the night that we visited, we are told that Evermore also sometimes has magic shows, fire spinners, full concerts, and more.
We also saw an amazing animal show in a building called the Notting Glass House. Animal shows that you would see at a science museum or zoo are usually rather slow. You see one or two animals. At Evermore we saw 10 animals in a 30 minute show filled with comedy, varieties of parrots, ferrets, lizards, owls, snakes, and a falcon and a llama!
I haven't even described the best part. The most unique feature of Evermore is the interactive roleplaying with hosts dressed in costume. Hosts are grouped into "guilds" such as the Dusk Raiders, who are monster hunters, and the Elven Rangers, Mystics, Black Heart Guild, and Fairies. When you meet these characters, you can have fun just trading banter, or listening to their stories, but you can also get sent on quests. This a feature you can experience year round, but for the fall Evermore features a version of this gameplay, a dark and spooky experience called LORE!
For example, a Dusk Raider asked me to find a specific human and investigate whether he might secretly be a werewolf. I'm not sure how I would do that, perhaps by simply talking with the human and seeing how he reacted when I mentioned "werewolf" or pretended to see a full moon. Then I would report back and the Dusk Raiders might send me on another quest, for example to learn where the werewolf would be in an hour, or to find a silver bullet, netting, or an ally willing to take the monster down.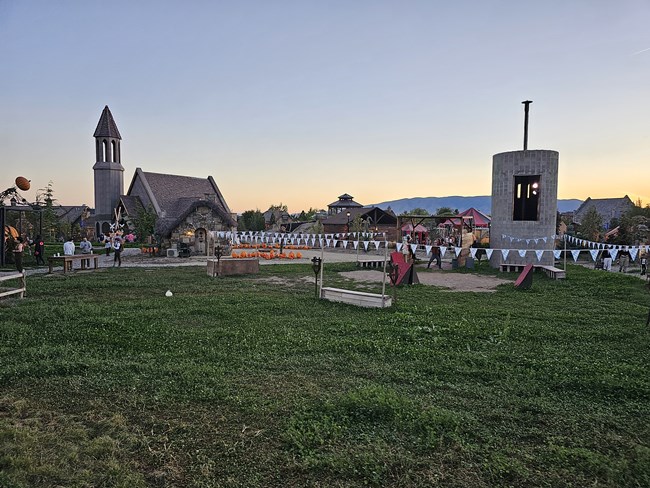 This level of interaction goes far beyond what you'll find at Renaissance Faires, haunted houses, and stage shows, and it is far more accessible than LARPs, which can get quite complicated. You don't need to take on a character name or memorize your background story. You don't have a laundry list of intertwined goals. You simply take one quest, do it, and then get assigned another. It's easy for kids and adults who never rolled a 20-sided die and have no knowledge of roleplaying. It's a nice excuse to walk around at night and pretend to be a fantasy hero.
If you complete enough quests, you can apply to join the guild, as part of a big group ceremony. And then as part of a guild, you can return to Evermore in the future and join the continuing adventures of that guild. You can even join all of the guilds, I believe. This is pure speculation, but I imagine that the guilds may try to rob each other, or compete to solve a mystery, or to make alliances, each of which would be broken into individual quests that change from month to month.
Some of the guilds may have dark secrets that only members can learn about by returning to Evermore on repeated trips.   Guests can also bring strange props from outside — perhaps bought on eBay — and then trade them with the host characters for items that have magical properties in the roleplaying world. It's one of the most immersive places that we've ever seen. Even the merchants have little games for you to play.
Compared to other Halloween attractions, Evermore has the best set design that we've ever seen, and you would not find such a wide variety of performers, games, and interaction at other Halloween attractions, even at a Disney World or Six Flags. However, the actual Halloween trail (the "haunt") at LORE was similar to what you might find at other Halloween destinations in their interior decoration, props, acting, lighting, and special effects.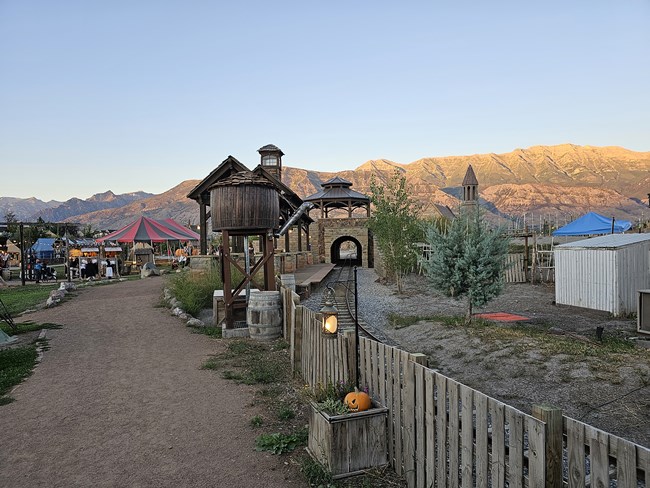 Specifically, although a few actors played out a scene with us, others seemed content to startle us with just a yell. One performer is going to lose her voice screaming. We loved the "laser lake", a fog-filled room with horizontal lasers that make it look like a spooky lake, but was the only big special effect that we noticed. The haunt had just one big animatronic device that we saw. Beware the spooky room of antiques, including haunted dolls, and the hall of vampires, some of which are mannequins, but some of which may jump out!
We were delighted to find that haunt had timed tickets, so that you needn't wait in long lines. The park overall has up to 40 actors on a given evening. 
These nitpicks don't at all dent our enthusiasm for Evermore and LORE, and we must note that parts of the park are still under construction following covid, and the park is a year-round destination where Halloween is not the primary focus.
So think of Evermore as the best sets that we've ever seen outside of Disney World and the best interactivity anywhere. Then add vendors, games, stage shows, the train, and Ripper's Cove and the old timey function hall! It's a lot!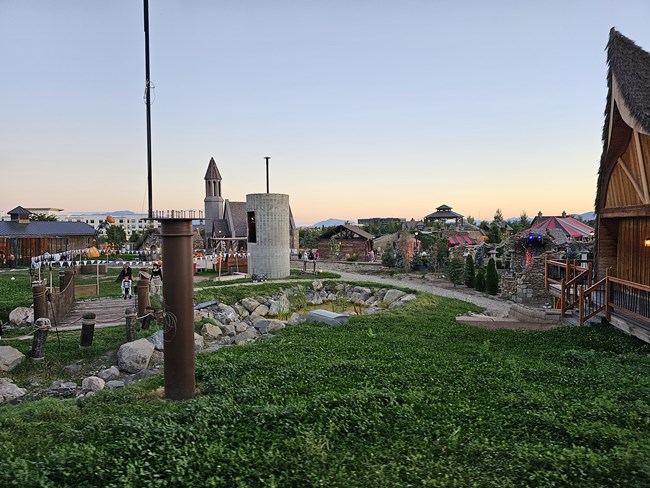 David Woodruff, Evermore Director of Events, very kindly agreed to an interview.
Events INSIDER: It's so much more than just a Halloween attraction. How do you describe it to someone who's considering it as a travel destination.
David Woodruff: Evermore is a very unique place. We call it an experiential park. We love it when guests are able to come in and be part of the story themselves. You have the town of Evermore and there's an ongoing story that's been taking place for the last 5 years, with portals opening in different seasons, and different creatures, different organizations, pirate crews, whatever, coming from the portal and making their home temporarily in the town.
We invite our guests to come and be a part of that, to join and ally themselves with the different factions, to solve mysteries, to do quests, and much like a D&D game, to actually be part of that story, to earn, to grow, and to add to their character as part of the overall story.
Events INSIDER: Most haunted attractions have just painted plywood and a few teenagers jumping out, but it seems like you're aiming for the next level here, especially with your set design.
David Woodruff: We've got an incredible team of artists, theatre folk and actors, who have made this all possible. The wonderful thing is, it's not just a blank slate, some warehouse that you're going into. It's real buildings, it's brick and mortar, it's rock and marble.
Everywhere you go, you'll see aspects of theming that have been brought over from Europe. We've got some things that are hundreds of years old, gravestones that have been brought over from defunct cemeteries, churches 700 years old that were brought from France. These were places that were being destroyed as sites expanded and things age, and we wanted them to have a home here. All of those places have been filled with antiques.
Events INSIDER: I understand that you are open year-round.
David Woodruff: Certainly. So you can come any time of year and look through the beautiful gardens. There are always going to different characters, guilds, knights, pirates, and fairies going around. And then we also a very active vendor society here, with all the different trade goods that you might find at a Renaissance Faire.
We like people to get involved, so we have a lot of shows and hands-on activities such as our animal shows, wildlife programs. We have archery and knife throwing. If you're really into LARPing, we have our battle arena where you can slam it out with your buddies using your boffer arrows and axes and swords, and just wail on each other. So there's something for everybody.
Events INSIDER: Tell us more about your shows.
Especially during our Halloween season, we'll have silk aerialists, which is something amazing if you've never had a chance to see it, we'll have a lot of fire dancers, we'll have folks coming and doing swordfighting demonstrations, and we do have concerts throughout the season as well. Sometimes we'll include them with the season, and sometimes they will be a separate ticketed event. We're actually working on construction of our full concert venue at the moment.
Events INSIDER: What else should we touch on?
David Woodruff: If you've ever had any hesitation about coming out west, and seeing us and the Rocky Mountains, don't. We would love to have you, would love to host you and have you be our guest, and show you some of that Southern Hospitality that moved out west.
Events INSIDER: Thank you.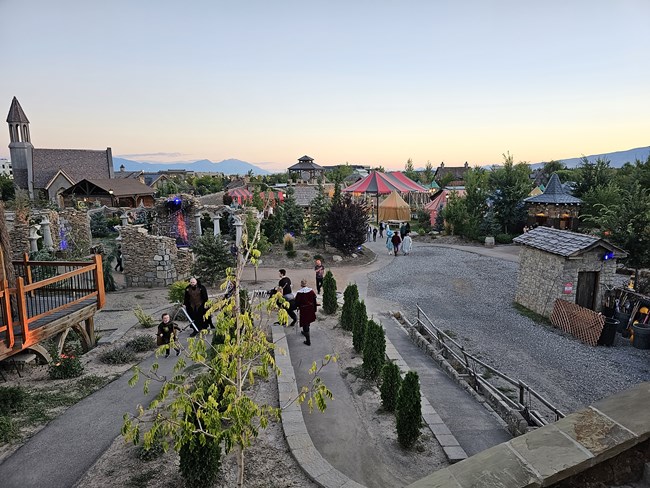 LORE at Evermore goes even beyond Headless Horseman in New York, which we called the best haunted attraction in the US Northeast. Even with two long nights at Evermore we could not explore everything and do everything. We also toured Salt Lake City and saw This is the Place, a historic re-enactment pioneer village (5 stars), took the Great Salt Lake Boat Tour (4 stars), went up a summer ski lift to the top of Brighton Mountain (5 stars), and more. There is plenty to do whether you visit the region's church attractions or not.
We are glad to give our rare 5 stars PLUS rating, and to declare that Evermore Park is America's best roleplaying theme park! If you have a creative soul it (and Salt Lake City) are absolutely a travel destination worth a trip.
For more, see evermore.com.
See the below video review by Managing Editor Matt Martino, who contributed to this article.