Enthusiastic Actors Make the Haunted Isle at the Shore Line Trolley So Delightful (4 stars)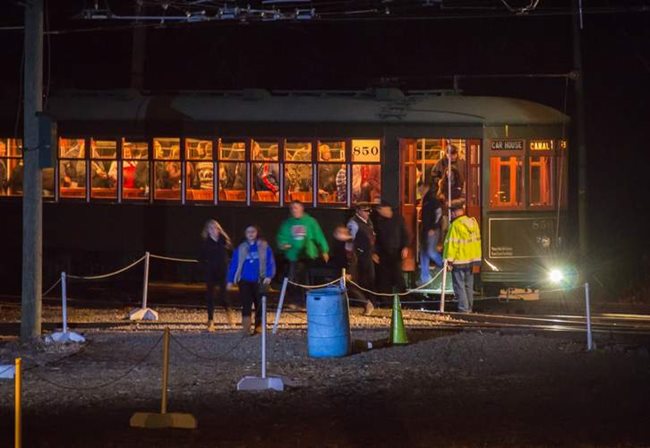 During the day, the Shore Line Trolley Museum features the last 1.5 miles of the Branford Electric Railway, the oldest continuously operated suburban trolley line in the United States, having run since 1900. There's a small lobby where you can check out old train signage and signal lights, a trolley ride you can take, and a couple of big barns with antique restored trolleys inside, including two cars that survived the September 11 attacks. They have numerous special events such as the Easter Bunny Trolley and Santa's Trolley Winter Wonderland, and in October, it's the Haunted Isle.
The Haunted Isle is a woods walk that's genuinely separate from the trolleys and museum, though you do take a trolley to get there. It's a quarter-mile long train ride. You sit in an old-time trolley car, red-painted, of wood and metal, with varnished, natural wood seats, and bare bulb interior lighting. Around you are cute, old-timey 1950s advertisements in pastel colors, for example advertising Gummed Labels (labels with a sticky backing), Chisesi's Pride meat products, refreshing, wholesome, satisfying Chuckles — a candy — and "year-round air conditioning".
The trolley is interesting, but brief and not meant to be spooky. There are no decorations in the trolley car or outdoors alongside the ride, and they keep the lights on. Pro tip: Sit at the back because that's where you'll exit. Another pro trip: come for the first ride of the day, because at night there's no view out the window with the glare of the bulbs. We were especially lucky to come early in the Halloween season on a warm night, so that the windows were fully open, and thus had no glare blocking the view. We passed a lovely river and forest and arrived at their rail yard in just a couple of minutes.
The rail yard sports two food trucks, the Monster Mutt Hutt, selling candy, bracelets, candy, and popcorn, and a non-profit, animal rescue booth selling t-shirts. Pro tip: wear sneakers instead of flats, because you'll be walking and standing in line on uncomfortable gravel. Then you enter the actual attraction, The Haunted Isle, which has a castle front wall, staffed by guards with toy machine guns.
While we waited in line to enter, actors in costume came out to entertain us with humor and scares, including "The Crawler", a monster with stilts on its arms, so that it could crawl on all fours. It can really move quickly! Watch out!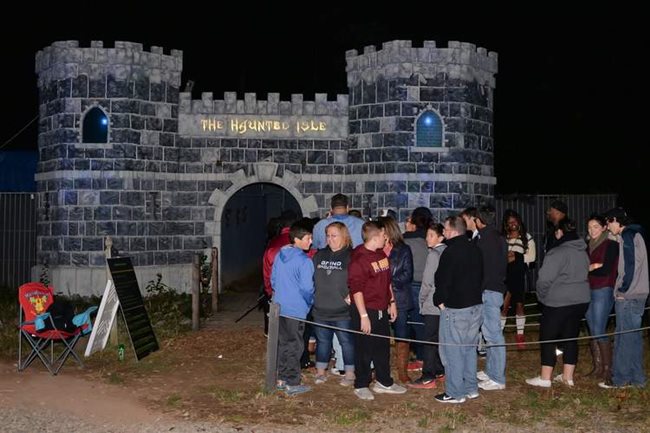 Entering through the "castle", you take an 18-minute woods walk through a forest, a trail that is dotted with haunted shacks where creatures await.
The striking enthusiasm of the actors drove the attraction. There were plenty of them, and they took exceptional glee in scaring us. The actors were younger than at other attractions, most being teenagers full of enthusiasm, and notably, a lot of the costumed actors were small children! They were both the spookiest and the cutest. A few had nice makeup, but many were essentially in street clothing. Although the Haunted Isle has no special effects or animatronics, and staging is mainly just plywood, painted with words or blood, there were a few top moments. My favorite was a witch tied to a post about to be burned. She's set on a stage with red lighting like fire, and surrounded by cute kids in the pilgrim costuming like Old Salem, with linen caps called coifs over their hair.
You'll see a decontamination chamber, a tunnel with plastic sheeting and ultraviolet lighting, and a spooky hospital, which again is just painted, plain plywood with blood splatter, and some props. Note to the guy with the real, two-sided pickaxe: be more careful when you turn.

One shack had a haunted train theme. Another was "Dingle Berry Farm". Kudos to the lady who was so spooky even though she was just sitting in a rocking chair. Further kudos to the actor in a pit reaching up — tricky! — and the one who crawled up onto the set so he could reach down. I also loved the brick cooking stove, where a pot contained the abominable monster's claw. There's a slide that I assume someone occasionally slides down to startle you.
Delightfully, many of the actors had lines to say. One little girl played a game of Marco Polo, a call and response game, with evil intent. Others asked, "Want to play a game?" or pretended to be prisoners, calling out, "Save me!" Then you trolley ride back to the start where you parked your car.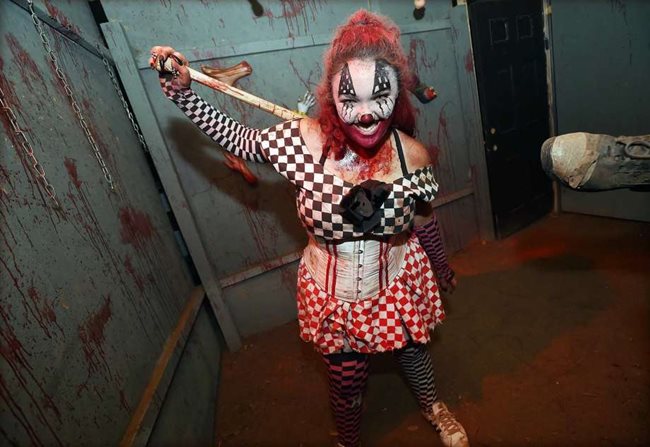 I previously reviewed Rails to the Darkside at the Connecticut Trolley Museum (4 stars), another Halloween trolley attraction, and the two are quite different. At Rails to the Darkside, the trolley takes you to a riot of monsters with torches. Wonderfully, you then go inside their museum, where you walk in-between rows of trolleys inhabited by monsters. But the decoration was mainly filler such as hanging cloth strips, there were fewer actors with lines to say, and the experience was shorter.
At the Haunted Isle, it's just shacks in the woods, with basic costuming and set design, but is longer and has a lot of heart. There are just so many actors with excited energy, including cute kid monsters! The event is presumably a fundraiser for the Shore Line Trolley Museum, which is well-loved by its community and mainly staffed by volunteers. I'm glad to give the Haunted Isle at the Shore Line Trolley 4 stars.