Edaville Railroad is New England's Largest Holiday Lights Destination (5 stars)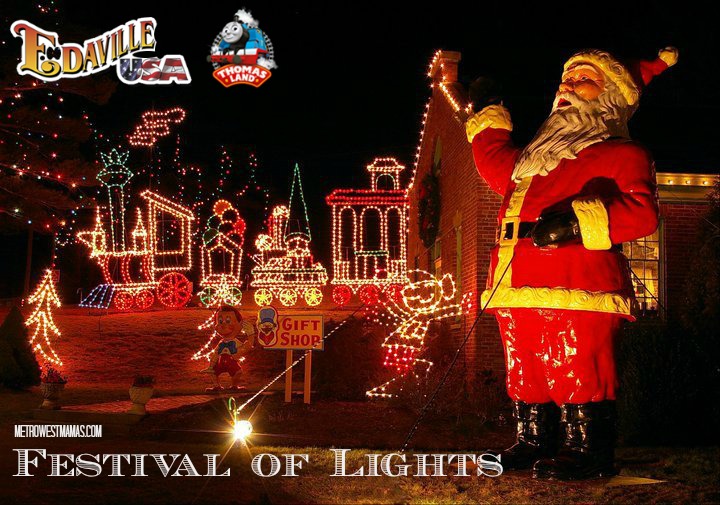 If you've been to Edaville before, it's time to go back. The park is now twice the size it was in 2014 when they began a dramatic expansion.
You'll find some 20 carnival rides, including some that adults can go on, such as a merry-go-round, 5-minute elevated train ride, and indoor bumper cars. But most of the rides are for kids only, including a simulated balloon ride, Dumbo ride, biplanes, a lady bug roller coaster, space rocket landing module, and more.
The main attraction is a 20-minute train ride that runs through the forest and along a lake. Instead of lights merely strung along buildings, as at Six Flags, the 18 million lights at Edaville are almost entirely placed into free standing displays. Many of them have 2 to 6 sets of bulbs that turn on in a series, creating an "animation" effect. You'll see fish, pirates, a pirate ship, a Toyland castle, reindeer, dragon, snails and turtles, doves, and kids playing baseball, golf, basketball, and opening presents. There's also an eagle killing a fish, death by animated holiday light display. It's not hugely modern — there are no nightclub laser effects spelling out names — but the old-timey effect adds to, not detracts from, the feeling of holiday tradition.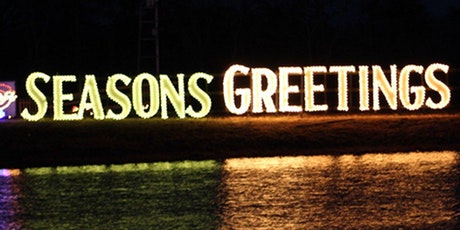 The attraction has secular music and the whole thing is more "Santa" than "Jesus". There is one creche and a Three Wise Men, done tastefully, and I didn't like the Noah's Ark with giraffes, because that's creationism, but it was stuck in with a lot of other animals, so I'll let it go. So the destination is safe if you're not a Christian. I remember they used to have a second creche and a Menorah for Hanukkah, between the main building and the Ferris wheel, but those are gone now or I'm misremembering it.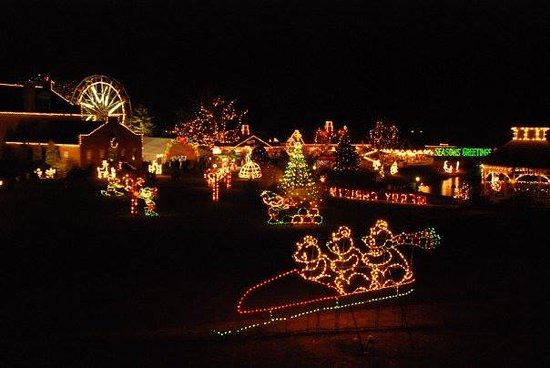 Speaking of buildings, Edaville is now a tiny town of dozens of buildings where you can avoid the cold, getting a meal, or buying hot cocoa or fried dough, getting a photo with Santa, or playing in a videogame arcade. There's also an area for nursing mothers. At rows of shops you can buy just about everything.
You can explore Thomas Land with its many train-themed kids rides, and see lots of cute familes. According to staff, my friend and I weren't the only childless people to ever visit, but it did seem like it. (I still feel that Edaville's holiday celebration is a great destination for teens and young adults, but with everyone there having kids along, you may feel out of place.) Edaville is still a favorite of mine, but in being built up it seems to have lost a bit of its natural beauty (and really hard to see the forest and lake at night). If you have kids, Edaville is a must see. If you don't, perhaps Six Flags is a better choice.
Still, without kids we spent a solid 1.5 hours there, despite the cold, and had a great time. I'm glad to again give Edaville's Christmas Festival of Lights a hearty 5 stars.
See www.edaville.com.