ECHO, Leahy Center for Lake Champlain Packs a Punch for its Size (4 stars)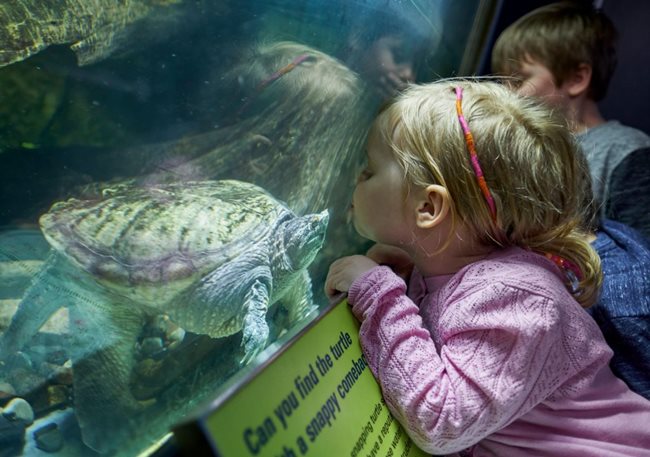 09/13/19 by
Johnny Monsarrat
ECHO, Leahy Center for Lake Champlain
Burlington, VT
ECHO is a science museum and aquarium in Burlington, Vermont. It's right along the bike path on the shore of Lake Champlain, close to parks and other tourist destinations.
Although small, ECHO is packed with 100 exhibits on two levels, most of them featuring the local ecology of the Lake Champlain area. So you'll find fish tanks, a microscope for zooplankton and phytoplankton. You'll see what a bicycle looks like crusted with zebra mussels after 3 months, 12 months, and 24 months. There's a display on scuba diving, and a volunteer worked a table where you could handle real moose antlers and fur. The only things we saw that wasn't specially built and related to the local area were an exhibit of how gears connect, a magnetism experiment, and a column of upwardly blowing air where you can make a flier out of a paper cup and see how well it catches the wind and goes up. The rest championed the local Vermont region and their lakeshore's ecology.
Every inch of the museum is interactive in some way. You can drive a mock car, mock boat, or try cross-country skiing. There's a sand pit for kids to dig and "excavate" dinosaur bones, and an exhibit on stargazing. 'Into the Lake' is an exhibit featuring, shipwrecks, invasive species, and aquarium tanks. They even have a reproduction shipwreck that is basically a playground for kids can climb through. They feature live animation presentations and other events, and of course you can rent the entire museum for private functions.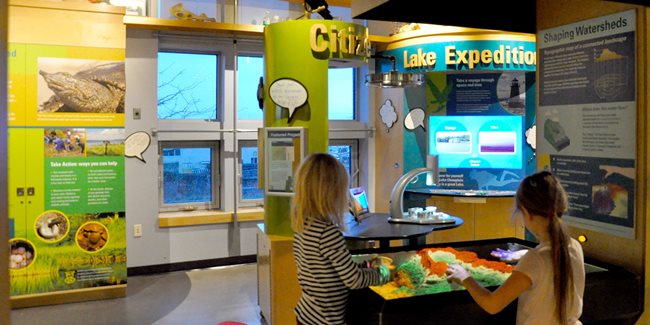 In 'Lake Expedition' you'll learn about watersheds and taking action on environmental interests. You can use a microscope to look at lake detritus, or shape hills in a sandbox and watch a topographical map get projected onto it. In addition, you'll see tons of animals from the local ecology including tree frogs, turtles, fish, snakes, and a newt. A volunteer will help you design and stamp your own button to pin on your backpack or shirt. You'll see an Ice Age beluga whale skeleton, and ancient tools of native peoples including a fluted point, a knife, and hammer stones.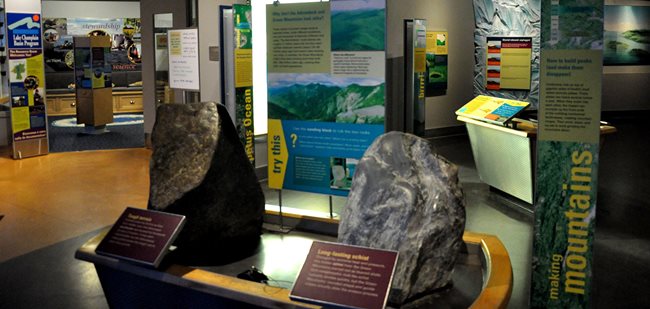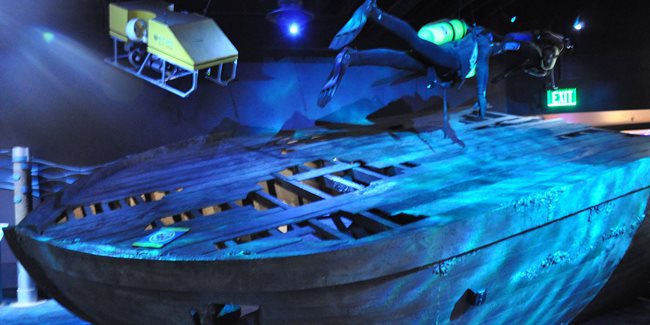 ECHO has plenty of benches and stools for weary visitors, and amenities including a place for mothers to nurse their babies, and a 3D theatre with 3D glasses. To one side, there's a research room with books, guides, maps, charts of fish. Of course they have a gift shop, selling science experiments, water bottles, stuffed animal toys, personalized name magnets, mugs, and more, and there's a small cafe with just a small selection; we went elsewhere for lunch.
Because the meter on our parked car was running out, we rushed through and were able to see everything — though not try anything — in 17 minutes. If you bring a child, you could spend up to two hours, possibly more. Unlike other science museums, which appeal to both kids and adults, ECHO really is just for children. Being adults heavily educated with the sciences, we felt that we already knew much of the science on display. For example, their exhibit, Trivial Pursuit: a 50-State Adventure is really meant for kids learning about US States for the first time. Adults however will enjoy the outdoor deck with chairs, right on the water of Lake Champlain, for you to just sit and admire the view.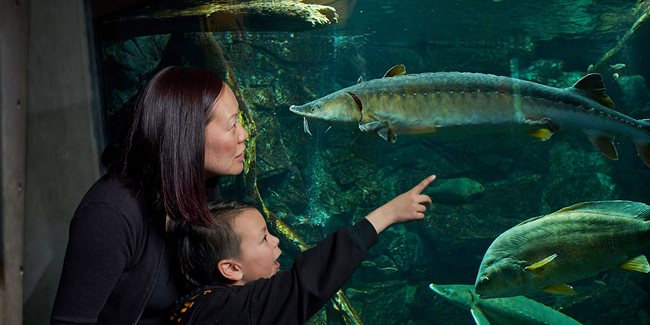 While other science museums have more size and depth, ECHO is chock full of interactive exhibits that are notable for their local pride and focus on regional ecology and geology. It packs quite a punch considering Burlington's size of 40,000 people! 4 stars.
See ECHO, Leahy Center for Lake Champlain online.