Dreamed of Racing Cars? F1 Boston Has a Treat for You! (5 stars PLUS)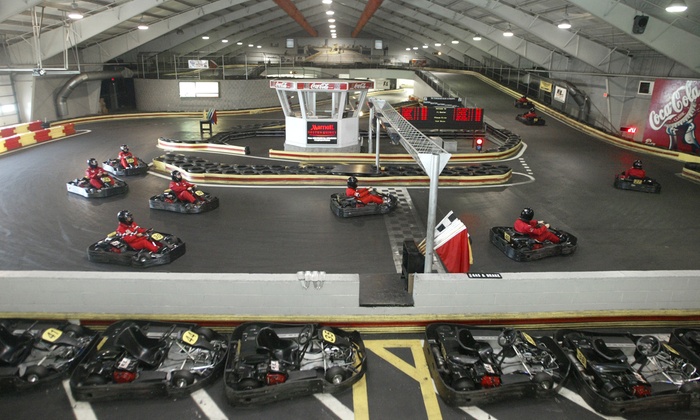 If you have ever dreamed of being a race car driver, then Boston has a treat for you. F1 Boston in Braintree is a step above amusement parks with go karts. You drive gas powered, small trackless cars around one of two small racetracks, with real referees and a scoreboard. It offers the chance to live out that fantasy in a fun and immersive environment. This place caters to hardcore NASCAR fans as well as the casual person who always wanted to give fast racing a try. It also gives you and your circle of friends the opportunity to finally settle the bet as to who is the best driver!
You must be over 18 and have a drivers license to participate. Once you have signed up you are taken to a room to learn the ins and outs of the race track. An instructor grooms you on the procedure and the outfits you will need to put on. Descriptions of the flags that will be waved during the race are given so that you know what is what. They have them for steady pacing, racing and stopping but also for penalties should you break a rule.
Next you head to the race track where a locker room exists for us to put on our gear. The suits are very similar to racing suits worn by real race drivers. You are also given a clean headsock, a helmet and a neck brace. It greatly adds to the experience that you are doing something only the pros get to do and that you will be safe even if something bad happens. If there is one complaint I have it's that my suit had a broken zipper so I looked slightly more disheveled then my companions. But with the full gear, you are ready to race.
The racing is done in gas powered go cart type racers which can reach 40 MPH. They have bumpers to minimize collisions if they do happen. Once my friends and I got seated, we hit the track, drove safe and steady until the green flags came out and then began to race. The track has several components like an uphill climb, a hairpin turn and a good amount of straightaway. The variety on such a small track keeps it from being too routine. You have to keep your mind about you as you race around corners and down hill on sharp turns.
Two of us got competitive while the other companions concentrated on mastering the course. One companion even spun out as he tried to take a turn too fast, but never fear. The track team got him on course very quickly and he was back in the race in seconds. You can try and beat your friends or just go to enjoy a new experience. You can even compete against yourself by trying to get better times on the track for each lap.
F1 Boston is not just a race track. It's also a destination for many other activities. Bachelor parties, birthdays and corporate events all find their way there in many of their function rooms. The meeting space is extensive, including a huge speaker hall, perhaps a dozen conference rooms, and a private dining area. It's great for team building, of course. They also have a huge, classy billiards room for those who want to have a round of pool. If you want to shop for the racing fan, they have a modest gift shop for you to pick some race related merchandise.
F1 Boston also has a resident restaurant and bar, the Ascari Bar & Grille. The menu, though not large, had surprising variety. My group had no trouble finding healthy options as well as accommodations for special diets. It's mostly bar food like burgers and steak tips but high quality. The bar has about 10 beers on tap plus a large bottle selection. Top shelf liquor is served meaning just about any cocktail can be made. But only plan to drink after you race. You get a bracelet when you walk in and drinking and driving is not permitted. Take a drink and the bracelet is gone. No exceptions. Safety is that important.
Overall, F1 Boston is a great experience. The prices for the races and the food are a bit on the high end but not too far out of an average budget. Its proximity to Boston is great since Braintree is only a short distance outside the city. This is a great group activity or one to mark a special occasion such as a bachelor party. Be sure to call ahead for reservations whenever possible because it gets busy on weekends. Grab your helmet and hit the gas at F1 Boston. This is a 5 stars plus experience, making it a Bostonian must do. You won't find anything like F1 Boston's adrenaline rush at amusement parks, and nothing like its convenience at super serious full-size car speedways.
Read our interview with F1 Boston for more, and see www.f1boston.com.
Johnny Monsarrat contributed to this interview.