Disney World is Great Even Without Kids. Here's How to Do It Right (5 stars PLUS)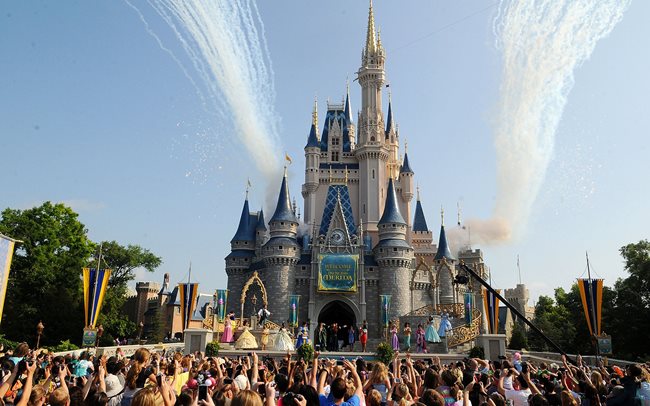 Disney World is far from just for kids. I have none and had a great time there in Orlando last month. They say that everyone who goes to Las Vegas thinks they can beat the system. A few expert tips will help you get on top of your trip.
Disney World is actually four attractions and some resorts. The most important advice that I read while researching our trip was not to pack your schedule too much. You'll need a day to explore each one, or half a day just for a taste and if you want to feel a bit frantic. We had press passes for just one day, so we made some tough choices.
Epcot Center has food, thrills, and cultural performances from around the world. You actually pretend to be in one of 11 countries as you explore the sections. If you don't have the cash or time to travel, or just don't like to travel, Epcot is the next best thing to actually going abroad. Having traveled a bit, we decided we wouldn't have time for it, although we did pick favorites: Test Track Ride, Frozen Forever (after the movie, but has a very long line), Spaceship Earth (dated, but educational), and Soarin' (an 'air' ride, worth even a long line).
We also decided we wouldn't make time for Disney Hollywood Studios. I'm sure it has great movie magic, but I've been on the Warner Bros. and Paramount studio tours, and those are real working studios, not a replica, and mmm you do have Universal Studios nearby in Orlando. The best rides at Disney Hollywood Studios, so I read in my research, are the Great Movie Ride, Star Tours, Toy Story (but with long lines), the Rockin' Rollercoaster.
That left us planning half day trips to Animal Kingdom and the Magic Kingdom, which are in separate locations you must drive between.
The second-best advice I discovered in my vacation research was to get the Disney App for your mobile phone and to use the Fast Pass system. Instead of waiting in a long line, you simply choose the time you want to ride a specific ride, and then you show up within a 60-minute window of time and can get into a much shorter Fast Pass line. Sign up for Fast Pass slots as far in advance as you can, and you can get up to three. It's good to schedule them all for a morning, because once you've used up your three, you can hop onto the Disney App and get yet another Fast Pass, if any slots are left on the day of your visit. I would do it right away having just used your last Fast Pass and just got into line. If you really can't get the app, you can find a Fast Pass kiosk or go to guest relations.
Both theme parks have great signage and it's hard to get lost, especially as friendly park staff will guide you. You'll find plenty of staff, and they have great energy. They also have professional photographers hovering to offer photos, but thank goodness they don't interrupt you with a sales pitch as they do at Six Flags. I suspect they are told not even to make eye contact with guests, because they didn't. That is really appreciated. I did not find our trip to Disney World to be burdened with commercialism and sales. (This always makes me a feel a bit dirty when visiting Six Flags.) It really is just a happy place.
You can bring in food with you, but don't bring a bag or purse. This will help you get through the entrance faster. Parking is paid and leave extra time, because just getting in from where you park to the attraction is an ordeal. We had no problem with lines to get food and were able to get healthy food, an unexpected delight that you usually can't get at a theme park. In Africa, we got strawberries, apples, bananas, nuts, and to save time, we ate while waiting in line. Speaking of lines, sometimes they are long, but Disney aces getting you in and out quickly. Every line that we got in was moving right along, and when there was a 10-minute hiccup in one attraction (I think some poor kid vomited), they gave us all a free extra Fast Pass as an apology. Thanks!
We arrived right at opening to the Animal Kingdom, which contains animals in a zoo-like setting, but they don't like to use the word 'zoo' and it's really much more than that — a real theme park. Everything that I'll describe seeing comes from research on the top attractions to see.
We hustled right to Dinosaur for our first Fast Pass. At Dinosaur, you sit in a car and go on tracks through a building, except you've never seen such a giant car-based ride before. The animatronic dinosaurs and caverns are so huge! You travel through time and capture a dinosaur. It's over quickly, but really thrilling. Everything at Disney is larger than life, a cut above.
Then we walked the Gorilla Falls Exploration Trail, which really is a zoo. Paths are made to look natural, but there's cement everywhere for ease of baby strollers. The "movie set" style fake rocks are a good illusion but not perfect. Here the trails are wide, so you can get around slow-moving people, or become one and just stop to take photos for as long as you like. There's no rush. We saw zebras, meerkats, a hippo, a beetle, and a bird almost flew into my face. Yes, we saw Gorillas including some babies. Our trek was good but not a reason to fly to Orlando level of good. I'm told that the Maharajah Jungle Trek is better.
Then we saw the Festival of the Lion King, which is a stage show. I recommend getting food near the Harambe Theatre, we got cheese and crackers, water, soda, and you can eat in line or during the show. We never saw a sign telling us not to bring in food or use our camera. This show was also larger than life. They had huge, really giant animatronics, whose movements seemed prerecorded, although one of them might have had live actors inside. The show was a remarkable combination of music, acrobatics, dance, fire spinning, and audience participation that brought tears to my eyes more than once. I was stunned by the efficiency of the show. Zero time is wasted in segues or build-up. They just go right into the good stuff. It's like the highlights of a 2-hour show packed into 30 minutes. They brought audience members onto the stage (and not only children) to make animal noises.
Finally, we got onto a Kilimanjaro Safari, where you ride for 20 minutes, in a large SUV through a big animal park, seeing animals of the African woodlands and savannah, including wildebeests, ducks, pelicans, mandrills, giraffes, rhinoceroses, zebras, and more. You would expect at Disney that the ride would be dumbed down for children. You know, they'd make a lot of lame jokes about the names of the animals. But actually, there was no such foolishness. Instead, it was a striaght up animal tour, and we learned a lot more about the animals than we did at SeaWorld. Our driver was Jess, who was excellent. She spoke about poaching and endangered animals, and we learned that the Disney Conservation Fund raised $65M last year to protect animals. Jess didn't speak constantly, giving us mental breathing space just to enjoy the view, and she never spoke too quickly, making her easy to understand.
The Animal Kingdom is an easy 5 stars. Some of it was Disneyfied, by which I mean man-made and not natural, but most of it was open and inviting. I don't think we saw any cages or glass panels dividing us from the animals, just trenches. Throngs of happy families and good energy from park staff make it a celebration.
We would gladly have stayed to see the other highly recommended Animal Kingdom attractions, which include Avatar: Flight of Passage, a 3D movie 'ride', Expedition Everest, a roller coaster, the Na'vi River Journey, a boat ride, and Rivers of Light, nighttime light show, but had to push on.
Another gem of wisdom I discovered when planning the trip is that leaving Disney and just taking a break is a good idea. Driving from the Animal Kingdom to the Magic Kingdom gave us a moment's peace to stop for lunch before jumping back into the bustle. The Magic Kingdom was slightly more for kids, but we did enjoy our time there as adults without children. Each attraction we saw at the Magic Kingdom was also drawn from my research on the top rides to see and do.
The line was no problem at the Hall of Presidents, and it was a bit disappointing, more of a movie and less animatronic than expected. Of the animatronics, it was basically just Abraham Lincoln and Donald Trump, although technically the other presidents were present to nod their heads.
Our pick was the Haunted Mansion ride, which had lots of animatronics with glow-in-the-dark paint, mirror tricks. It's only comically spooky, safe for kids, and if you went to Disney World as a child, as I did, you'll find it nostalgic, fun, and not quite as good as you remember, but great. It's full of campy stunts you just have to laugh at, such as ghost hitchhikers who "join you" as revealed by mirrors you look into. (Read up on the Pepper's Ghost illusion to learn how it's done.) 
Pirates of the Caribbean, a water ride, also has great animatronics and music. It was updated in 2017 so that the pirates are more comical and less murderous and rapey than when the ride opened in 1967. Still, you do see them water torture some poor guy. Thankfully, they did not add a ton of references to the recent successful movies, except for a brief and understated Jack Sparrow diorama at the end. To stay dry, avoid the first two rows.
And you must see the Disney Festival of Fantasy Parade. I've heard that you need to arrive early to get a good view, but we had no trouble just stumbling upon it. Even though it's for kids, it brought out the kid inside us to see Mickey, Minnie, that gal from Brave, and a giant animatronic dragon. Wow!
The Magic Kingdom also gets 5 plus stars, but after all of Disney's successful kids movies, of course it's tilted towards children and slightly less for adults on their own. I've read that Space Mountain and Big Thunder Mountain Railroad, both roller coasters, are the other big attractions there, and that the fireworks after sunset are not to be missed. It rained, and we missed it. But we benefited from short lines. If you can arrange to go on an off day of the week, when intermittent but not serious rain is threatening, that's your time to go.
To learn more, the best advice I found was a series of videos by DIS Unplugged on YouTube, a Disney World fan channel, which had entertaining and shrewd ideas about how to make the most of your trip. Do some homework and during your trip, you'll see more and get lost less, while feeling, "I'm nailing this vacation!" You can also catch up on the news on new rides, especially now that Disney owns the Marvel and Star Wars franchises. I'm told that Disney attractions have many fine restaurants but we had no time to visit any.
We did not see much of Universal Studios on this trip, but my guess is that Disney World is the destination of choice. We did go to one restaurant at Universal CityWalk, which was good, but just parking and getting into the shopping mall / entertainment zone was a burden. Whereas we visited Raglan Road Irish Pub, a restaurant at Disney Springs, and there was no trouble getting in. Disney Springs is a shopping mall with restaurants and entertainment venues, and had a high-tech parking structure that told you exactly which floor and which aisle to drive to, to find a free space. Raglan Road is an Irish pub and restaurant with Irish music and stepdancing that starts at 4:30pm. We assumed that they'd begin slow — you know, most restaurants or comedy clubs with performers save the best for late evening. But wow, right at 4:30pm, when we happened to be there, they put on an impressive show. The food was delicious and inexpensive. We had friends who recommended Raglan Road personally and they were right.
Disney World gets an easy 5 stars plus. It's a world class, larger than life, perfect experience. Although it's the reason to come to Orlando, don't ignore Florida's natural beauty and many other many local attractions, some of which you can read about in my other reviews.
Read all 11 of my Orlando reviews and suggestions, and see disneyworld.disney.go.com.