Davis Mega Farm Festival is the World's Best Corn Field Maze (5 stars PLUS)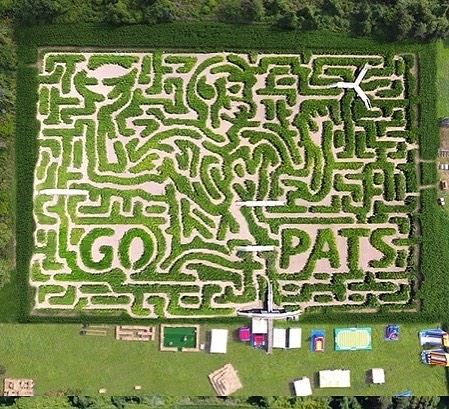 I have long been a fan of Davis Farmland and Davis Mega Farm Festival, a real family farm from the 1800s turned into an amusement park near Worcester. The Farmland is for adults with children only, with animals to pet, a water spray park, and a hayride. To me, the treat is the maze itself.
It's billed as the world's best and it certainly seems to be. You spend some 90 minutes walking through a corn field maze, having fun getting lost and eventually exiting in victory. The maze contains numerous places where you can exit quickly if you get frustrated or have a child to take care of. And there are games spread throughout the maze as well, where you can shoot a super slingshot, buy a snack, or ride a slide.
Bridges placed throughout the maze make its topology three-dimensional, so that you cannot simply head in one direction and expect to eventually fall out of the maze. But don't worry. Friendly staff placed around the maze will guide you the right way if you need a hint. You can optionally carry a code book where you write down the answers to the riddles and trivia games you find in the maze.
What used to be a staging area in front of the maze has now grown to an entire attraction by itself. Kids and small adults can wriggle into a plastic balloon for sumo wrestling and bounce. There's a zipline, a laser tag corn field, giant swings, an inflatable jump pad, hay bale obstacle course, and a live music stage late afternoons, with several food options. Pick your own apples and pumpkins.
The reason I spend so much time writing about events and exploring New England is that I love to encounter creativity and the people with clever ideas about how to have unusual fun. At Davis Mega Farm Festival, you'll find a decade of great ideas all in one location. The attraction just keeps getting better, making it one of my top 20 events of the year. You must see it.
The maze is fun for even small kids. This year there is no Halloween theme, but they have trick-or-treating in the maze, and the maze is open through evening Fridays and Saturdays for nighttime maze walking. It's an easy 5 stars plus.