CYBORG Hyper Drive at Six Flags New England Delivers a New Thrill (5 stars)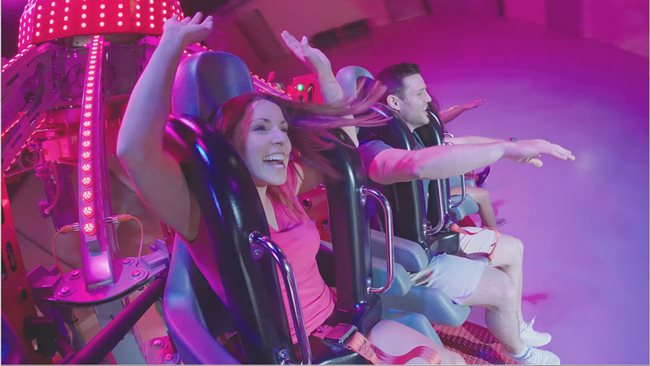 It is truly the age of superheroes!  Now, more than ever, superheroes have reached peak popularity in movies, in comics and now at amusement parks.  Six Flags New England has opened its newest thrill ride, CYBORG Hyper Drive this June.  For those following the blockbusters, Cyborg had a prominent role in the recent movie Justice League, where he fought alongside Superman, Batman, Wonder Woman, and the Flash.  Cyborg is part man and part machine, a half human, half robot hybrid put together by brilliant scientists.
And so is the ride Hyper Drive! It's an all-indoor attraction. As we entered its building, we walked right past a larger-than-life figure of Cyborg himself.  We then walked into a dark room where our cue line continued past various objects of wonder in the DC Universe.  Among them was the Mother Cube – an item that Cyborg battled villains over in his recent Hollywood movie.  Another was the Phantom Zone – the prison like dimension that banished super villains are imprisoned in.  All this helped get the atmosphere right as you walk into an entirely enclosed dome and strap yourself in for the ride.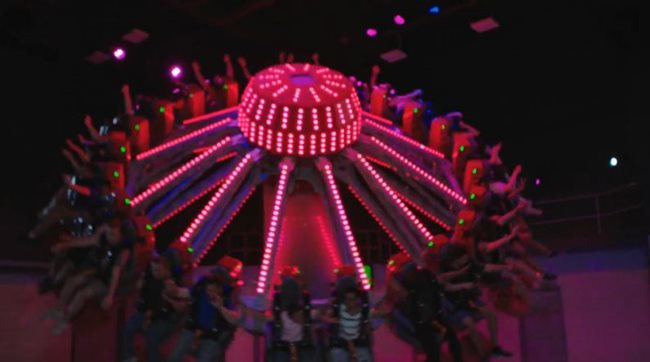 So what to expect with the new Cyborg ride?  The lights go down, the room begins to spin and you take off in multiple directions.  Not just back and forth, but up and down as the ride spins and tilts going faster and faster.  Just as you think it's slowing down, you begin to experience more speed.  Lights dance and flash as you try to catch a glimpse of a nearby video featuring the hero Cyborg as he manipulates the machine that you are strapped onto.  And then it finally slows down to the news that your journey through the multiverse is complete. 
One nice thing about the ride is that is not quite as intense as last year's addition, Harley Quinn's Spinsanity.  So you don't have to be so daring to experience this one.  It makes it ideal for young adults to give it a whirl.  Also, it does go up and down, but not quite as high as a roller coaster, nor as fast.  You still experience a lot of movement and thrills, but this one is in-between the kiddie rides and the big coasters.
Kudos must be given to the kind of atmosphere Six Flags generates around its superhero themed areas.  You can meet many superheroes such as The Flash, Wonder Woman, and Supergirl as they wander the park greeting guests and posing for pictures.  If you are into the bad guys, then don't be shy when you meet The Joker and Harley Quinn.  The Joker encapsulates the fun campy style of 60s Batman TV series, making him family friendly.  The actor playing the Joker is by far one of the best interactive performers in New England, taking the time to greet and make small talk with nearly everyone he encounters.  That added touch is what creates memorable moments.  
So head over to Six Flags New England in Agawam, Massachusetts, just 90 minutes from Boston, to experience their newest ride: CYBORG Hyper Drive.  The ride officially opened June 1st.