Cruise Boston Harbor in Style with the Pirate Ship Formidable (5 stars)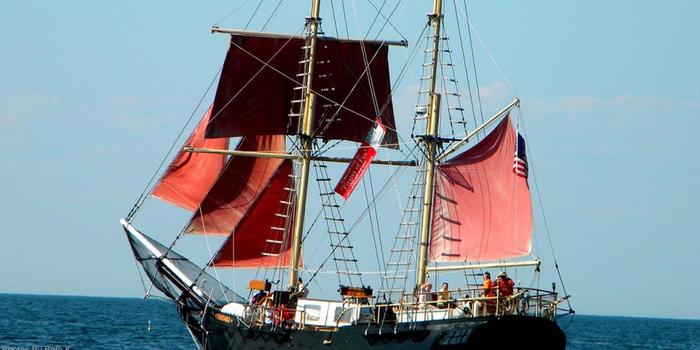 Boston has several harbor cruises but there's only one HARRRRR-bARRRRr cruise, joining pirates for an adventure aboard the Pirate Ship Formidable! The crew is three people, including Capt. Russ and Capt. Pete. Together you sail on a replica pirate ship out to visit Logan Airport, the USS Constitution and WWII-era destroyer ship, the Institute for Contemporary Art, World Trade Center, Federal Courthouse, and more.
The crew dresses as pirates, but they don't turn the cruise into a theatre show or play an outright character. However, they call out to other cruise ships and fire their cannon at them, and sing sea shanties on the weekends. You can wear a pirate hat or cutlass, and sometimes they fire their replica old timey rifles.
So the strength of the tour, if not theatrics, is the storytelling. Capt. Russ is a natural storyteller with an infectious enthusiasm. He'll tell you about the Whydah, a pirate ship that crashed in Cape Cod, and John King the boy pirate. You'll learn about Blackbeard, the history of Boston including the Boston Tea Party, the buildings that you pass, and more. Did you know that someone once climbed and then base jumped from the Old North Church? Below decks, you'll find pirate props to take photos with and some historic artifacts from the USS Constitution.
Sometimes they sail just with the sails, but it's mostly motoring. That makes a nice breeze, which is refreshing on a hot day, but bring a jacket unless it is stiflingly hot. The tour has great views, and you stay close enough to shore that you can sense yourself moving. (Many cruises take you so far from shore that you appear to move glacially slowly.) Instead of talking constantly, and it's difficult to both listen and look around, Capt. Russ gives you breaks to just relax and enjoy the view in silence.
It's fantastic cruise for both kids and adults. And you can bring your own food and alcohol, which is unusual for a harbor cruise. A great time! 5 stars.
Here's some video to show you how fun it is.