The Connecticut Renaissance Faire Bring Old-Time Jousting, Games, and Shows (4 stars)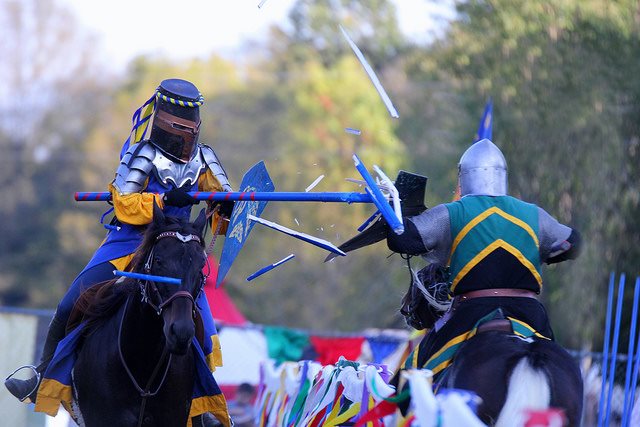 Based in Lebanon, CT, the Connecticut Renaissance Faire is an old-timey festival, where you pretend to live in a medieval fantasy time that was far more romantic than brutish. It takes place on the Lebanon County Fairgrounds in Lebanon, CT, just two hours' drive from Boston. It's a large open field where you'll find vendors, performance stages, and a tournament field for jousting.
The place is extensive and decorated in the old European way, with staff and many visitors in fantasy costume. They don't take the period too seriously, so you are welcome to dress in any kind of cosplay, and they even have a Time Travelers' weekend. Portable toilets are available, but they also have campground style real bathrooms.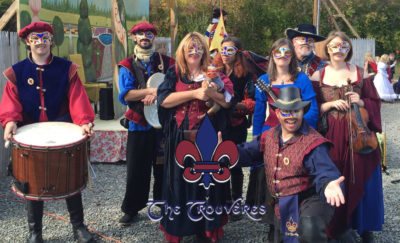 They sell a wide variety of foods, not just turkey legs, including beer, alcoholic cider, sparkling cider, apple pie, pulled pork, steak on a stick, spices, smoothies in a hollowed-out pineapple, and Turkish coffee. Vendors sell art, spooky garden gnomes and other yard decorations, knick knacks to put on a shelf or hang in your window, hand bound journals, and old timey costumes including tunics, leather, robes, and jewelry.
You can see performers dressed as knights in armor ride horseback and joust on the tourney field, catch a drag queen show, or find aerial performers, jugglers, comedy, and live music. In-between jousts, you can visit the horses in their stable. Strolling performers entertained us on acoustic guitar and hammered dulcimer.
Most impressively, they have a living history encampment which shows how medieval troops would have lived in the year 1528. They have many reproductions of old timey devices, including weapons and cooking implements. See them shoot a matchlock gun, and make bread, beer, and wine over an open fire and a cob oven, a kind of clay mound oven.
Up onto the high field, you'll find interactive games including an archery field, a stockade, and "Smite the Knight", a game where you can sword fence with a knight using soft boffer weapons. Elsewhere, try your luck at throwing axes, daggers, and spears against target. Kids can ride a donkey, and there's a birds of prey exhibit where you can meet live raptors and other large birds and see them fly. birdsofprey.net. Elsewhere, a knight in armor teaches swordfighting techniques. I was disappointed to see a tarot card reader; getting people to make life decisions based on superstition is more psychologically harmful than is well understood. Elsewhere, a "living chess" demonstration had live actors battling whenever chess pieces on a chess board came into conflict.
We had the misfortune of coming just after a morning of rain. The festival takes place on an open field with dirt pathways, and drainage was a problem in places, which needed more wooden boards covering puddles. We saw a few acts, but they needed to be spaced out more and given microphones. We couldn't hear the birds of prey performer, even when we approached as close as 10 feet from her. The one show that did have microphones, the drag show, unfortunately swamped out its nearby vendors and stages. We enjoyed the performances, but except for the jousting we saw nothing stunning, and though understandably, buskers need to busk, there was a lot of talking in-between stage stunts. We came because it was Halloween weekend, and were disappointed that not much at the faire was spooky themed.
I love the festive atmosphere of a Renaissance faire, and the variety of things to do at the Connecticut Renaissance Faire was extensive. In the past I've called the Connecticut Renaissance Faire the #1 Renaissance faire in New England. This time, perhaps it was just the mud getting to my mood, or the lack of microphones, or that we didn't find a compelling stage show, I think we preferred their springtime event, the Robin Hood Faire, which is run by the same organization and which I gave 5 stars.
I'll give the Connecticut Renaissance Faire a solid but not perfect 4 stars.
See ctfaire.com.