Codzilla is the Biggest, Baddest Speedboat in Boston (5 stars)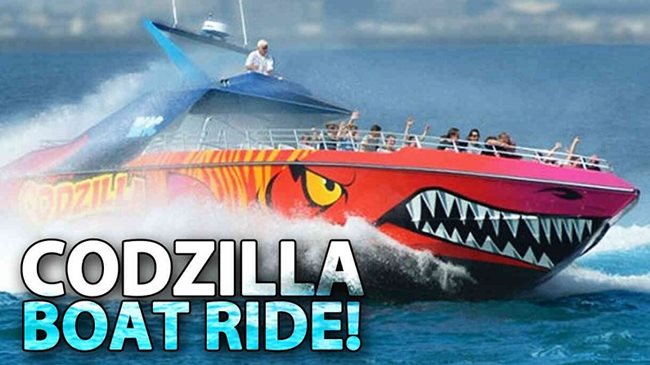 Should you find yourself in Boston on a hot summer day and want a way to cool off, then there is nothing wetter and wilder then Codzilla. Located at Long Warf right next to the New England Aquarium, you might have noticed a long boat with a vibrantly painted shark etched on its side. This is Codzilla, a high speed boat that takes tourist out on the Harbor for a crazy adventure.
In truth, Codzilla is the name of a 2800 horsepower speed boat that heads out to Boston Harbor where it takes its passengers on a 40 mile per hour cruise filled with dips and turns all while blasting rock anthems from bands like AC/DC as well as others. If you are not a fan of hard rock, don't worry. You will barely hear the music once the boat is roaring.
As mentioned, this is a ride to cool off on because you get wet. You get very wet. The ship will provide you with ponchos should you choose to do so to prevent being completely soaked. You can also store valuables before boarding to keep them safe. Things like hats and sunglasses are not recommended because the speed of the boat plus the wind may cause them to fly right off. Sunscreen is recommended because you will spend 40 minutes in the sun.
After you get up to speed you make your way out to Deer Island where you are told the tale of Codzilla. A tiny cod fish got stuck at a water treatment plant but then grew to enormous proportions and now stocks the seas near Boston. And you thought Codzilla was the name of the boat? Well it is, but there is also a corny legend your tour guide tells you about the fictitious cryptid. The humorous nature of the tour adds to the fun as your boat goes slow at first due to having a slower speed limit until it is further out on the water.
Once you are out past a certain point, the speed limit is raised and the Codzilla rockets forward. The boat will make 360 degree spins as it turns up a near perfect circle of water around. It then takes off doing fast dips and turns as gallons of water splash over the boat soaking the inhabitants. The cold air from the speed can chill you to the bones as it blows past the soaked passengers. Codzilla is a combination roller coaster, water ride. You get wet and go fast. You twist and turn while the breeze slams into your face. Since Boston doesn't have a roller coaster nearby this is one way to experience one without the amusement park.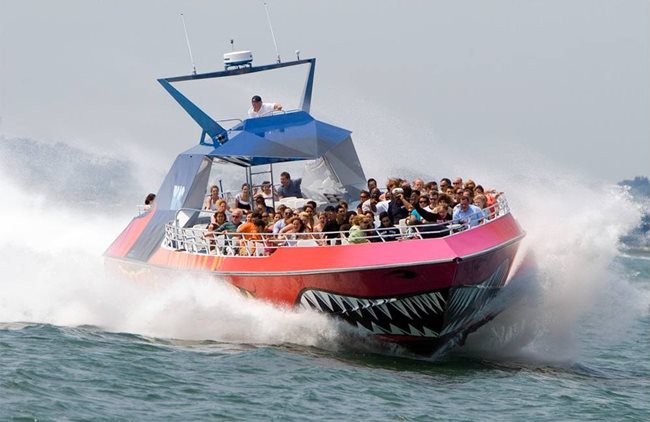 Codzilla may be the only thrill ride in Boston proper. Be aware there is a height restriction to ride the boat, much like many amusement rides. You must be over 40 inches, though I personally observed smaller children accompanied by adults so consult the company for any questions.
Here's our video review!