CoCo Key All-Indoor Heated Water Park is a New England Winter Miracle (5 stars)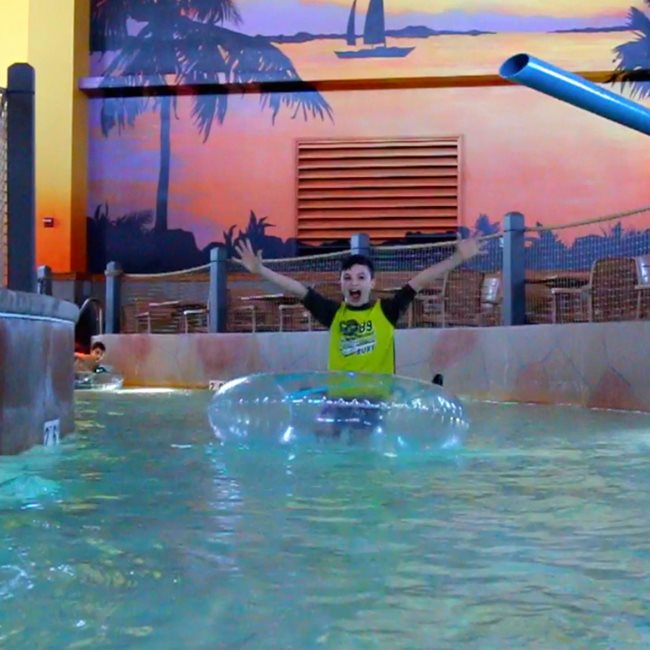 Based on the North Shore in Danvers, CoCo Key Water Park is a New England miracle. It's an entirely indoor water park that is heated and open all year, even on winter weekends! It's part of a DoubleTree hotel.
They pack a surprising number of attractions into their medium-sized warehouse-like space that rises three stories tall.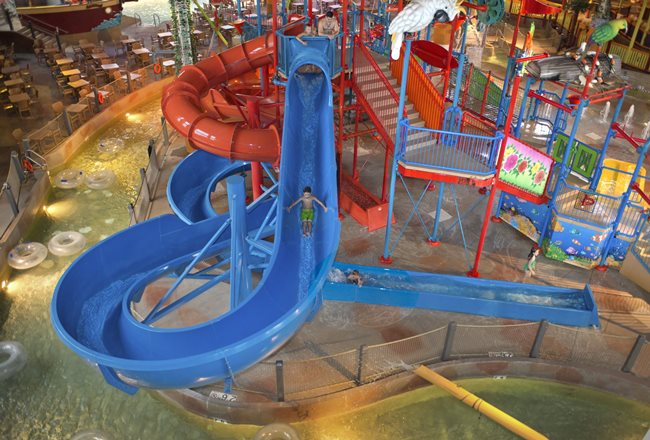 Our favorite was Coconut Grove Adventure River. It's a circular river that doesn't go up or down, letting you just relax. Or you can goof around with your friends, since it's the only place at CoCo Key where you can swim a little. It's only 2'6″ deep, so it's safe for anyone. There are plenty of lifeguards, and you must have an inflatable tube with you, but you don't need to sit in it, which to me was more fun. Pro tip: Hotel guests are given free towels, but otherwise, you'll have to bring your own. Always bring sandals to wear for public showers.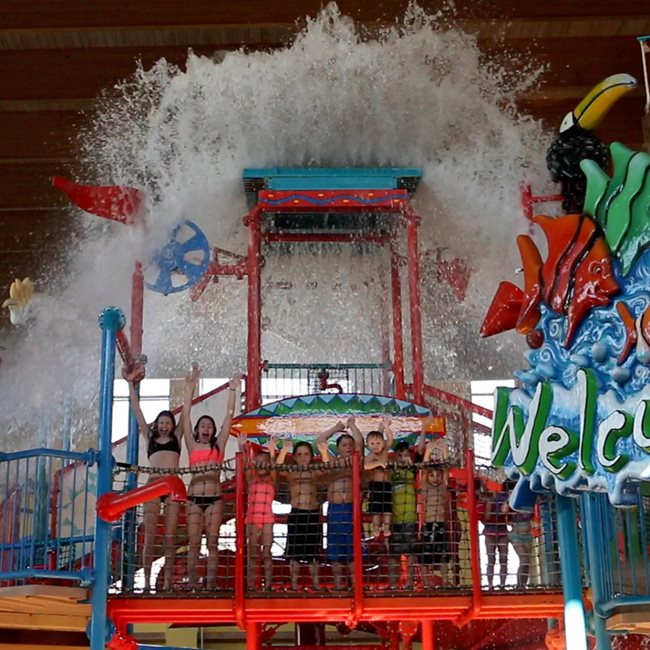 Then go climb over Parrot's Perch, a giant kids' playground of water antics. You've seen similar installations at other water parks. It's a metal structure with stairs that you can climb up, and at the top is a giant bucket of water that fills and fills until the whole thing splashes over you. Parrot's Perch has buckets of water to dump at your friends and water guns to shoot. It also has three small water slides, which are kid-sized, but even my giant adult body fit fine. There's splashing and fountains of water everywhere.
In the center of the park is an open, dry area with plenty of tables and chairs, where parents can relax and keep an eye on their kids. The Gators Grab 'n Go is a low-end restaurant with surprising variety. You can eat healthy with a salad and apple slices, or get pizza, friend sandwiches, quesadillas, french fries, string cheese, caramel popcorn, cotton candy, chips, yogurt, funnel cake, and drinks. Next to it is a bar. You can watch your own stuff, or put it into the lockers in the men's and women's locker rooms, or at the entrance. Pro tip: you'll find oversized lockers between the restaurant and bar. They sell Dippin' Dots and frozen chocolate bananas, too.
For $100, you can also rent a private cabana, with a table, sofa, and TV, that overlooks the water. To the right side, the Dip-in Theatre is a wading pool and spray park safe for small kids, where the water is only a few inches deep. Water shoots up from below and falls from above, with some kids' slides and a movie screen. Way in the back there's a hot tub area for adults, limited to ages 15+, and it connects to an outdoor spa during warm weather. Elsewhere, there's also a water obstacle course with a basketball hoop. Pro tip: as with any water park, bring contact lenses.
To this point, as adults, we found the park satisfying but small. Then we noticed in the far corner that there were stairs going up through the ceiling! There you'll find Shark Slam, Gator Gush, Barracuda Blast, and Pelican Plunge, four giant water park slides, some for body surfing and some that you'll want an inflatable raft for. What a thrill! You can take your pick of water slides where you can see daylight or sliding in total darkness. The tubes go outside the water park, and in warm weather they've got an outdoor splash pool too.
Being an indoor water park, the space is perhaps too densely packed for fully relaxing, and on a Friday evening we were surprised how dim the lighting was. The space was not heated enough to counter getting out of the water soaking wet. But for a break from wintertime New England, it's an astonishing oasis of summer fun. You can easily spend an hour or two at the park, or more if you relax and eat there. The hotel has an arcade, too.
Although for summers you'll find bigger attractions elsewhere, for the rest of the year, I'm glad to give CoCo Key Water Park a full 5 stars.
See cocokeyboston.com and check out their other New England location in Waterbury, CT.