Coca-Cola Orlando Eye and Madame Tussaud's Wax Museum (4.5 stars)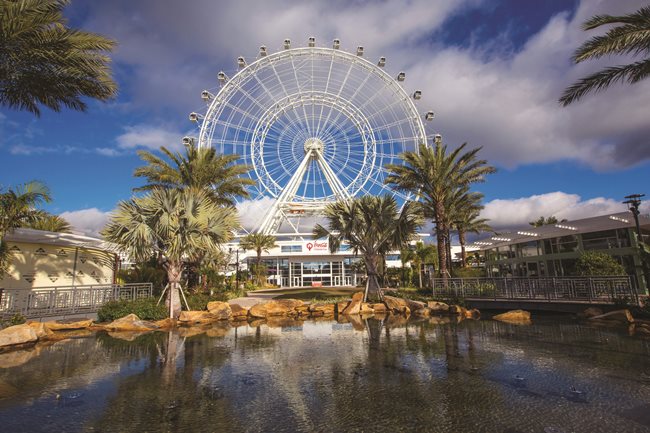 On a recent travel writing trip to Florida, I was invited to a complex with three very different attractions, Madame Tussaud's Wax Museum, Sea Life, and the Coca-Cola Orlando Eye, which is basically a Ferris Wheel, although they call it an observation wheel.
Although time only permitted us to visit the Eye, I've been to Madame Tussaud's in New York, which features wax sculptures of celebrities, and is fun to marvel at their quality. The statues are placed so that you can get a photo with them, for example having an empty chair next to Hemingway. They're so realistic that if you strike a pose, you can pretend to be a wax sculpture too, and passersby will come right up to you, and then you can say, Boo!
The Orlando Eye is a 20-minute trip that takes you once, slowly in a giant circle above the ground. It's a bit scary at the top, but you're enclosed in a bubble, an observation shell, that feels far more secure than a Ferris wheel chair would be. You'll find great views all around. Although you may share the observation pod with a dozen other people at busy times, if you come just before closing you might get a pod to yourself or nearly so. But I'm sure there's a lot more to see during the day than at night when I went. They play rock music, which distracts from the serene beauty, but gives you some privacy, similar to how restaurants play music so that you don't feel like your conversation is being overheard by strangers.
All three attractions are the same complex, right in central Orlando and close to iFLY too (see my review). It's recommended, but not a must-see Orlando destination. 4.5 stars.
Read all 11 of my Orlando reviews and suggestions, and see www.officialorlandoeye.com.