Clifton Hill is the Fun Park of Niagara Falls, Canada (5 stars)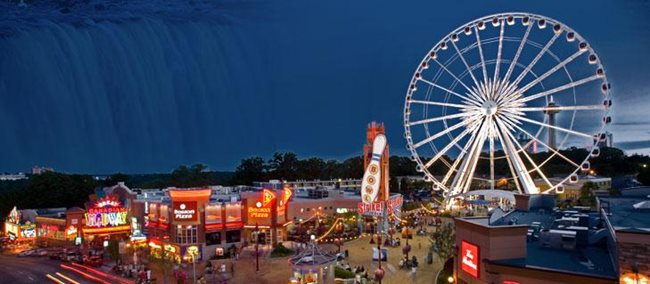 On your visit to Niagara Falls, make sure to cross the border into the city of Niagara Falls, Canada. They have a tourist district of several square blocks, where along every street you'll find creative, larger-than-life restaurants, museums, and gift shops. Think Hard Rock Cafe, Times Square, or the CityWalk at Universal Studios. Plus, you'll find fun park attractions such as haunted houses, mini-golf, rides, and wax museums.
Clifton Hill is the center of that activity, some 16 attractions, 8 restaurants, and special events such as festivals and performances by big name concerts and comedians. Get the Clifton Hill Fun Pass, which gives you admission to six attractions for one price. It's remarkable how densely packed this district is. Just walk 5 minutes in any direction and you'll find dozens of activities, at Clifton Hill and along the surrounding streets. Pro tip: We learned that the hours vary, so don't just assume by what you see on Google Maps that those are the hours. Many stayed open until 2am, during the August peak tourist season that we visited.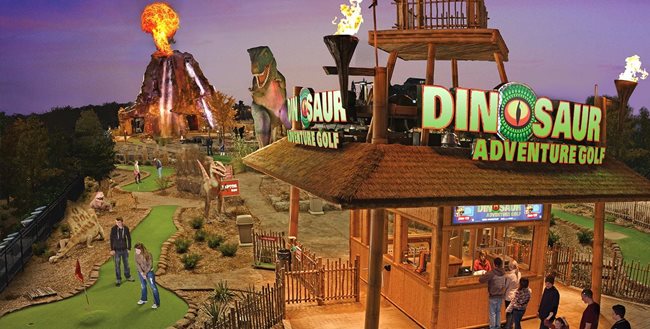 During the day, Niagara Falls is beautiful and there is plenty to see. But what do you do at night? Clifton Hill's attractions are open until midnight or later, and with our US passports, crossing the border into Canada was instant and easy, less than a 60 second-stop and we didn't even have to get out of our car. We had no trouble with parking, and even stayed overnight on the Canadian side, but if you prefer, you can also walk to the Canadian Niagara Falls across a short bridge from the US side. We visited many of the Clifton Hill attractions, and others nearby.
Zombie Attack was our favorite attraction, and the only one that we tried twice. At a price of only eight Canadian dollars, you're going to want to go through it again! They call it a "Dark Ride", an interactive motion theatre. Outside, even in August, lines were short. Then you enter a small movie theatre that seats 36 people, and sit in a chair that has its own speakers, a plastic laser gun, and 3D glasses. Then they play a movie, but it's not a film but rather a computer-generated real-time videogame that changes as you watch it and interact. Zombies pop up and you get to shoot at them! Sitting in your chair, you aim your laser gun, shoot, and when enough people from the audience have shot at each monster, they die.
The experience is short, but extremely crazy and wonderfully interactive. I have never seen anything like it in 13 years of adventurous event reviewing. The chairs shake and you get to hear sounds that come from your own gun. It's too hard to tell if you're actually aiming correctly, but try. Pro tip: You can pull the gun trigger as quickly as you want to, to rack up the most points. Finger fatigue was my primary issue. At the end, they rank the audience by shooting score, showing photos of you in your seats. You laugh and share the experience with your friends.
We also visited Ghost Blasters, where as we arrived we caught them sanitizing the special glasses you wear — good to see! This ride is similar to Zombie Attack except that you move along a track. You ride in a car along tracks through a building that has room-sized dioramas, like a Disney World ride. There you encounter ghost mannequins, displays, and moving animatronics, each with a laser gun sensor. You get to fire at them with a plastic laser gun! They blow wind in your face, there are ghost sounds, but it's cartoony and fund rather than scary, meant for kids. Then you get a score at the end, to compare with your friends how you did. It's remarkably fun and interactive! (Note: here close to Boston there is also a Ghost Blasters installation at Lake Compounce in Connecticut, renamed Ghost Hunt.) Pro tip: read up on this attraction on the Internet before you go, so that you can beat your friends, because some of the sensors give you more points than others.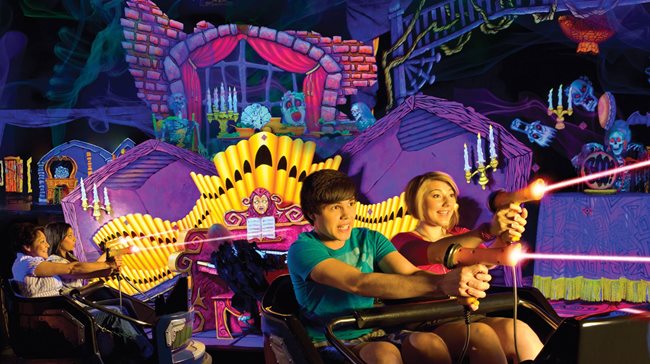 The Clifton Hill Fun Pass requires you to pick one of two mini-golf courses, so we were unable to reviews Wizard's Golf, which seems like it's all indoors. Since it was a nice night, we instead went to Dinosaur Adventure Golf. It's an outdoor mini-golf course filled with life-sized, giant dinosaur figures. None of them were animated, but they were wonderful to see, with the centerpiece being a two-story tall "volcano" that shoots fire every 10 minutes. That's remarkable, with water cascading down its sides. It's so much fun and there's water all over. Don't get so involved with making your shot that you forget to just look around and take it all in.
At Dinosaur Adventure Golf, you have a choice of two routes. The T-Rex Trail takes you through the volcano, which isn't as big a deal as you think. As with any miniature golf, you can get unlucky and be behind a really slow group. In fact, with 18 holes, it's almost inevitable that you will catch up to the group in front of you. So pro tip: take the other trail, which is less popular, meaning you'll be less likely to have to wait for the group in front of you. The entire golf course has easy-to-walk cement walkways. It's well lit, even at night, playing dinosaur and bat sound effects. You'll find sand traps, figures possibly from fiberglass of Rhinoceros, Triceratops, T-Rex, and more. Everyone around you is having a good time, and we even saw a live skunk at the edge of the golf course, which ran away.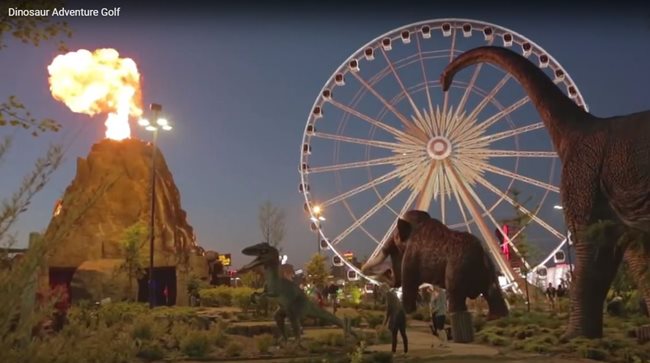 The course is easy and we were able to each shoot a hole-in-one, which as amateurs made us feel like champions. They have benches for you to sit, waiting for the people in front of you to play through. I like the sand traps, but some of the holes do seem to have a drift so that our balls ended up together no matter what we do. And although the course is filled with dinosaur dioramas, the actual putting greens have no animatronics, theatrics, or set pieces, and aren't overly creative or unusual.
We also rode the Sky Wheel, a Ferris Wheel. The line lengths vary, so pick your time. It's 175 feet tall. Inside, you've got buttons inside to turn the lights on and off, to turn on and off the audio, and there's also air conditioning. You could fit eight people in the gondola cabin if you had to, but it's more comfortable with four or six. As a party of two, we happened to get our own just by intelligent timing, making it platonically or romantically intimate.
The Sky Wheel's runs remarkably long, at least during the midnight timeframe that we experienced it. You get five complete revolutions, plus some stops. That's a lot more than we were expecting, and for a minute we genuinely thought (because we came at closing time and weren't moving for so long) that they might have forgotten us up there.
Because you're totally enclosed in your compartment, it's not scary. Instead you get beautiful views of Niagara Falls. I wouldn't say it's necessarily the best place to see the falls as the advertisements say — try the Skyline Tower to go high or the Cave of the Wind to get close — but it's strikingly beautiful. They play classical music, a nice offset to the rock music we're used to from the Ferris Wheel in Orlando. Oh, Canada.
We got clear views of the entire Clifton Hill area, including the Skylon Tower, the volcano at the Dinosaur Adventure Golf, the speedway across the street with all the night lights. The Ferris Wheel has some real speed to it, unlike the Orlando Eye and the London Eye, which go so slowly and you only go around once. It's not the tallest Ferris Wheel, but certainly tall enough. At night, you just see the lights, and the happy people milling around on the ground. It was a good 17 minutes or more.
The Wild West Coaster is one of those interactive movie theatre experiences where you sit still, but the chair shakes. They call it a 6D or XD Theater. It's a sit-down shake and ride, an animated 3D movie. The storyline was a bit simplistic, as if for kids, but exciting and fun. It's a great alternative to a giant guy like me (I'm both fat and tall) who doesn't sit comfortably on a real roller coaster ride because it rattles me too much. I just don't fit comfortably in the seats. The storyline was too fast-paced and slightly too silly to get into the story, but we enjoyed it. The ride is five minutes, with cartoony, impossible violence. They managed to avoid killing any of the characters, but only because they're cartoons. It was not only fun but interesting to dissect how they used animations to play with our perception. They blew rushing air at you, and the waterfall storyline played into the local Niagara Falls story.
Finally, we visited the Movieland Wax Museum, which was the least interesting of the attractions, and the only one that we would not regret skipping. You'll find hundreds of wax figures of celebrities, posed as they were in their major films. Some of the choices were odd. For an attraction that will be open for decades, choose films that will stand the test of time. Who thinks about Will Smith in Hancock or Colin Farrell in Phone Booth, or Jim Carrey from Pet Detective these days? Even when these films came out they were not destined to be classics.
However, you'll also Iron Man, Brendan Frazier in the Mummy, Tom Hanks in Forrest Gump, Gandalf and Frodo from Lord of the Rings, Star Wars, the Harry Potter kids, and more. For old-timers, you'll find Judy Garland from The Wizard of Oz, leading man Clark Gable, comedians Oliver Hardy and Stan Laurel, Bette Midler, Cher, and Elvis Presley. From the 1980s, they have Michael Jackson, who looks sad, with the Thriller video playing, Eddie Murphy, E.T. The Extraterrestrial, and Terminator.
It's not exactly bad, but the experience I am sorry to report is not comparable to what you'll find at Madame Tussaud's Wax Museums in London or New York City. There, the quality of the wax figures is genuinely lifelike, so much so that I posed as a prank and startled some tourists coming in. Also there, the celebrities are not set into dioramas from their movies, but more like you've encountered them on the street and can get a photo with them. This solves the problem that a celebrity's films will age over time.
At Movieland Wax Museum, the wax figures definitely have a resemblance, but it wasn't stunning, and we didn't take many photos, especially as the roped off areas sometimes prevented closeness.
We were surprised that part of the wax museum is a haunted house! There should be signage about this out front, as it would draw some people (though turn away others). You can bypass the scariest part, or dive right into a Halloween nightmare. You'll find wax figures including Frankenstein's monster, Freddy Kreuger, a witch, and an electric chair. I wasn't expecting this to turn into a horror zone! My favorite spot was the maze of mirrors.
When you exit into the gift shop, you'll find a ton of beanie babies and the usual merchandise, with mugs, key chains that blink, necklaces, and welcome signs to hang on your front porch. You can make a wax casting of your hand, which you could use as a ring stand, or get a wax mold of holding hands with your partner.
You don't really go to Niagara Falls to visit a fun park. You go for the parkland, great views of the waterfall, and the waterfall-themed education and activities. But Clifton Hill makes a great excuse to extend your trip, or gives you something additional to do in the evening. We had so much fun at Clifton Hill that we didn't even feel our tourist exhaustion and notice how late it was getting. The Canadian side of Niagara Falls as a whole offers so much in culture, entertainment, and thrills that you do not find on the American side. We wished that we'd tried the Niagara Speedway, a go kart track, and so much else. A full 5 stars for Clifton Hill.
See cliftonhill.com.