Cirque du Soleil Kà at the MGM Grand in Las Vegas is One of the Most Impressive and Mind-blowing Pieces of Theatre Ever Created (5 stars PLUS)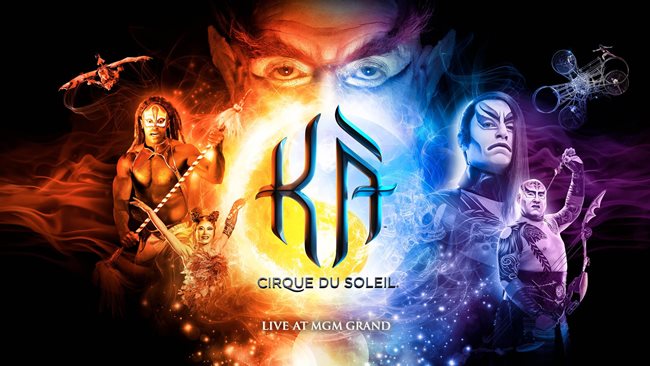 02/12/20 by
Matt Martino
MGM Grand Las Vegas Hotel & Casino
Las Vegas, NV
Before you even enter your seat to experience Kà, you are brought into the story. The circus show, one of many different shows run by Cirque du Soleil, is resident at the MGM Grand in Las Vegas, rather than touring. Outside the theatre, life size statues of the characters adorn the platforms overlooking the slot machines of the Casino floor. A dragon snakes it way above you ready for you to snap a selfie as it moves its head right behind you. If you get there early you can see some of the unique costumes on display compete with plaques telling you the concepts behind them. Nearing the shows start, a duo ascends above the lobby to play a massive stringed instrument beckoning you to enter the world created by Kà.
The interactive experience continues as you take your seats. Ninja-like badguys invade the theatre and crawl across the seats to engage the crowd individually. One, coming to me, lets out a war whoop to which I respond with my own. She gracefully walks across the seat tops to give me an acknowledging fist bump. "See, we speak the same language." I say. She turns and bows to me. This is a truly immersive theatre experience.
Kà was the first Cirque du Soleil show with a coherent storyline, instead of disconnected though themed acts. It's a story of kingdoms at war, starting with an ambush at sea that leaves our protagonist washed up on a sandy beach. Still pursued by an enemy, they escape by climbing up a hill as arrows are shot right at them. This hill is simply the stage platform that turns from horizontal to vertical to allow performers to climb up while arrows serve as poles for the acrobats to climb on and swing from place to place as the battle continues upwards.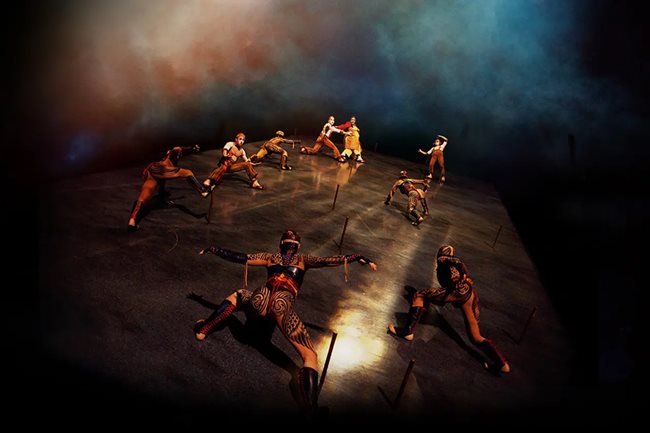 Eventually the heroes escape, with the help of Sherpas, who share a meal at the mountain top outside their tent as snow falls onstage. But the enemy is not far behind and pursues them even in the cold of the mountain peak. Luckily our heroes have one more trick up their sleeves as they take to the air in aerial acrobatics that surprise as well as amaze.
More acrobatics ensue as the tree folk help rescue our high-flying heroes. A princess meets her prince and they dance as only Cirque Du Soleil performers can – intertwined and flying across the stage. Prisoners jump and swing on the wheels of death. The armies assemble. Our heroes don armored harnesses for a final battle with the bad guys as the stage turns to create the illusion that we are high above the battlefield look down on our combatants.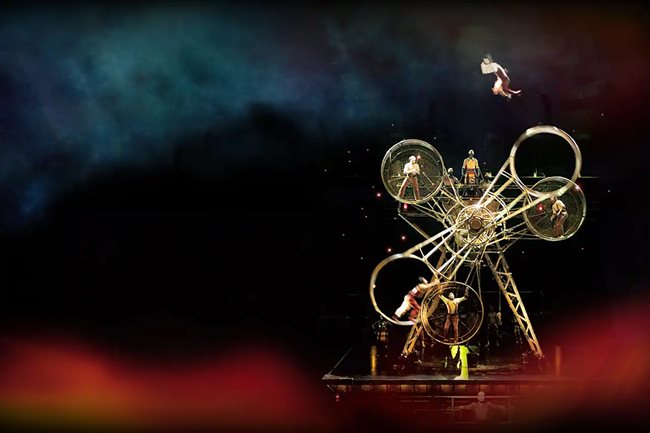 One downside from many circuses is that there is no story, no unanswered questions that keep the audience wanting to know where things are going. That is not so with Ka. This is one of the clearest stories you can ever experience at a Cirque show. The good guys are dressed in bright colors. The bad guys look like ninja assassins or pro wrestlers. Further, the story is simple. The heroes are on the run and the bad guys are after them.
The stage itself is a major performer in Kà. It moves, turns, raises and lowers. Actors climb on it, perform acrobatics on it and even fall off of it into what seems like an abyss as they disappear into the stage. At times it seems to float like magic as you see no support under it. It changes texture and even gets covered in sand when it becomes a beach. How many set pieces go through a costume change like that?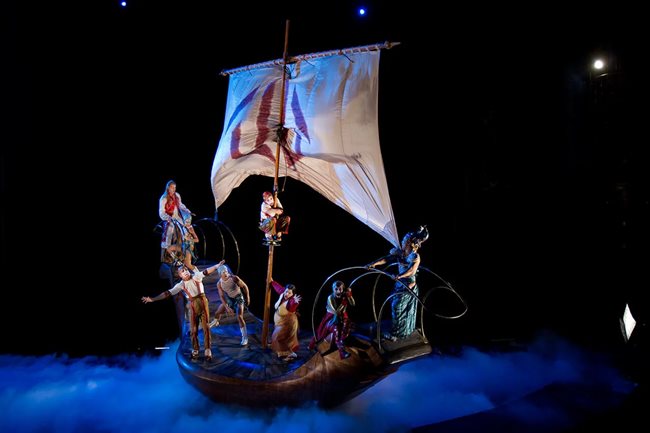 Special effects can be a gimmick. They can easily distract from the performance when they steal the spotlight and all you remember is a helicopter on stage or a chandelier falling. The best effects enhance the performance, so you don't just remember the gimmicks, you remember how the performers interacted with it. Ka delivers just that kind of integrated performance. Without the gimmicks, the performance is diminished. Without the performers, the effects are not so impressive.
Kà is one long battle filled with acrobats, fights, aerial performances and wheels of death that circle and send performers flying. Every time you don't think they can top the last thing you saw, they take it to the next level. If there is any show you will truly remember long after you leave this is it. Kà takes you to another world and stays with you long after you leave.

I'll give Cirque du Soleil Kà our rare 5 stars PLUS, making it a must-see, even in a town as filled with shows as Las Vegas.
Check out our video review of Cirque du Soleil Kà!
 And for more information, see Cirque du Soleil Kà.