Cirque of the Dead at OBERON is a Hugely Creative Halloween Circus (4.5 stars)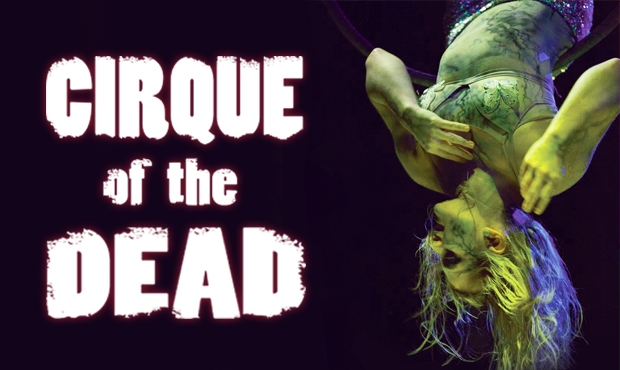 Cirque of the Dead, by the Boston Circus Guild, returns to OBERON this year with an all-new spooky show. It's tremendously creative and strange, with performers dressed up as monsters who perform mainly aerial acrobatics, and beautifully.
Without spoiling the surprises, I can tell you that you'll see a vampire juggling, a zombie clinging to aerial silk and dancing, and a bloody stage show. A man tries to fight off an infection clinging to his skin.
The acts are more striking than scary, but the cast takes huge creative risks that pay off. The use of ultraviolet light was very clever, and the final three acts awed the crowd, including one where two aerial dancers played mirror images of each other, and a giant surprise takes over the club.
You have your choice of standing in the general area or taking a seat. Paying a bit more for a seat is highly recommended, because the show runs more than 90 minutes, which is too long to stand, and we had no interest in staying afterwards for the dance party. Although standing on the dance floor puts you close to the action, OBERON is not a large venue, so with full seating you'd see plenty. Standing in the crowd often blocks one's view of the performances, which are helpfully projected live onto the big screen, but if they were simply on stage might be seen better, and chairs could still leave room for a dance floor or taken away after the show.
The show makes clever use of lighting and makeup. Beforehand and during intermissions, Emperor Norton's Stationary Marching Band plays upbeat music, which a few chose to dance to. The club has a full bar and a $2 coat check.
The show has a lot of comedy, and some of the acts were comic-horror, others more seriously scary. Before the show and during intermissions, they project B-grade horror movies onto the big screen. In my last review of Cirque of the Dead, I complained about the emcees, whose jokes fell flat. This year's performance was a marked improvement, but still, the segues from one act to another felt like filler instead of an engaging addition to drive the show's mood. I would suggest something tighter, choreographed, with scripted dialogue. For example, at the end of the show when the cast comes out for a bow, it's impressively choreographed. There was perhaps one too many aerial acts for full variety.
Last year, 4 stars, but this year I'm glad to give Cirque of the Dead 4.5 stars.
See Cirque of the Dead at americanrepertorytheater.org, with shows remaining tonight October 28 and Halloween, October 31.