Circa "S" at the Boch Center is a Circus Performance, Not Just Stunts (4 stars)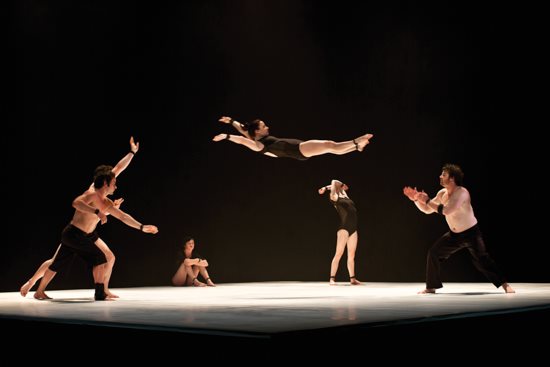 Circa Contemporary Circus are an Australian circus whose touring show, "S", goes beyond stunts to a real performance. This weekend at the Boch Center, they take stage to perform acrobatics set to powerful orchestral music.
The circus show is good for kids but the opposite of a kiddie show. Instead, it's a genuine dramatic work for adults that feels simplified to its essence. The show has no staging, just light, fog, green backdrop, and a mat. The 4 women and 4 men are dressed all in black, with the show focused on the interplay between each other. For the first 30 minutes they use no props at all, instead throwing and lifting each other, with the grace of a ballet. Instead of leaping into bigger and bigger stunts, their purpose is to perform together a serious drama on stage. It is hypnotic and moving.
It requires courage to interpret the circus as dance, and set to classical music including angelic vocals, because it could be seen as their taking themselves too seriously. But instead, they pull it off, with their leaps, twists, and human pyramids matching rewarding the build up and the serious tone.
The highlight of the show came when they microphoned the acrobats so that you could hear them breathing as they performed in silence. This was an original idea that drew the audience into the physicality of the movement and fascinated us. The entire show could have been based on it, but this idea was discarded in the next scene. (Another time, they microphoned a performer's abdomen, but then didn't do much with it, not using it to make music or to dramatize acrobatics employing that area of the body.)
Unfortunately, two factors worked against the show. The first was the music. While powerful orchestral music did serve to underscore the grace of the performers, the music was so loud that it dominated the space, setting a serious tone even when pieces were meant to be comic. Also, with continuous music and with one scene moving into the next without any break, there were no "beats", a tiny break to release tension when the audience will naturally know it's time to applaud or laugh. (And we wanted to.)
The show had a few elements of comedy where the actors broke their serious demeanor. I'm not sure why they'd use an annoying buzzing sound, like an electric razor, as the primary backing in one scene. Suspenseful music undercut comedy in another scene. Why have sad music when balancing water bowls? One act with a stomach microphone began with playful competition, but then the tone shifted to the performers pretending to be more genuinely angry with each other.
The second factor that worked against the show was a lack of story. Circa "S" has all the elements of a powerful performance, but with no backstory, no spoken words, it came across as too abstract. There isn't even a real title. ("S" is supposed to mean sinuous, seductive, sophisticated, sensual and savage, but there weren't any sexy or violent parts of the show to make it sensual or savage.) The stunts in the show weren't quite impressive enough to carry the 90 minutes without a storyline, with minimalist staging, and with a more dramatic (by which I mean slow) pace. I'm not sure why the house lights came up in the audience at times. The show has no intermission.
We enjoyed the aerial silk, where performers hang and fly from line ribbons of cloth, but it didn't rise to dominate the show, and at one point two different performances on left and right seemed to conflict rather than work together. Kudos to the performer who spun several hula hoops.
Although we gasped with wonder at some of the cast's extreme positions and leaps, there were also a few obvious slips and mistakes in the show. I was left feeling that Circa has an extraordinary cast and performance viewpoint, but that these weren't employed to great effect in a connected, big picture way. Still, Circa S is an impressive show with many high points. I'm glad to give it 4 stars.
Circa "S" at the Boch Center performs again tonight, Sunday, March 4th.