Childish Gambino's This is America Tour is a Church of Dance and Music (5 stars)

"This is not a concert. This is a church!" Donald Glover, singing under the stage name Childish Gambino, took to the stage at the TD Garden this week with a new live tour, with opening act Rae Sremmurd. He stopped the show and spoke directly with the audience. "If you're just here to hear your favorite song, you should go home right now and do that. I'm here to have an experience with y'all tonight." He asked us to celebrate life, to have an experience.
The show is overpowering emotionally because it is so unique, strange, and engaging. Shows at the TD Garden, such as Drake this week, can go big, big, big with their special effects. Childish Gambino doesn't need to go big to have power. He instead drives the audience with world-class charisma and burning intelligence, through strikingly odd dance moves, and with a wide range of musical styles.
Childish Gambino is the stage name of actor, comedian, and musician Donald Glover. He was a writer on the TV sitcom 30 Rock, you know from the TV sitcom Community, Spiderman: Homecoming, and Solo: A Star Wars Story, and he won two Emmys for acting in and directing 4 episodes of the TV series Atlanta, about emerging rap artists dealing with societal issues. Glover's own career in R&B, hip-hop, and funk has also illuminated society, most notably through his hit and music video, This is America, which through dark sarcasm shows how gun violence scars the black experience in America, and yet through music and television we glorify the guns of "thug life".
Rae Sremmurd was the opening act, a hip-hop duo from Mississippi, winners of the BET Award for Best Group. They performed shirtless with sagging pants. Their staging was a set of partitions, which played videos and blinked lights in patterns, with a backup singer to the side who also seemed to be mixing at a sound board.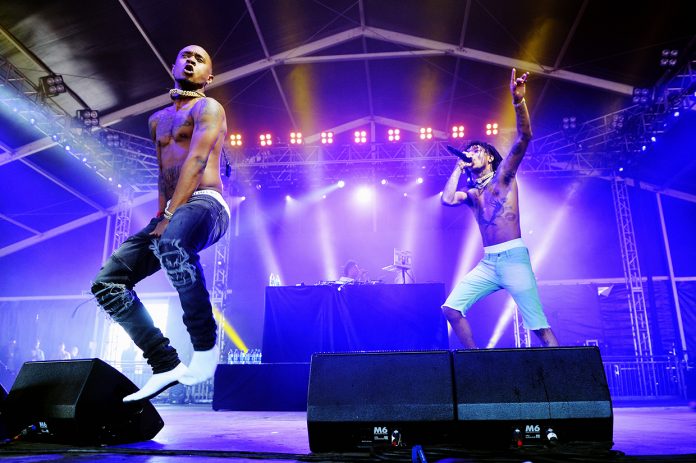 They got the crowd hyped up, playing their hits to prerecorded tracks of themselves singing. Sometimes they would sing along with the recording, and at other times, seemed disinterested in singing their own lyrics, instead calling out and focusing on working up the crowd. That seemed a strange artistic choice.
After an intermission to sell merchandise, drinks, and food, Childish Gambino opened strong with a curtain that you expect him to walk out in front of. Instead, a sudden curtain drop revealed him to be right up and into the audience on a thrust stage, singing under a single ray of light, as if a divine light from Heaven. The crowd cheered with surprise.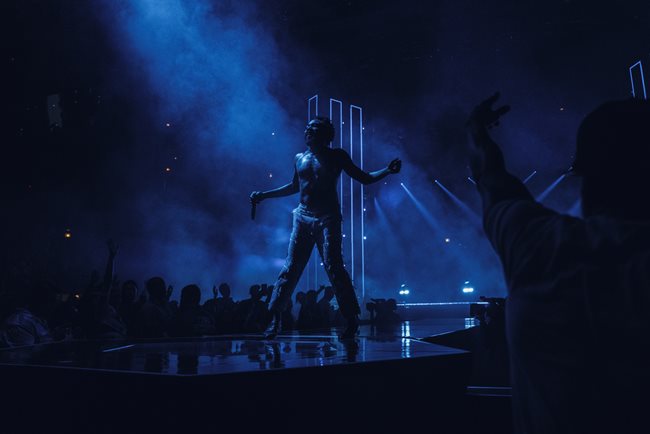 This theme of hooking the audience artistically rather than with big special effects continued through the show. (In fact, near the end of the show, they seemed to run out of variations on lighting effects, but it didn't matter.) For one song, Glover's thrust stage rose over the crowd. The staging was primarily two towering video frames, which rotated and moved around the stage during the set.
Glover dances with intense, alien movements that show off poses. For example, he'll bow all the way forward, thrust his arm behind him and upwards, and spin in a circle. Another time he laid down on the stage and made moaning and baby noises. There is a strength in the intensity of Glover's confident, sudden poses, performed slowly instead of with getting their energy just from the speed of movement. At other times, his moves parody minstrel shows, the Jim Crow era blackface stage shows where white people would mock Africans. More rays of light and other special effects created the backdrop, sometimes literally, to his performance.
There's certainly a wink to the audience in the dark comedy, but it's not overtly humorous but rather strange with dry surrealism. At one point, giant videos plays of Glover and a foil jumping into water and performing underwater. I sense that the oddity doesn't come from an egotistical break with reality. Instead, it's done mock seriously to encourage the audience to question reality. It's his way of drawing the audience to attend to what's underneath the performance, and there's what's underneath the societal issues that his songs raise.
This is not an accident. Glover knows exactly what he is doing. I've seen rap artists, for example some of those in the recent Top Dawg Entertainment tour, struggle on stage to connect with the crowd. They'll leap and throw out energy in an unfocused, gut instinct way. I believe that everything Glover does is intentional, but he can think so quickly that he makes it look invented on the spot. Watching him is a lesson in working a crowd, in mass hypnosis, a force that Glover fortunately uses for good, through social justice issues, with the irony that working up a crowd into an irrational fervor underlies some of what he's protesting.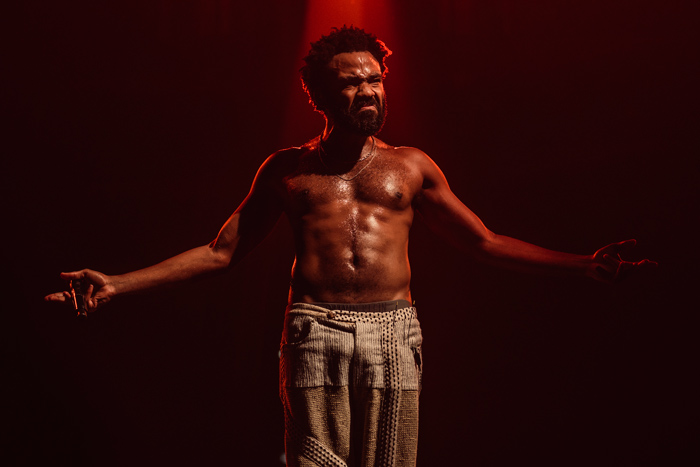 The small staging made the concert seem intimate. Childish Gambino's songs ranged from soft crooning to funk to slow jams to high-energy rap with leaping and getting the audience to leap with him. One theme was the black church experience. Glover often sang, danced, and spoke to the audience about being in a church, rather than just a concert. Backup dancers for some songs wore church robes. Sermons at black churches are more intimate and interactive, and Glover followed this, encouraging the audience to clap and sing along. At times songs featured a driving bass harmony and African-influenced percussion. Other songs were passionate, anthems setting slow lyrics against a dance beat.
During one song, Glover said, "If you've got a joint, you'd better smoke it. I want you feeling good for this part of the service." Smoking indoors is against state law and common courtesy, at a show with children, people with health problems, and others who just don't want it. Guards did not seem to bother policing smokers, but it was only an occasional, not a dominant, problem.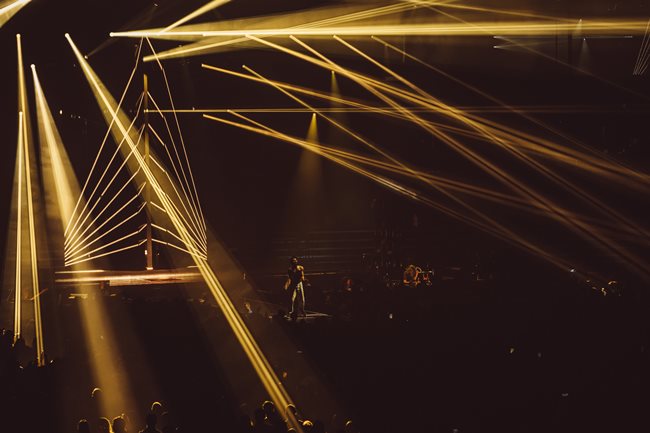 Glover had good diction and we were able to understand him clearly when he spoke with the audience, and nearly clearly when singing. His music is interesting and progressive, not easily falling into a poppy or ordinary chorus and refrain. He engaged the audience by crooning intimately from the thrust stage, in a crouch, so that he could make eye contact with and reach out to individual audience members close to the stage. He was linked with his fans.
At another time, a video camera followed him backstage, and the audience watched the footage as he came into the TD Garden passageways, walked by vendors and surprised fans, and emerged back into the main auditorium past a ticket taker and through the rows of seats. He asked for someone's phone, took a photo with him, and handed it back. At another time, waiting to be called out to an encore, he again had cameras on him backstage. Just his lifting his hand to his ear, without even looking at the camera, caused a roar from the crowd. I don't think I've ever seen someone this talented at showing how it's the right gesture, not the loud gesture, that draws an audience reaction. This is Obama-level skill.
Instead of learning on recordings, most of the Childish Gambino concert featured a live band, and I was glad to see Glover call out band members, and give dancers, keyboardist, and his guitar soloist time alone in center stage. The backup dancers didn't follow an extensive or larger-than-life choreography, but instead were sometimes coordinated and other times seemed free to do their own thing. One dancer stood on her hands!
Glover sang Have Some Love, which is about unity, and Summertime Magic, Sober, Heartbeat, and 3005, which are love songs with a falsetto sweetness that reveals a deep loneliness. His song Redbone peaked in the charts at #12 last year, played in the opening credits of the comedy-horror film Get Out, and won a Grammy for Traditional R&B Performance.
Glover has an original take on social justice that makes subtle points off the the mainstream. And at other times, he is brave in presenting the starkness of violence, for example in the music video for This is America, for which the 2018 tour is named, and which hit #1 on the charts this year. On stage he made no attempt to recreate the video's violent scenes, instead bringing out backup dancers. Its dark bass felt ominous, with the dancing gave it a fearful, sarcastic, take on being trapped in a culture of violence. Riot is also about violence, psychedelic funk which samples George Clinton. Spirits is a plea to God against violence and despair. Feels like Summer is also about despair, how "I'm hopin' that this world will change… But it just seems the same." Sweatpants is more of a mainstream rap song, about haters and success. The show was neither too short nor too long, ending just short of three hours.
Some performers, for example Migos, seem better in the recording studio than performing live. Childish Gambino's live show took his songs, only of which has hit Top 10 on the charts, to a higher level. With sophisticated, progressive music that took multiple genres to a new place, with a carefree style and societal commentary, and with striking dance moves, Childish Gambino gets an easy 5 stars.
Donald Glover seems destined for success in whatever is next for him. Perhaps he will follow John Legend's recently becoming the first black man to win all four major arts awards, the Emmys, Grammys, Oscars, and, Tonys (EGOT). Glover called this tour his "farewell tour", but musicians often say that this is your last chance ever to buy tickets, to sell tickets. Just in case, get yourself to upcoming shows in New York, Philadelphia, Washington DC, Houston, Dallas, Los Angeles, Oakland, Seattle, Vancouver, San Jose, Phoenix, Denver, and Nashville.
See childishgambino.com.