Ceramics Date Night at Brookline Arts Center (4 stars)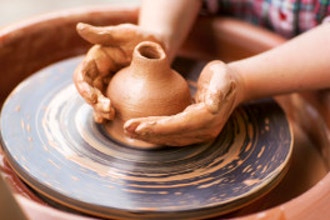 Especially in the winter, it's easy to feel that your only choice for going out on the town is a bar or restaurant. Taking an art class is a great solution for you and a friend or romantic partner. This year I reviewed PopUp Painting in London (4 stars), a social event first where you happened to learn to paint too.
This time, Ceramics Date Night at the Brookline Arts Center welcomed us to try our hand at throwing pottery. Classes are meant for adult couples, though anyone can come, and they run 6:30-9:30pm, with the next dates being August 4, 17, and 25, 2018. You learn how to make pottery using a real potters' wheel! It's not as easy as it looks but in 3 hours you can learn enough to feel proud. As with PopUp Painting, you get to keep the amateur art you make.
Ceramics Date Night was the opposite from my experience at PopUp Painting, in both good ways and bad. On the good side, at PopUp Painting, my guest and I each made just one painting. Your first work is likely to be your worst work, and we didn't take them home with us. With Ceramics Date Night, you can make (or fail to make) a clay pot or what-the-heck-did-I-do work of pottery in just a few minutes. So over 90 minutes, you can each make 3 to 5 pieces. As a couple you get to keep 6 of them, which to me seems like too many. I would have been just as happy keeping our top two. But we did decide to paint and keep six little mutant pots. So Ceramics Date Night was an artistic "success" in the way that PopUp Painting was not for us.
This was aided by our teacher, Josh, a true professional with a ton of teaching experience. He knew exactly what pitfalls students fall into, and dove in with confident calmness to get us out of trouble without making us feel frazzled or like losers. He taught us the theory behind the technique, as well as the technique. At PopUp Painting, we did not receive enough instruction, with the teachers sometimes saying, "Do whatever you want." Josh helped perfectly guide us to make little, what are these, demented ash trays? Vases that will fall over if the flower is more than 4 inches long? I don't know.
That being said, Josh was friendly and a perfect gentleman but not a yee-hah guy who got us whooping and laughing. PopUp Painting was a social event first, a party that takes place in a bar with drinks and food, with music and a lot of cheerleading as well as guidance. Ceramics Date Night could be intimate if you took the initiative to attend to your partner, but we worked separately on a task that required concentration. Josh could have encouraged couples to not forget to share the moment with each other, or led couples to socialize with other couples. We didn't have music, snacks, or drinks (even water), or ambiance such as flowers or candles that would have themed it more a date night or social outing. We were required to clean up our own stations, no big deal (I hate to be a whiner), but when you spend a similar amount ($90) at a romantic restaurant, the romance doesn't include clearing your own table and washing the dishes.
Also, Josh gave us too many instructions up front. It was interesting to see him go through the entire process of making a clay pot, but even the brightest student could not learn the 10 steps to making a clay pot like that. Instead he might have led us all through one pot, students in lockstep with the instructor, before letting us do our own thing at our own pace.
Our art room was designed for children, with the sink and pottery wheels a bit too low for comfort, especially if you have back pain. But working with clay, "throwing" a pot, was a lot more fun and easy to pick up than painting a canvas was at PopUp Painting. It seemed impossible for the first 30 minutes but then we got pretty good. We made crazy-looking, misshapen, leaning-over pots, but no baby is ugly to its parents. You'll have a great time and produce something you marginally want to keep, giving you a memento. Because you did it together, you will treasure them. (Just don't give them as gifts to anyone. Same advice for amateur hats you knit.)
Bring clothing you don't mind getting clay flecks on, all over, including a short-sleeved shirt since your hands and upper arms will get especially muddy. The clay is "clean", manufactured instead of dug from a dirty pit. So it's no big deal to have it on your hands and wash it off. Do not expect to be able use your cell phone or even scratch your nose during the class! (There is a sink if you want to wash, but it's futile while you're actively handling clay.) After making and drying your cute but grotesquely sloping pot-monsters, you get to paint them. This was even easier, though don't expect to mix the colors like a master. It turns out that pre-glaze paint is just "colored clay", so you're basically adding clay on top of clay. Interesting.
Ceramics Date Night was good, although for $90 per couple expectations should be high and I am unable to give it a full 5 stars. It's definitely an art class, not an "experience" (a party with drinks and music), but the class was small so we got plenty of instructor attention. After you are done, the pots need to be "fired" (baked), so come back in 2-3 weeks to collect them. That means this event is only for locals who live or work nearby, since you'll be visiting the Brookline Arts Center twice.
The Brookline Arts Center features a wide variety of non-couples-only adult classes in life drawing, pottery, jewelry, and metals, and classes for children that include "intensives", week-long summer camp type experiences. Tell people the lack of symmetry in your pots is artistic license. We had a good time and this class is recommended. 4 stars.