Caves, Kayaks & Culture: 11 Reviews to See Puerto Rico with Class and Adventure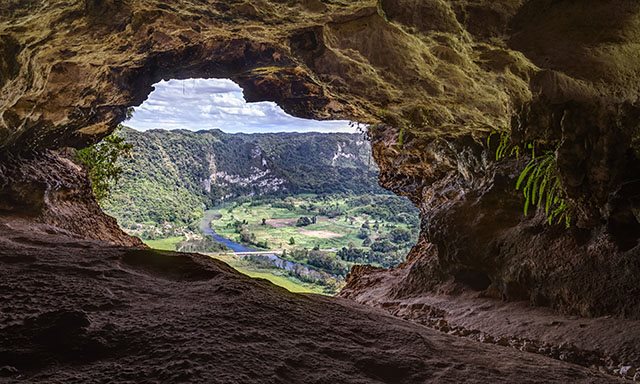 This month I visited Puerto Rico and had so many bucket list and life-changing experiences that I'm eager to share it all with you. Five months after Hurricane Maria devastated the island, they are back and ready for tourists at any level, from basic sightseeing to the opulent high end. There's a disconnect in perception that frustrates the locals in the same way that ski resorts here in New England get frustrated in April. (It's warmer in Boston but there's still plenty of snow up north.) Puerto Rico is absolutely back in business. A few resorts and attractions are still rebuilding, but we had no difficulty getting everywhere and seeing everything.
As a true Bostonian, I prefer cultural vacations, where I feel like I'm learning something, and was glad to find that Puerto Rico is not just beaches. There's a wide variety of activities from restful to athletic, where education is always a theme. The island is small enough that you can get anywhere in a couple of hours, so like most tourists, base yourself in San Juan, the capitol in North Northeast Puerto Rico. You won't need a car because almost every tour group will pick you up from the metro area. However, you can save yourself some driving with this expert tip. Take note of which corners of Puerto Rico you plan to visit, and combine them when possible, even staying overnight locally, to save all the driving back and forth from San Juan.
San Juan is a beautiful city to explore. The environment, with its palm trees and adobe house look, is strikingly Caribbean, but don't insult locals by forgetting that Puerto Rico is part of the United States. You don't need a passport to come to Puerto Rico, which is wonderfully convenient, and you'll find most of the amenities you'd expect back in the States, such as drinkable water everywhere and English being spoken by almost everyone. Don't say "back in America", but it's okay to say, "back in the States", meaning the 50 official US states. 
Start with a basic city tour of Old San Juan by Segway Tours of Puerto Rico (5 stars). Riding the Segways is easy and so fun that you'll hoot, and you'll learn a lot about history. Then walk around San Juan, taking in the cobblestone streets and numerous gift shops, some touristy, some classy. Visit Castillo San Felipe del Morro & Castillo San Cristobal, the "castle" forts built by the Spanish in the 16th and 18th centuries. See the Plaza of Five Centuries, Casa Blanca, and the series of US President statues outside the capitol building. It never rained on our trip, so we never made it to a museum, but on an off day see Museo de Las Americas or Museo de Arte de Puerto Rico.
We ate lunches at fashionable Cafe Del Angel, which caters to your every need, and at family-friendly Carthage Express, where a model train on a train track delivers the food to your table. At night, you'll want to visit Placita San Turce, also just called "La Placita", the hot spot for restaurants and night clubs in West San Juan. Get a table outside just to watch the locals and tourists mingle and celebrate, and don't feed the stray cats unless you want one as a permanent guest at your table. Farther west, in the Carolina area, near the airport, try Cayo Blanco for delicious meats, and locals recommended Platos, which has live music and the food has excellent presentation. Locals also recommended Raices, a restaurant where the servers dress in historic costume, but may be too touristy for your taste.
Our favorite restaurant was Marmalade (5 stars), which is pricey but worth it to feel like royalty for an evening. More than a dining experience, it's a genuine destination, an attraction as important the beach. Take it from me, someone who is constantly dieting and not much of a foodie, you will want to visit Marmalade. That's in the Plaza de Colon area, another hotspot for culture, where you can hear the rich stories of the past on a more advanced (and cooler at night) walking tour from Hello Tour Guide (4 stars), formerly Legends of Old Puerto Rico, which takes you on a deep dive into architecture, or history. Every upscale hotel in San Juan will have its own restaurant and live music, but get outside the tourist bubble. Locals also recommended Blue Martini, and La Factoria.
San Juan has plenty of beaches for you to relax and swim, including Ocean Park, Pine Grove Beach, Condado Beach, and the Carolina Public Beach, where you can most always rent an umbrella and chairs. Or sneak into one of the fancy hotels and enjoy their beachside deck, and repay the favor by getting a meal there. For the ultimate experience, to contemplate and embrace nature, take Bespoke Lifestyle Management's Snorkeling Tour to Vieques Island (5 stars), in the Southeast region, where your guide is available your entire day, helping you snorkel and taking photos for you. Or for more of a party, take Castillo Tours' Catamaran to Icacos Island (4 stars), in the Northeast region, for beach and snorkeling with college travelers. Just make sure to reschedule if the weather and "sea conditions" aren't calm, because waves will ruin the snorkeling.
To us, exploring outside the city gave us life-changing adventures that weren't too challenging but came with great visuals to brag about to friends back home. In the North Northwest region of Puerto Rico, take the Castillo Tours to the Cueva Ventana (Window Cave) (5 stars) and Arecibo Observatory (5 stars), which was mainly a driving service, but a real convenience. Arecibo Observatory is a radio telescope, the world's largest metal dish that you've seen in James Bond's Goldeneye. It's magnificent just to stand in its presence, and it's got a small but modern science museum. The Window Cave is the most tourist-accessible cave experience, for all ages, and it's close to the Indian Cave and Camuy Cave, which are set to reopen soon.
We had two unbeatable experiences that are must-see destinations. South of Arecibo, in Central Puerto Rico, go to Utuado for the Batey Zipline Adventure (5 stars), which combines three bucket items. Go ziplining, go rappelling, and then kayak along a river that passes through an enormous cave, all with great humor and safety from encouraging guides. It's going to make your trip. Then go on the Borikua Tours' Cave Land Tour (5 stars), also in Central Puerto Rico, to get a tour of the privately owned Las Cabachuelas de Morovis caves. This tour with Robert Moreno brings you way off the tourist paths and educates you in the science of caves with their surprisingly oversized inhabitants, from bats to spiders to toads. Robert's cave tour was absolutely the best experience on a 10-day Puerto Rican vacation filled with dozens of destinations.
No visit to Puerto Rico is complete without seeing the United States's only rainforest. Take Bespoke Lifestyle Management's El Yunque Rainforest (5 stars) tour, in the Northeast region, to learn how plants are integrated into lives in the rainforest from an expert with pride to share local tales. And bring your swim trunks! Also in the Northeast region, go on Bespoke's Bioluminescent Kayak (3 stars) Tour, which is year-round, but only if you are visiting in the summer when the glowing plankton are at their peak.
We weren't able to see, but had recommended to us, tours of coffee plantations, such as Hacienda Buena Vista and Hacienda de Café Pomarrosa, in the Toro Negro mountain range in central Puerto Rico. And take a tour of the town of Loiza, in North Northwest Puerto Rico, not far from San Juan. It hasn't got big "destination" attractions but it's called "The Capital of Traditions"- for its traditional African and native Taíno cuisine, folk art, and music. Alcohol isn't the best way to live life to the fullest, but you can also tour the Bacardi rum factory at Casa Bacardi, close to San Juan.
Puerto Rico is the perfect combination of American convenience and Caribbean exotic destinations. Visit Puerto Rico and spend your money on their continuing recovery, and go past the tourist baseline to do something truly to explore nature and build a memory for a lifetime. The island is open for business and offering great comfort, culture, and fun.