Cape Cod: It's Not Just for August Anymore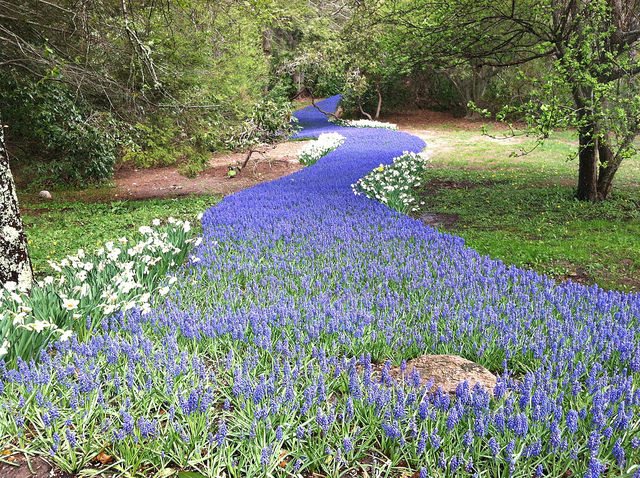 Cape Cod is not just for summer sailing and beaches! In the spring and fall, you'll find a remarkably diverse array of activities and festivals. I was recently fortunate enough to be invited to write some springtime reviews there in the Upper Cape, the part most easily accessed from Boston.
Sandwich, Massachusetts is the entranceway into Cape Cod. There, visit the Heritage Museums and Gardens (5 stars), an all-day attraction where you explore and discover delightful grottos, or go indoors for the carousel and exhibits. They have indoor events and outdoor festivals all year. It's my favorite destination on Cape Cod.
Across the street you'll find Heritage Adventure Park (4.5 stars), a ropes course that requires some athletic ability, but is appropriate for kids as well as adults. It takes you up into the treetops to climb, zipline, and walk rope bridges, safely harnessed in to support lines and with helpful staff. Nearby find the Sandwich Glass Museum, where you can see real glassblowing.
In Yarmouth, don't miss the world class Whydah Pirate Museum (5 stars plus), a stunning display of booty dredged up from a real pirate shipwreck. As well as being wonderfully curated and entertaining, with wax figures, special effects, and video, somehow the museum is also deep and intelligent, teaching you real history, which it turns out is just as fascinating as the made up pirate stuff. Nearby, visit the Edward Gorey House, the macabre, black humor cartoonist who was almost Tim Burton but wasn't. Catch an afternoon at the Cape Cod Roller Derby, with their next bout on June 9, where women knock each other over in good humor and at high speed, to show who's boss on the roller skating track.
Then visit Falmouth, which has a cute downtown area of shops to stroll, including the Osborn & Rugh Gallery, which adds storytelling and artistic impact to its paintings, made by locals who live in Falmouth year-round. Rent bicycles at Corner Cycle, which has worry-free bicycles with saddle packs to store your picnic lunch. You can get your helmets and bicycles seemingly in less than two minutes, and the location is immediately on the Shining Sea Bikeway, a bicycle and walking path that takes you to the beach and down the shore, and is the top-rated Falmouth attraction on TripAdvisor.
Stop by the Highfield Hall & Gardens in Falmouth, a historic home that has gardens, forest paths, and a musical grotto you can bang notes on. You'll also find the Spohr Gardens. Sadly, the Woods Hole Historical Museum and Woods Hole Oceanographic Discovery Center are closed on Sundays in the off-season. See the Cape Cod Inflatable Park, a bouncy house heaven, which is building a water park as well.
Finally, in Falmouth you'll find evening arts including the Falmouth Theatre Guild, and we got to see the Falmouth Chorale, whose season just concluded unfortunately, mismatching tourist season. They took a break from classical music to feature comedy songs from brilliant to silly, and which included audience participation — heartwarming, hilarious, and great fun.
Of course you'll want to return for the Provincetown Carnival, August 11-18, 2018, Water Wizz water theme park, beaches, sailing, and more. But do yourself a favor and check out Cape Cod before the traffic and tourism turn up with the summer heat. You'll find there's a ton to see.