Candlelight Stroll at Strawbery Banke is a Whole Village of 19th Century Holiday Spirit (5 stars)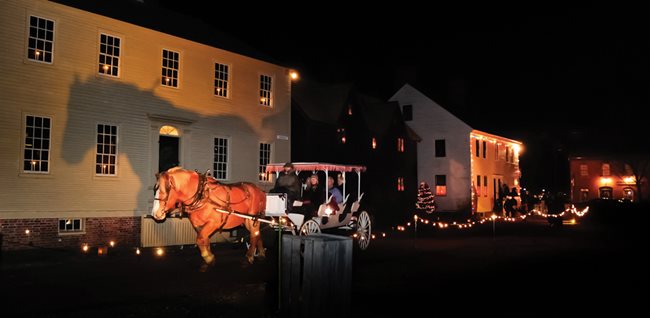 Strawbery Banke is a living history museum in Portsmouth, New Hampshire, just an hour's drive from Boston. During the day, March to October, you'll find 32 historic buildings and re-enactors teaching you old-timey ways from time periods ranging from 1695 to 1955. Around the year they host several special events, including July 4th celebration and Halloween celebration. In December, it's the Candlelight Stroll.
It's a lot bigger than you think! Strawbery Banke, at least for this festival, has as much happening as the larger Old Sturbridge Village. Within the boundaries of their campus, you walk down two main streets, visiting dozens of buildings, some with live music, some showing crafts, and some telling stories of the past. Around this run several scheduled events.
In their central courtyard they've set up an ice skating rink, which operates into March, where you can rent skates up to Men's Size 13. They also have plastic "walking frames" that you can use to glide on the ice if you're afraid of falling. Or warm yourself by one of the two bonfires and watch the Victorian Skaters perform on the ice.
There are plenty of places to warm up in this indoor/outdoor attraction. Visit the cider house to get free hot or cold apple cider, and enjoy the band. Or go to the Goodwin house to see a "ribbon maze", where children follow strands of brightly colored ribbon wound across a room to get to their presents. We went to the Winn House for the magic show, but the performer did not project his voice to the back of the audience, so we left. It seemed to be a kids' thing.
The event is welcoming to everyone and secular in nature. Santa doesn't visit, although we did see Saint Nicholas. Even the carolers singing feel more educational than proselytizing. You're just learning customs, not giving in to the domination of Christianity in December that can make others feel surrounded. We visited the Chase House to hear 19th century Christmas traditions, which was fascinating. And we visited the Shapiro House to meet old timey Jewish people celebrating Hanukkah. In keeping with its old-time nature, the outdoor lighting is decorative but modest.
It's easy to get lost in the old timey wonderland, but there are plenty of staff to guide you, and you'll get a map and a schedule of events when you arrive. You can't go wrong my just strolling and seeing what you encounter. It's packed with history! You can spend 2 hours there even if you never linger, or an entire evening if you go skating and engage fully with the re-enactors.
You can take a Clydesdale horse drawn carriage ride, find a harpsichord, see a short play, and hear 'Twas the Night Before Christmas read aloud. Strawbery Banke is strong in showing crafts as well. You'll meet coopers making barrels the old-timey way, and carving wood, a boathouse where they're making a boat, merry families cooking traditional foods, and my favorite: a general store from the 1940s, stocked with many of the brands we still use today (and painfully, you can see where the stereotype Aunt Jemima comes from). There's a tinsmith, basket and chair makers, a weaver making textiles, wreath making, and Native American crafts.
The grounds have both indoor and portable toilets, and the paths are lit by real candles. A few more wastebaskets would be useful, as well as more signage visible at night. Of course you'll find a gift shop, which sells s'mores kits, books, puzzles, scarves, old time bottles, and more, which contains a cafe selling hot cocoa, coffee, drinks, and a seating area with tables.
Strawbery Banke's Candlelight Stroll is associated with Vintage Christmas in Portsmouth, a month-long holiday celebration including partners The Music Hall (live performances), Discover Portsmouth (gingerbread house contest display) and the City of Portsmouth. They even have a trolley that takes you to and from your hotel and these destinations. Book early to get a spot at Fezziwig's Dinner at Pickwick's where a costumed George Washington and other characters dine with you.
With a surprising amount to do, both active and educational, Strawbery Banke's Candlelight Stroll gets an easy 5 stars. It's not too late to visit them in 2018 or be sure to visit in 2019!