Candlelight: From Bach to Beatles (4 Stars)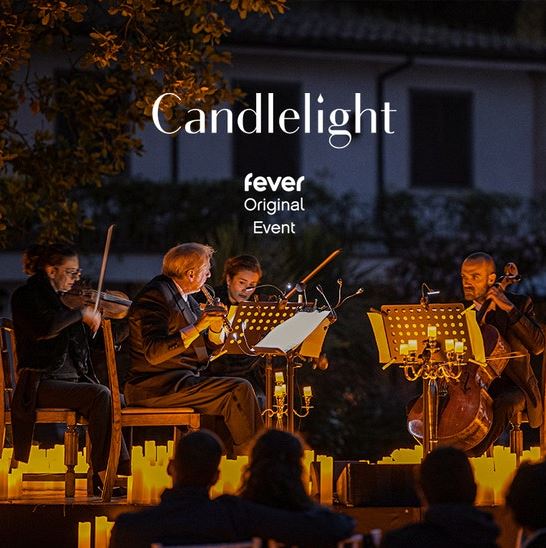 Copley Square was easily one of the busiest places in Boston. That is not true anymore. One would wonder what exactly there is to do there if one took a quick walk through. Boylston Street once had dozens of bars, restaurants and stores however many have not survived the shut downs and closures making this area of the city a near ghost towns. Many restaurants closed indoor dining recently rather than shoulder the burden of needing to check vaccine passports since it would require additional personnel in an already difficult labor market. Customers now have even less of a reason to venture out.
One consequence of this is that it is extremely easy to find on street parking on a Friday night. Never would that happen easily in the past. It helps that college students have not yet returned from winter break. The cold night air might have kept a more than a few away as well. But New Englanders have never been afraid of the cold bitter air.
Candlelight is hosted by Feverup and gives you a reason to come back to the city by putting a series of concerts in unique locations. From Bach to Beatles takes place at the Old South Church located at the corner of Copley Square in Boston. A number of other concerts will be taking place in this series in the coming months. These include playing Anime themes, The Best of Beethoven and even Classic Rock on Strings. They play tributes to such musicians as Taylor Swift, Queen, Coldplay and Elton John. Looking for a romantic evening? Candlelight features a Romeo and Juliet Valentines special.
The Old South Church is itself an attraction. It is one of the oldest churches in Boston and is sometimes referred to as the Third Church since it was the third church built in Boston. It is so old, Benjamin Franklin was baptized there. As historians know, Ben was raised in Boston before going on to Philadelphia. His parents are interred nearby at the Old Granary Burial grounds,
The church has an old and rich aesthetic indicative of the history and elegance of the place that was designed to reflect the cathedrals of Europe in a new world. As you walk in, you cannot help but notice the massive pipe organ that spans more than 5 stories. There are multiple choir galleries and stained glass windows all above the congregation. Upon the altar and all around are candles hence the name Candlelight.
It is worth it to check out some of the exhibits in the entry ways to learn a bit more about the Church. It was originally built in 1669 however its present form is a reconstruction from 1873. Since then the Church as seen numerous improvement projects and currently is listed as a historical landmark. It played a role in the founding of the United States as a staging ground for the Boston Tea Party.
Be aware that in order to enter the church you will need a face covering and show your medical papers. This is easy to do since they only need to see a photo on your phone so there is no excuse not to. There is no reason to stay away.
Your musicians are the Arabella String quartet. For those unfamiliar with the format, there are two violin players, a viola player and a cellist. Our musicians are all international and come from Australia, France, Italy and Denmark. Musically, they performed well presenting a tight ensemble of talented individuals. Clearly they love the music they play and play well together.
Lovers of classical music will recognize many well-known pieces from history. They play songs by Bach, Beethoven and Dvorak as well as some you may be unfamiliar with. It is always good to hear some new music and to expand your knowledge of the lesser known historical musicians. There is an attempt to connect the songs by charting a progress of how each song influenced the next. Eventually the quartet moves onto the Beatles. Several of the Fab Four's most well recognized songs are played. Among them are Hey Jude and All you Need is Love plus a few more. It is enough for a Beatles fan to feel as though they got something.
The entire performance suffers from a sense that something is missing. The musicians awkwardly transitioned from playing to Introducing the next piece by fumbling with a microphone that they began to speak into even when it was not turned on. The show could have used an announcer or MC to ease the exposition from one song into another. A simple power point would go a long way to convey information to the audience. Today everything is an elaborate audio visual experience yet this was just hour people playing music. A projector or other such presentation device would have given more contexts to the performance in order to form a cohesive narrative.
You might see this level of performance at a bar where it is background music but when the only focus of your attention is the performance, you expect there to be more of a show. They attempt to add a story but fail. They try and connect the pieces and how they influenced each successive song, but barely do so. It lacks a feeling of purpose in the performance. It could benefit from director and a sense of Mise-En-Scene.
This is not to take away from the talent of the musicians that are not to be denied. The entire show is only an hour long and starts late at 9pm making this a capstone to the evening for many. Careful planning can make this a wonderful night, but be aware you dining choices in the area are limited so perhaps plan on eating out of the city for more options. Head into Copley Square for the abundant and easy street parking and settle in for some well done and elegant music.
For more information visit feverup.com