46 Boston Schools and Enrichment Programs with Live Virtual Classes During the Virus Lockdown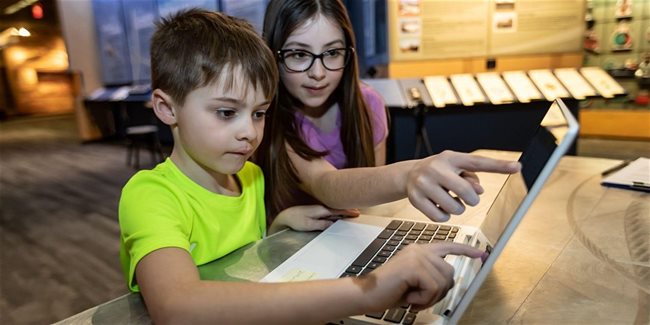 Community Music Center of Boston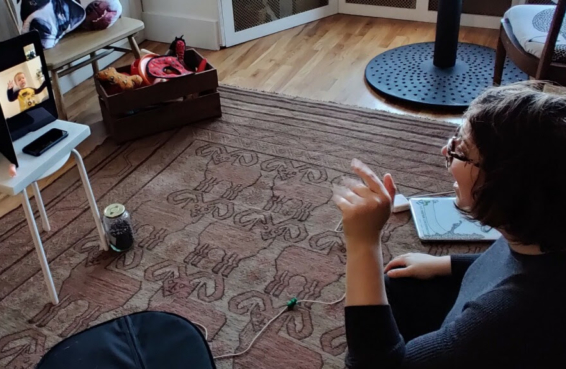 Community Music Center of Boston is offering free trial lessons for new students April 20-25. Online lessons are an additional access point for students. Says Executive Director Lecolion Washington, "Equitable access is an important part of our mission and is something we think about daily. We are excited to launch online lessons for all, making us more accessible and able to reach students directly in their homes." CMCB moved programming online for a large portion of it's current student population right away on March 14th. To date, 85% of CMCB's current students are participating in online lessons or have consented to online lessons. And 40% of schools in which CMCB provides music programming are engaging online.
Director of In-House Programs Michael DePasquale says "This was first meant as an opportunity to support current students hoping to continue instruction but who couldn't make it into our space. Then we began getting inquiries from new students looking to dust off their ukulele, or finally pick up the piano."
Faculty say the move online has allowed their students to continue to engage in programming and connect with their community in an age of extreme social distancing. "During this time of extreme social distancing, the opportunity to connect with a person outside of your home is so important. Our faculty tell us these lessons are an important part of their student's week," says Executive Director Lecolion Washington. For more, see Community Music Center of Boston online.
Online lessons for new students are expected to launch on May 04. These online lessons are an opportunity open for students of all ages and a wonderful opportunity to engage the family as a whole from group classes like Little Notes, Music and Movement, and Music Theory to private lessons on that instrument that you've always wanted to learn to play. For more information about online lessons for new students see Community Music Center of Boston online and use the online lesson interest form.
Acera STEAM Learning Lab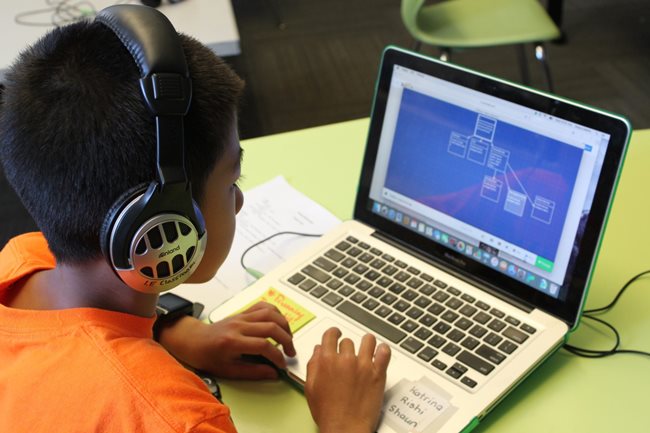 Acera: The Massachusetts School of Science, Creativity and Leadership is an independent K-9th grade school in Winchester, Mass. Acera is offering live virtual after school programs each weekday from 3:30-5:30. Classes include science, art, coding, graphic design, live action and table top role play games, and more. Register online.
Now that virtual learning has been extended for the remainder of the school year, Acera is launching a "Pop Up" remote school for students grades 6-10. Built around high-engagement ideas and interdisciplinary projects, the school will emphasize critical thinking, problem solving, creativity, writing, and initiative. Virtual classes will begin on April 27 and run through June 19. For more information and to enroll, visit aceraschool.org.
Belmont Hill Summer School

In light of the ongoing COVID-19 outbreak and in an effort to create a safe learning environment, Belmont Hill Summer School 2020 will be conducted via online learning offerings only. 
At Belmont Hill Summer School, students in grades 6-12 can explore new subjects, hone skills, and gain valuable academic experience from expert faculty. In a four-week session conducted via online learning, our curriculum is designed to position students for success in their upcoming school year.
With diverse course offerings and flexible scheduling, parents can design an academic schedule perfect for their student's goals and needs. More information on the specifics of our online learning philosophy can be found here.
Big Picture Art House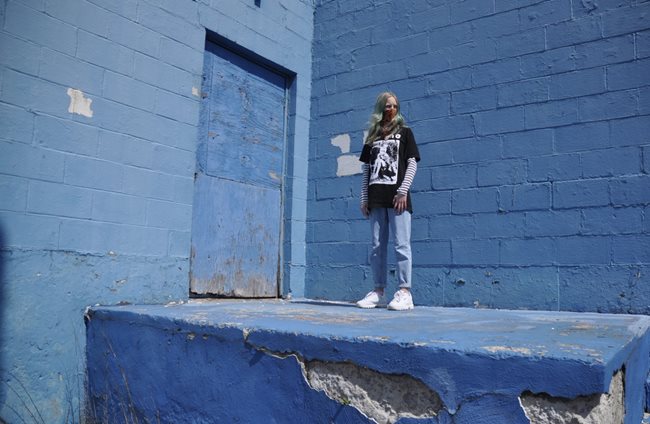 Big Picture Art House is a youth photo program started in 2011 by professional photographer Jennifer Connelly. Summer classes have been a huge success and the program is expanding with plans for classes in Salem. Students ages 11-15 are provided with professional DSLR cameras, travel around the city in the program van in a small class size of 7, exploring people and places. Jenny recently went virtual like so many others and has found the "pivot" has produced compelling work from youth at this strange time in history.
Participants just need a phone camera or a regular camera, Zoom and a little bit of time. It gives students the ability to get feedback from Jenny and each other, share stories and create art about the stay-at-home and social distancing reality we find ourselves in. The silver linings have been inviting photographers in other areas to sit in on Zoom classes like Tonya Wilhelm, Jonathan Beller and Stephanie Espinal and having students in other places like Colorado and France. Student photos from the past three virtual classes have been refreshing, whether a self-portrait, a view from a bedroom window, a street scene or pictures of meal time. See Big Picture Art House online.
Brookline Adult & Community Education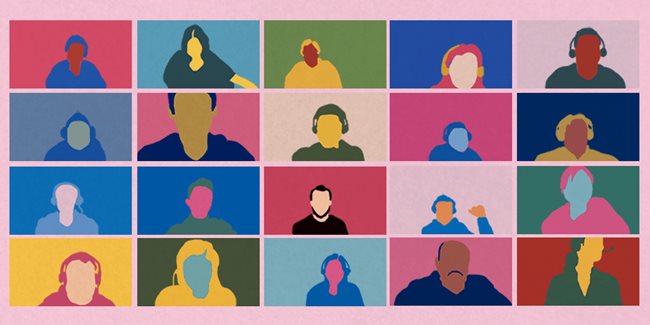 Brookline Adult & Community Education (BA&CE) is one of the oldest non-credit, public education programs in Massachusetts.  Adult education has been a part of the Brookline community since 1832, beginning with the formation of the Brookline Lyceum Society. It is now the largest public program in the state, with close to 1,000 courses and over 10,000 enrollments yearly.  Today, BA&CE is the hub of an educational network serving residents from more than 50 neighboring communities in the greater Boston area and beyond. A self-supporting program of Brookline Public Schools, BA&CE is committed to offering lifelong educational opportunity to all: newcomers to the United States, working people and professionals, those in transition or career change, older citizens, persons with special needs, and especially those who have not been able to participate fully in the educational process. By offering programs that bridge the generations, the Brookline Public Schools seeks to unite the community in a common purpose – educating for the improvement of the quality of life for all its members.  
While everyone is social distancing during the covid crisis, we are offering a way to connect virtually. Brookline Adult & Community Education is offering a Mini-Term of online courses to give you a taste of what it might be like to take a course online. We are offering English language courses, drawing and painting, yoga, line dancing, and self-help classes such as feeling grounded in stressful times for adults. For children and teens, we are offering classes in Metrocraft, Minecraft, Scratch, a Stock Market Game, Reading, Family Improv classes. Free to the public, is a class on how to make a face mask.  Please join us as you seek personal and professional growth; entertainment and education; new ideas and new experiences, and enjoy the company of others who seek the same!  For course updates and information, visit www.brooklineadulted.org.
Cambridge Center for Adult Education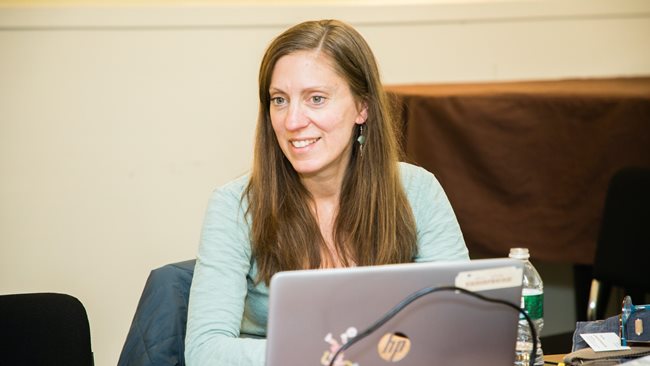 Cambridge Center for Adult Education is a non-profit organization providing a wide range of high-quality, low-cost educational experiences in Cambridge, Boston, and the surrounding area since 1870. For the first time in our 150 year history, CCAE is now offering online classes as an opportunity for our community to connect and learn together.
Classes are registering now in World Languages, Food & Wine, Visual Arts, Humanities, Business & Technology, Life & Wellness, and Performing Arts. All classes will be taught via Zoom with an experienced CCAE instructor. CCAE's online classes provide an excellent opportunity to support a local non-profit, learn something new, and even meet new people while social distancing. More information can be found at ccae.org/online-classes.
Codeverse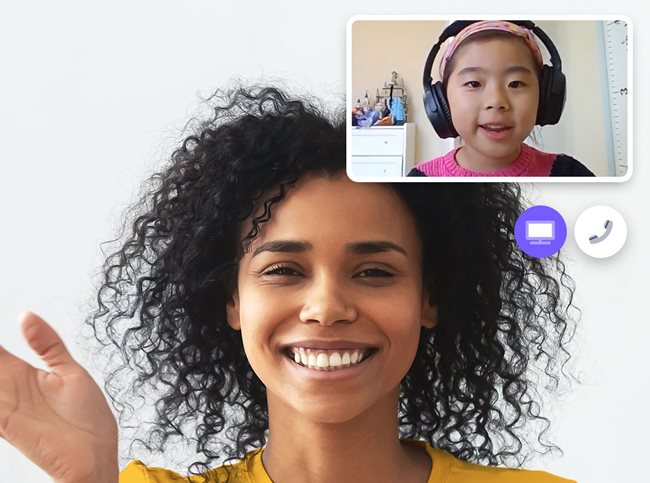 Codeverse is an award-winning coding program, offering weekly classes and at-home activities for kids ages 6-13. With a Codeverse membership, kids receive weekly 1:1 virtual coding classes, learn how to build unique mobile apps and games, enjoy unlimited access to our online coding platform, get published in our App Store, and receive at-home coding activities by mail! While based in Chicago, in January they announced a national expansion to Boston.
Your child's first coding class is free. To sign up for a complimentary 50-minute trial class, go to codeverse.com.
Concord Conservatory of Music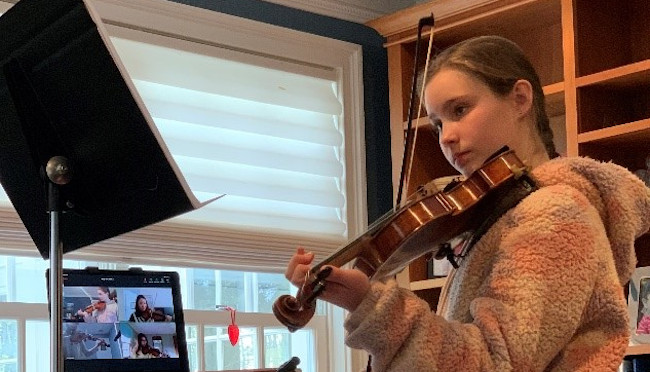 Concord Conservatory of Music (CCM), a nonprofit community school, now offers private instruction using our Distance Learning Program for private instruction. CCM faculty are teaching lessons online with creative and innovative approaches that make the Distance Learning Program a dynamic experience. After weeks of lessons online, our community is gearing up to enjoy our 2020 Spring Virtual Recitals as well.
Turn to music to boost your creativity, improve your cognitive skills, and soothe your nerves. Inquire about music lessons today by completing the New Student Lesson Inquiry Form, or see ConcordConservatory.org or call (978) 369-0010.
Create Art in Community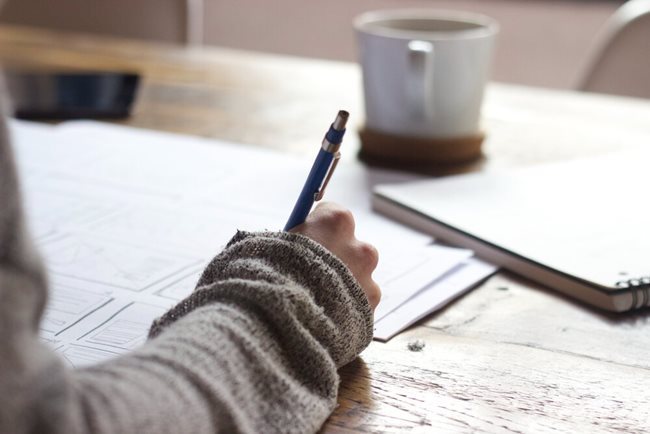 Create is offering live online classes while our studio remains closed. We offer something for everyone, from morning classes targeted We have a Comics class beginning on May 6th, a sketching class every Thursday evening, and a weekly drawing class featuring characters from some of the most popular series such as Harry Potter, Percy Jackson, and more! Join us each week until we reopen hopefully in June, with weeks full of classes to keep the kiddos busy! See Create Art in Community online.
Empow Virtual Programs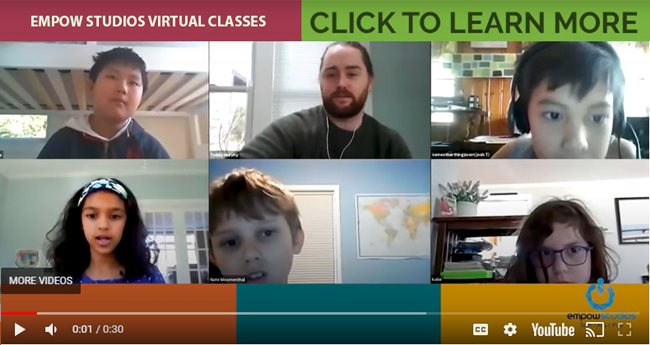 Looking for fun, engaging learning for your kids to dive into while at home? Empow Studios is offering LIVE virtual STEM classes, with outstanding instructors, plenty of tech options to choose from, convenient times, and lots of opportunities for kids to interact in small online groups. 
Class options include; Virtual Minecraft Explorations, Coding with Python, 2D Video Game Design with Flowlab, Virtual Robotics, Digital Animation, 3D Sculpting, Computer Aided Design with Tinkercad, and Coding with Scratch, running Monday – Friday, at 3pm and 5pm ET, with customization options available if you can't find what you need. All new customers get 25% off at checkout when using coupon code ACTIVATE25.
To get started and for more information visit empow.me/virtual or call 800-456-4949 ext.300.
Esh Circus Arts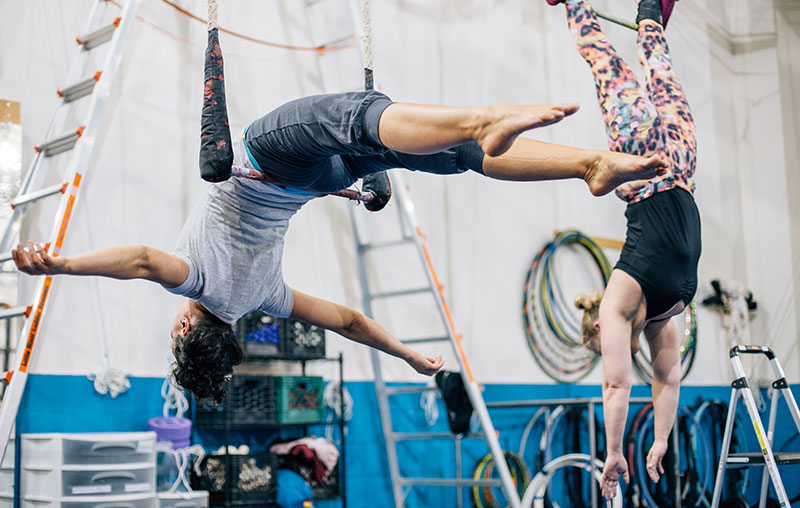 Esh Circus Arts offers more than 50 small group online classes each week! Topics include flexibility, strength training, juggling, handstands, tumbling, and dance, as well as youth circus for ages 2.5 and up. All classes are taught live by Esh instructors to small groups of no more than 8 students, and are hosted on a web service called Zoom. These classes are designed for doing at home – meaning that, for the most part, you don't need any special equipment to participate. Whether you're brand new to circus arts or an experienced student, we have lots of fun ways to get your body moving and bring a little bit of circus joy to your day. Find details and sign up for classes at www.eshcircusarts.com/schedule-registration, or email us at info@eshcircusarts.com.
Girls Who Code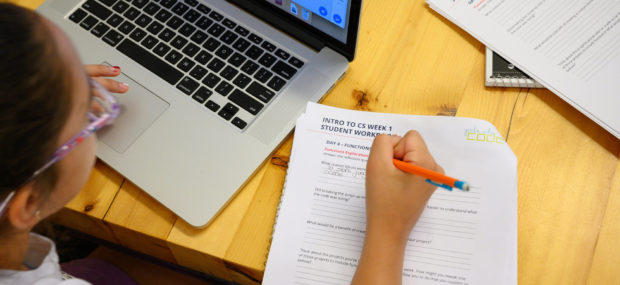 In response to the COVID-19 pandemic, which has led to school closures and significant disruption to daily life, Girls Who Code has created weekly CS educational activities available for download from our website, free of charge, to anyone who wants to access them. The activities—some online, some offline, and of varying levels of difficulty—are being released over the course of the next few months. Each activity includes a features of a woman in tech who has pioneered innovative technology. See Girls Who Code online.
Guardian Adventures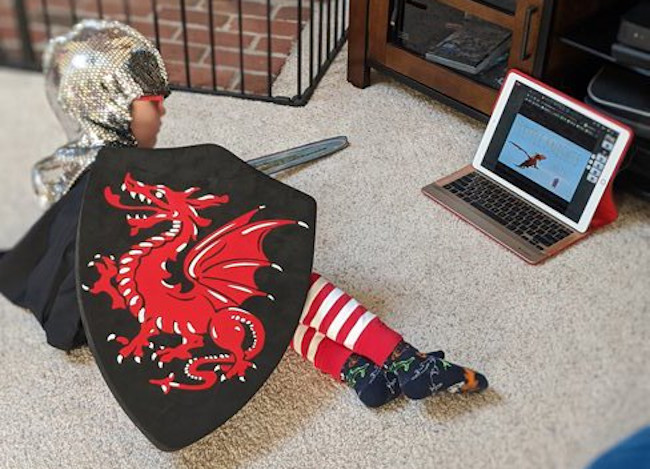 Guardian Adventures offers online adventure where young heroes can make new friends and save the world. For our wizards, warriors, and zombies, your quest awaits you. From STEM-based experiments to virtual NERF battles, your homebound hero's journey is both exciting and educational! From your own living room, your child enters a magical world and join other young heros filled with science, critical thinking, creativity to the max, and monsters! OMG, you have got to see their nuts video for Spring Break Online Adventures, which will make you laugh. The kids are having so much fun! And they have a ton of other online, live activities too: online classes, live action fun, story-based education, socializing, and more.
Hill House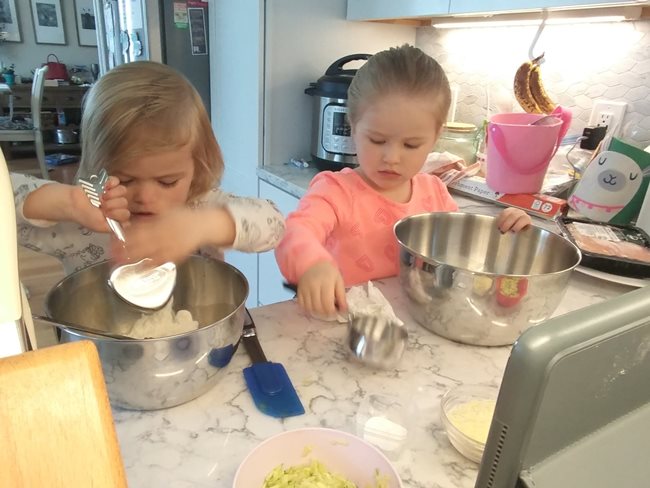 Hill House, an independent, nonprofit community center located in downtown Boston, is offering a full slate of real-time, interactive enrichment and athletics programming online. Programs include cooking, art, music, dance, karate, chess, STEM, sports bootcamps, gymnastics, baseball training and more for ages 0-12. Led by our favorite instructors, these classes (hosted on the Zoom platform) keep your kids moving, socializing with their friends, and engaging in high-quality activities while at home. Additionally each week, we run two Free Family Fun Nights with events including anything from Make Your Own Playdough to Family Zumba. Free events typically are scheduled for Wednesdays and Fridays at 5pm. For those interested in taking our interactive online programs or learning more about our full schedule of virtual classes, please visit www.hillhouseboston.org. You can also keep up-to-date by following us on Instagram @hillhouseboston and Facebook. 
Hopkinton Center for the Arts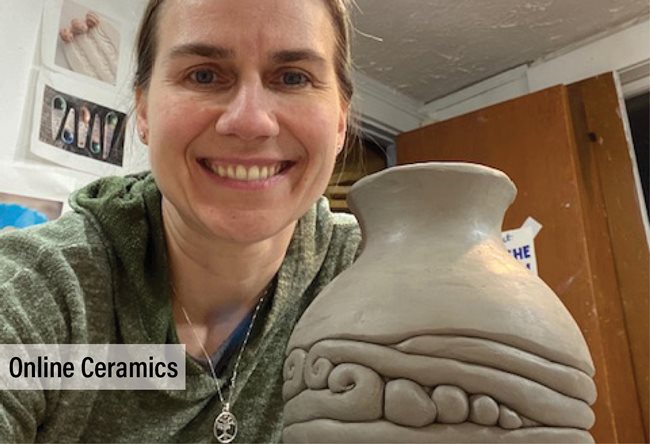 Located in the heart of MetroWest, the Hopkinton Center for the Arts continues to lead the way in creative arts programming, and is offering a variety of virtual classes in dance, fine art, ceramics, and theater for all ages and skill levels. Registration for spring and summer sessions is now open. Please join us on Facebook and Instagram for fun arts & craft videos, daily art challenges, live open mic and cabaret open mic nights, and even art history lessons. Discover how you can connect with us at www.hopartscenter.org. 
iCode of Wellesley
iCode of Wellesley is a STEAM summer camp, after-school program (now also has a PACE program) based in Wellesley to engage children ages 5 to 18 in a fun and engaging way using instructions and application on a dynamic curriculum which has a very diverse set of topics including programming languages like Java, Python and new technologies like Artificial Intelligence, Machne Learning, Robotics, etc. iCode of Wellesley is now offering live instructor-led online classes on a variety of steam topics including Web Development, Game Design, and Development, etc. Enroll now. We are also offering online boot camps for tweens and teens in Java, AI, Python, etc. Please call 781-291-3131 or send email to wellesley@icodeschool.com.
Leaders 4SC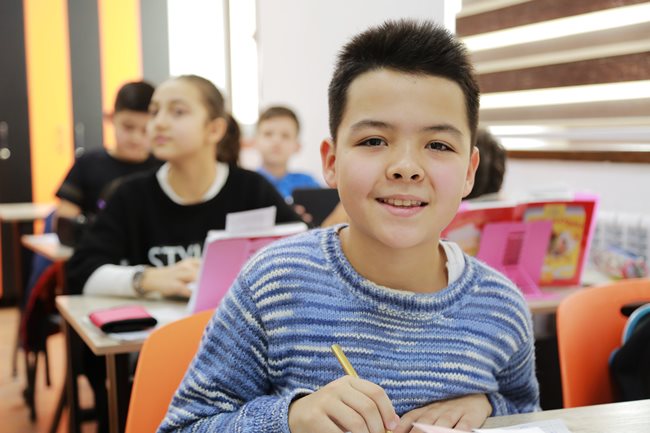 Leaders 4SC (Leaders for Social Change) is a set of four week-long workshops for middle school students on leadership, communication, decision-making, and advocacy.The workshop aims to train the next generation of civic leaders: members of a community who actively participate in society. The virtual camp will run for 4 weeks in July. Students are welcome to join for 1, 2, or all 4 weeks. Each day there will be live lectures and activities, staff available for office hours all day (8am-midnight) and make-up lessons if a student has to miss a day for any reason. Skills and themes include:
Argumentative Writing: Students will work on developing a persuasive and well-reasoned editorial (op-ed style) article on a topic of interest to them. Weeks 1 and 3 are the writing-focused workshops.
Public Speaking: Students will receive practice and instruction on developing good public speaking habits and crafting a rhetorically powerful speech. Weeks 2 and 4 are the speaking-focused workshops.
Current Events: Each day students will discuss topics that directly pertain to them, as well as national, global, and futuristic topics.
Interdisciplinary: Students will be exposed to topics in philosophy, psychology, economics, sociology, history, civics, statistics, and more!
Parents can learn more and apply at Leaders 4SC online.
LINX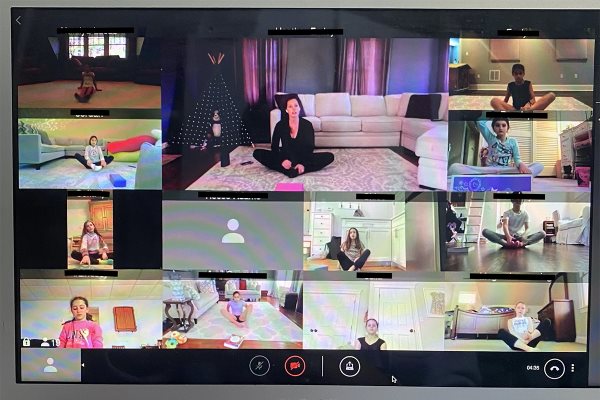 While schools have closed and playdates have stopped, LINX took their classes online so that students could still have their weekly classes with their peers and teachers. So much uncertainty and sudden change can potentially lead to anxiety in children. LINX is working to maintain a sense of normalcy by providing LINX members with their regular classes and familiar LINX leaders with whom they feel comfortable.
Instead of using a one-way video streaming platform, LINX is utilizing a two-way interactive video program so that teachers and students can talk, ask questions, and interact with each other; simulating a normal LINX class as much as possible. LINX has also been adding "bonus" content for all members, including virtual, indoor recesses, with more content being added each week. Finding new and creative methods of social interacting while social distancing is essential to keeping kids engaged and developing at this time. Let the existing habits of your family and your child's imagination guide you to discover the best options! See LINX online.
KTBYTE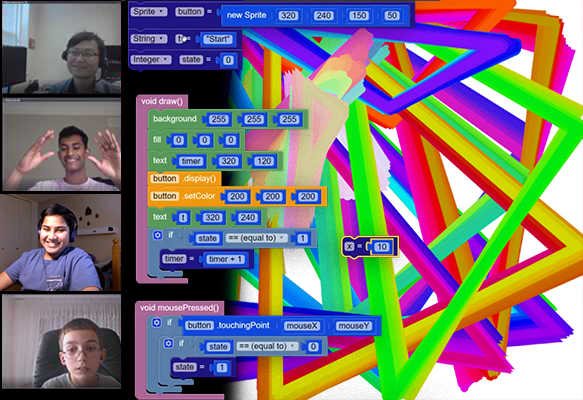 KTBYTE is a computer science academy based in Lexington, Massachusetts. Founded by a team of Cornell computer science graduates, KTBYTE's main focus is to provide comprehensive and challenging computer science learning that isn't offered to young learners. We specialize in courses for students 8-18, and have a varying range of online class schedules to fit your student's needs. Our virtual classes are live, and instructors will use our in-house developed software to teach and monitor each student's screen – ensuring a focused virtual learning experience. Find more information about KTBYTE classes.
MassArt Youth Summer Programs
MassArt 2020 Summer Youth Programs will be offered virtually, to provide engaging, skill-building, and problem-solving experiences that will be memorable for everyone who participates, in:
Understanding core and fundamental skills
Developing studio practices
Online studio offerings will include:
Live presentations from faculty and daily check-ins
Time for creative art making, both independently and in class
Break out sessions in small groups
One-on-one and group critiques with faculty
Online resources such as virtual museum tours, TED Talks, external demo videos, "visiting" artists, virtual collaborations, etc.
See MassArt Summer Studios online.
MathAltitude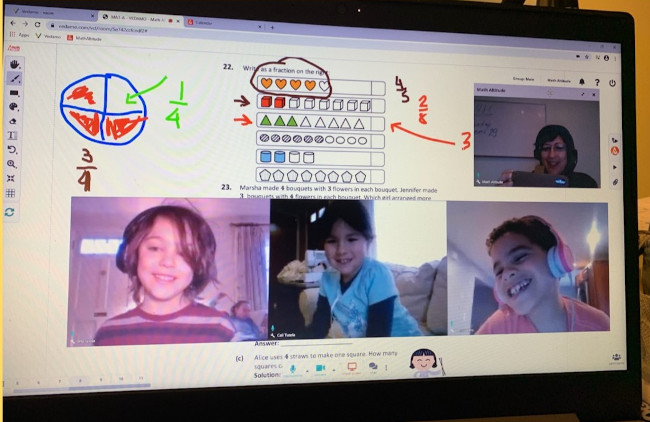 MathAltitude is an award-winning after-school and weekend math enrichment school located in Worcester. Now in its 10th year, our program motivates students to excel in their regular math classes by building their confidence and understanding of math concepts. From pre-school through high school, we challenge children's intellectual curiosity without overwhelming them, offering small class sizes (up to 8 students) and private tutoring to meet students' individual learning styles.
When the health crisis arose, MathAltitude shifted exclusively to virtual classes, using interactive software which allows students and teachers to communicate online much as they would in a live classroom setting. We are happy to be able to provide high-quality academic instruction to students at diverse ability levels. Math help for students who need support; math enrichment for students who want to be challenged; test prep for high school and college admission; AP math; and Add-to-Math – physics, essay writing, chess, and computer programming. In addition to our school-year program, we offer a six-week summer program. We are accepting applications for our spring, summer, and fall semesters. Visit our website and call (860) 375-3276 to set up a free virtual placement test.
Nabi Music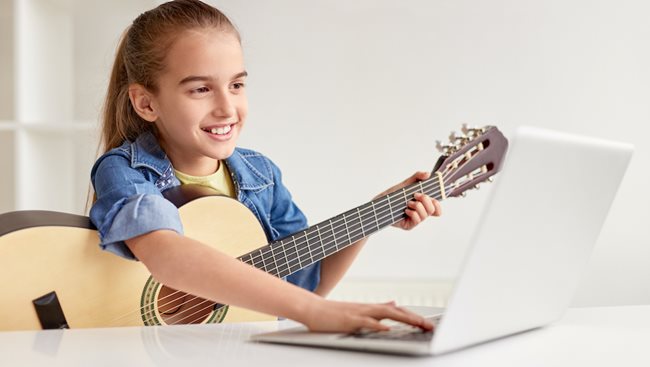 Nabi Music is an innovative music learning experience for children that allows parents to connect with qualified instructors nearby and provides unique features that motivate parents' involvement in their children's musical path. With Nabi you can meet an online music teacher, schedule lessons, track progress, and set practice sessions. Nabi Music makes music education easily accessible, fun and engaging. Try Nabi Music by getting a free online music lesson.
Ocean Protection Advocacy Kids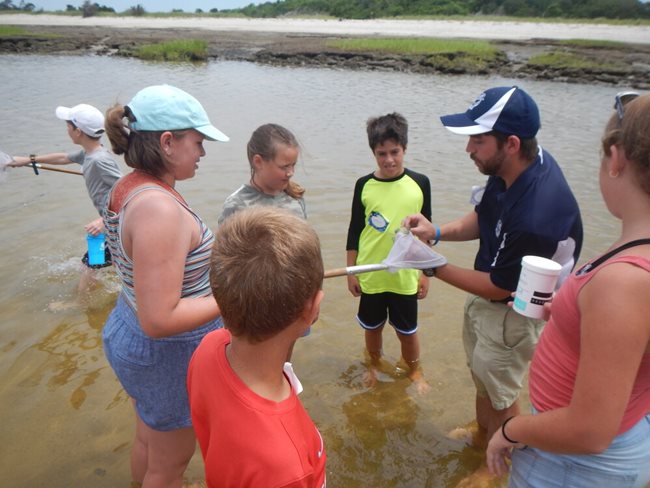 Ocean Protection Advocacy Kids (OPAK) is a nonprofit educational organization based out of Plymouth, MA that empowers youth to become curious ambassadors for the environment through the arts. OPAK carries out its mission through marine science, art and advocacy workshops for students in grades K-12 across Massachusetts. Like many organizations, OPAK has transitioned its programs to virtual platforms and is offering ocean themed webinars for students around the world! Themes include plankton, whales, horseshoe crabs and marine protected areas. Each webinar is approximately 45 minutes long, open to various age groups, allocates time for a live Q&A and provides follow up activities to do at home. To learn more about these opportunities, to register for future webinars and to support ocean education please visit www.opakedu.org.
Science Club for Girls

With critical measures in place to prevent the spread of COVID-19, Science Club for Girls has moved its operations online for the remainder of the Spring semester. While we miss seeing our participants in person each week, the STEM learning continues! We welcome anyone – not just our club participants – to join us in our weekly #SCFGatHome Activity Challenge, hosted on our Facebook page, or complete another activity from our long list of #SCFGatHome activities found on our website!
Science Club for Girls is also hosting a Live interactive science show, #SCFGLive, every Wednesday afternoon at 3pm on our Facebook page. Come join us for engaging experiments, music and extra special guests! Videos will also be posted on our Youtube page following the Live showing. Science Club for Girls is excited to see how everyone engages in STEM at home! For more information, visit our website at scienceclubforgirls.org.
Shady Hill School

Shady Hill's remote-learning goals are to provide students and families with structure and flexibility as well as opportunities for rich learning and a sense of community among students and teachers. Characterized by synchronous and asynchronous instruction, Shady Hill's online program is responsive to a wide range of families' needs in this unprecedented time. Though we cannot replicate our unique hands-on project-based learning experience in an on-line format, our faculty are creating high quality, creative programming that is engaging our students during this unprecedented time. See shs.org.
Winchester Community Music School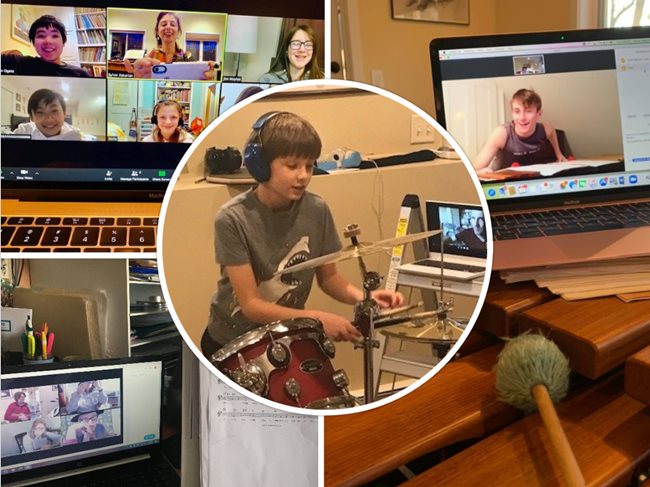 Winchester Community Music School, which offers private lessons in over 30 instruments as well as songwriting, music theory, music appreciation, and composition, is offering live remote private lessons and remote versions of several group classes, has openings for new students this spring in First Steps in Music (for ages 3-5), Group Ukulele for both children and adults, and our Music Therapy for People with Parkinson's group. If you would like to explore opportunities for remote lessons and classes at WCMS, you can find the most up-to-date information about offerings and registration on our website. Our friendly staff will be happy to help you evaluate the options and navigate the registration process, whether you're looking to undertake serious musical study or just sign up for a few lessons to help make your quarantine more enjoyable. For more information, email us or call 781-721-2950.
Others
Other schools that I confirmed have live virtual classes, but didn't send me a blurb, include: