Boston Duck Tours is a High Energy Tour of History on Land and Water (4 stars)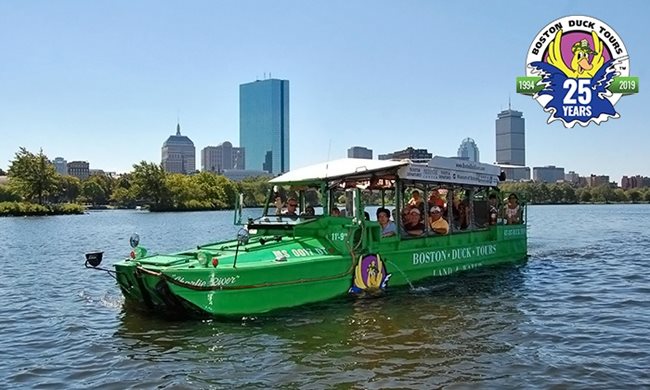 If you're a Bostonian, you know about the Duck Tours. You'll often see the amphibious vehicles riding through the streets of downtown Boston and in the Boston Common area, or cruising on the water between the Longfellow Bridge and the Museum of Science.
Boston draws visitors because of its deep history, especially from the Revolutionary War era, and its high tech. We have the future and the past. We draw visitors because of our arts and our colleges. We have some of the most creative minds in the world. Our celebrities don't act in movies; they change the world. It turns out that the Duck Tours are fun for locals, too.
The Duck Tour takes 80 minutes, with boats leaving from your choice of three different pick-up spots around Boston: The New England Aquarium, Museum of Science, and the Prudential Center. Inside the "boat", the seats are comfortable but leg room is tight. The roof is a canopy where members of the military are invited to leave a signature, a classy idea. The roof offers plenty of shade from the hot sun, and holds flotation vests, which the Duck Tours have never needed.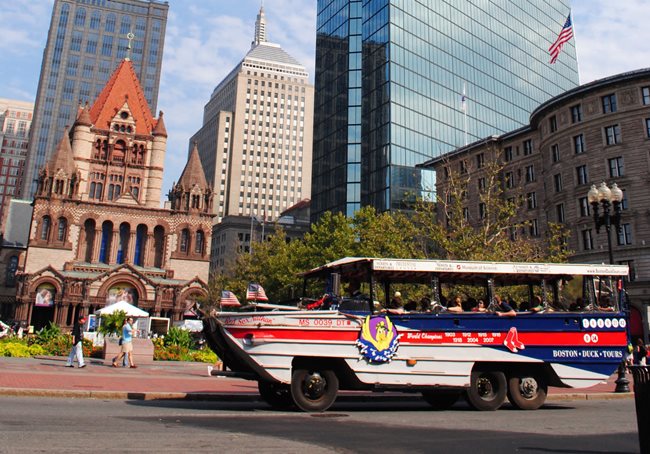 Your guide makes the tour, and I would bet that you could ask for one who matches your personality, if you have some flexibility on when you take the tour. Although every guide must cover core topics, they are otherwise left to make up their own patter. Some will be more erudite and others may engage more with visitors. Ours offered a lot of dad jokes, calling himself our "Con-DUCK-tor", and using many puns.
Personally, I have zero interest in the spot where the TV show "Cheers" was filmed, so was glad to find that the tour was mainly substantive. Even as a Boston native who takes an interest in history, I learned a lot. We saw the statue of Mary Dyer, who was hung in 1660 on Boston Common for demanding religious freedom. (Holy moley, where exactly?) We saw a piece of the Berlin Wall that came down in 1989, foretelling the end of the subjugation of the Soviet Union. We even saw real gas lamps, historic artifacts that still burn.
We also learned a lot about common Boston landmarks that I'd long gotten used to. The Longfellow bridge has sculpture representing Viking ships, on the scientifically unsubstantiated theory that Vikings made it to Boston before Christopher Columbus. Anesthetic was invited at MGH at the "Ether Dome". Harriet Beecher Stowe and John Kennedy had homes in Boston. And we heard about the recent Edgar Allan Poe statue just off Boston Common. I had no idea there were police and firefighter sculptural displays in Boston. New York built America's first subway car, but Boston had America's first subway system.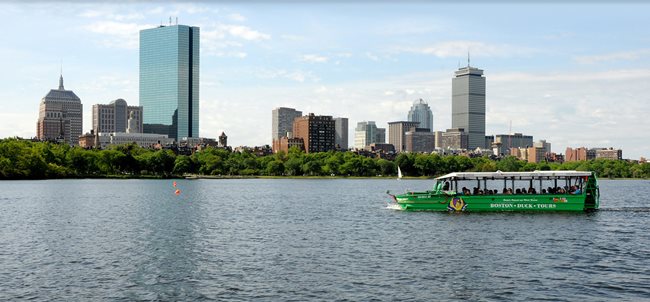 We also saw a lot of things that, as a Bostonian, I already knew about: the Prudential Tower, the Holocaust Memorial, the Museum of Science, Boston Common itself, and Faneuil Hall. We learned that Boston has America's cleanest urban waterway, the Charles River, and that the Big Dig is America's deepest highway tunnel.
Our trip was fun as well as educational. The tour goes in a circle all around Boston Common and the Park Gardens, and then up to the Museum of Science, where you launch into the water. I finally got a really good look at that Boston skateboard park that you can see whizzing by on the commuter rail. Sailing through the water was a treat. Our guide called up every kid on the tour to take a tour piloting the boat. It was cool to see a drawbridge lift up with its giant cement counterbalance weights.
A few nitpicks are possible. One disappointment was we never went into depth on any one site. Of course, the tour is only 80 minutes, and there's hardly room for a duck boat to pull over. But our guide filled idle time with jokes that surely came from a bit of on-the-job boredom, giving us just a short line instead of a full minute or two of background on many of the landmarks.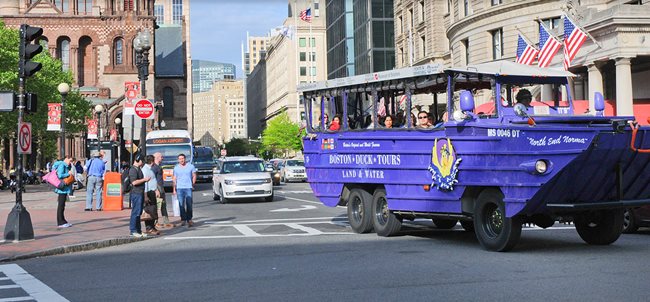 More importantly, the tour didn't gel into a big picture of how Boston is unique, historically interesting, and a cause for pride. We were fed a flow of consciousness of disconnected facts with pauses to let us digest what had just been said, or feel comfortable asking a question. The time when the guide was focused on kids driving the boat was the only down time that we had. Perhaps the boat driver could have performed this function, allowing the guide to give the rest of us more information.
However, there were some genuinely humorous moments, and our guide altered his patter to connect it to the regions of the country and the world that his guests were from. Our guide interacted with guests but didn't pressure them into responding.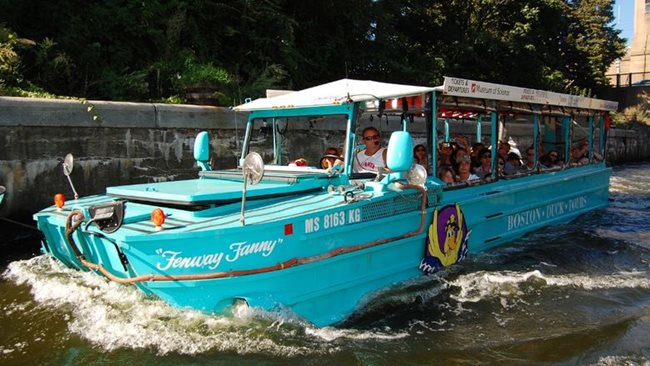 Not forming a "story" as a whole, and with some of the humor not landing, the Boston Duck Tour was not the best historical tour that I've ever been on. But you're bound to have a different experience with your different guide, so who can say? If you only have 80 minutes to zip around Boston, it is a real thrill to go into the water, and you'll see highlights that may inspire you to walk the Freedom Trail or visit local museums. It's an excellent starting place, more cerebral than expected, and I was pleased and surprised that even as an amateur expert on Boston, I learned a lot. It's part spectacle, part education, and your kid gets to drive a boat.
I've been on a lot of historical walking tours and one does get tired of walking and standing for so long. Riding in a seat in the Boston Duck Tours is easy, comfortable, and fun. I'm glad to give the Boston Duck Tours 4 stars. Make sure to pick up their coupons for many other tourist attractions and activities.
See bostonducktours.com.