Boda Borg is an Indoor Obstacle Course and Brain Challenge Theme Park for Kids and Adults (5 stars)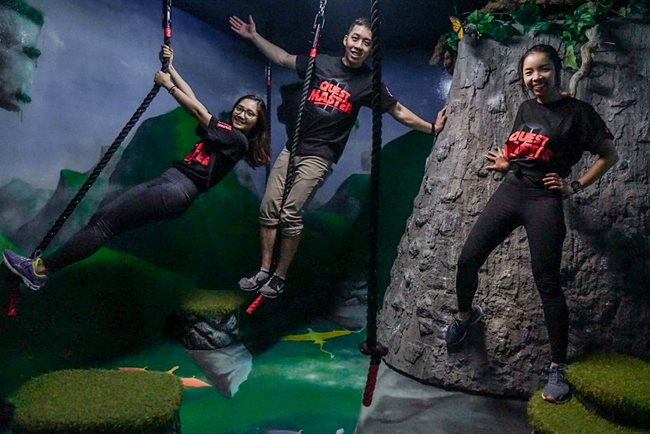 Boda Borg is a unique, interactive playground for adults and kids where you solve puzzles and take on physical challenges. Founded in Sweden, where they have seven locations, the 'borg' refers to sort of a fortress or castle, like you have to break in. They have a location in the Boston area, in Malden, a short walk from the orange subway line. You enter into a large lobby, sort of a cafeteria space with tables and chairs, where you can wait with your friends before you go in, or chat afterwards. There you'll find a coffee bar, and they sell snacks, t-shirts, and soda, and have restrooms, a coat rack, and lockers to store your stuff. It's half warehouse chic and half strange walls of plants. We got lucky to attend with some in our group who had been to Boda Borg before, but if you feel lost, ask staff to host you in the "learn to quest" room, where they train you what to do.
Boda Borg resists being labeled as an "escape room", preferring to be called "reality gaming". Although you do go into a room and solve puzzles, it's more of a genuinely unique experience that you've never seen before, sort of a teambuilding exercise taken out of the corporate context.
First, you pick a time slot, just so that they can manage crowd size, but instead of being assigned to one room for an hour, you're free to wander the Boda Borg hallways, seeing the entrances to their 19 different "quests" (with another six being added next year). You enter whichever quest you like, whenever you like. The whole thing is automated, with no staff at the entrances or inside. We never had to wait for more than a couple of minutes to get into a quest, and there were plenty to choose from.
Outside each quest, in the corridor, you'll find a display screen. If it's blinking green, that means wait, because there's a group inside using the room. If it's solid green, then the room is clear and you can enter. There's also a display screen inside, which shows a red screen and buzzes if you fail. Then you must go back outside and, unless there's a group waiting there, can go in again. Unlike traditional escape rooms, you don't get an hour to take on something massively complex. Instead you get 2 or 3 minutes to try something simple, in a smaller environment. (Pro tip: sometimes when you get the failure buzz, you haven't done anything wrong, but may just be timing out.)
Also unlike an escape room, instead of having purely mental puzzles, at Boda Borg you're given a range of challenges from mental to physical. So you'll need to be wearing sneakers and dress down in comfortable clothing. The doors to its quests are color-coded, with green having no strenuous activity, red requiring light climbing or crawling, and black being more strenuous. You don't normally manipulate props, but instead press buttons and explore, sometimes crawling through tunnels or climbing up a wall. It's like a real-life videogame as you pass through levels.
The most difficult physical challenges are similar to a ropes course (you know, where you go up into the trees with a harness and carabiners and have to step on swinging logs and climb rope bridges), but Boda Borg is indoors, and not high off of the ground. You may need to cross a room without touching the floor, or crawl underneath a barrier to find a surprise. You may get a scrape or two that won't draw blood. I got a tiny splinter. It's not just a kids' thing. It's fun for adults who are kids at heart, and more than half the people there were grown-ups, but the quests are designed to be kid-size, so it was challenging for me personally. (Let's just say I've got two reasons to visit a big and tall men's store.)
You can only play in groups of 3-5 people. Staff told us that nothing will break if you go through with six people, but we tried it and it was overkill. Four is the perfect number. Kids must be at least 7 years old, and must be at least 9 to quest without an adult in the group. It's a shame that they don't have a matchmaking service. If you've ever been through a teambuilding exercise, you know how easy it is to make a new friend with a game. Unlike an escape room, you don't get locked in, but sometimes when you fail it's not possible to just exit immediately from anywhere, and you must crawl through a tunnel to the exit.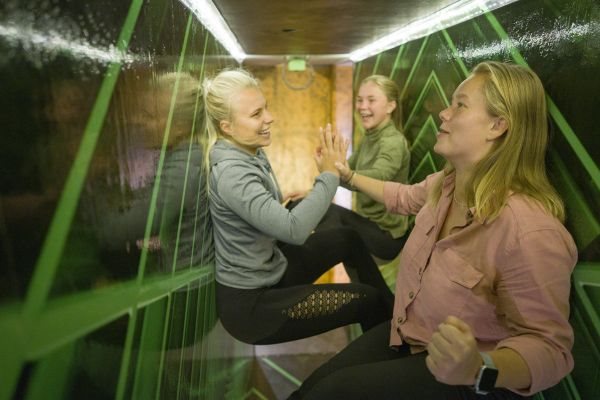 The themes are cute, with painted walls and a few props bolted down. The rooms make sounds and use pressure pads and buttons to find you. Ones we tried included a rat-themed quest, a pirate one, a quiz show, a boot camp challenge, and a farm. They also have "Spook Room", which is Halloween themed, and many others. Check their website for videos that describe each adventure.
Production value values in their props and decorations. Some like Spook House, Alcatraz, Potions have higher production quality, though none reach the level of the movie set locations of competitor 5-WiTS. Some are less interesting artistically and theatrically, but keep in mind that the quests are designed to be kid-proof, which inherently increases costs, even before you try to make them visually interesting. Some of the crawl spaces have pads, thankfully, but some don't and you'll be bonking your knees on a hard floor. I wonder how often the pads and floors you crawl over, and the props you grasp, are washed. (Bring hand sanitizer.)
I've complained before in reviews about escape rooms that give you no direction, because is feel confused fun? Philosophically, I don't think so, and prefer to have a task explained and then find it a challenge to execute. It's true that Boda Borg gives you little or no direction about what you're supposed to do in each room. (Sometimes there's wall text with a hint.) However, because the rooms are far more simple than an escape room — generally there is only one task to do per tiny room — it's far less confusing to figure out what to do. Also, unlike, for example, my review of Escape the Room's Clock Tower attraction (3.5 stars), the tasks that you are given really are hinted at by the room's theme. In the "Rats" quest, think like a rat. In the "farm" quest, think like a barnyard animal.
Also unlike Escape the Room, where I was shocked to learn that the success rate was only 26% for a large group (and I went through with a small group, so we essentially had zero chance of success, so why are we even doing this?), the quests we experienced at Boda Borg struck the right balance and just about everyone can succeed in every quest, though it may take 10 tries or more. Failing isn't as frustrating as it could be, because it only takes a couple of minutes, so you can just exit and try again. Or if you feel stuck, there are plenty of other quest doors to try. Quests are often composed of consecutive rooms, where you complete one, then the next, and then the next. Pro tip: if you want staff to give you hints, tell them that you've failed six times, not just once! Or ask other players in the corridors for their tips. But it's more fun to figure it out on your own.
When you win a quest, you can stamp your Boda Borg card, and then try to collect all the quests. New England has plenty of playgrounds for kids, but there's nothing like this interactive challenge. Unlike LARPing (and some escape rooms) it's not just for puzzle geeks but accessible to anyone. It's an amazing destination that can keep you entertained for a long time, and it's especially good for someone who thinks a ropes course looks fun but is just too athletic. They have creative events including, just past, a Halloween-themed zombie hunt, and coming up, a Krampus Hunt, based on the European Christmas tradition.
Boda Borg is astoundingly fun. It's like those teambuilding exercises that corporations do, except more creative, and indoors. As they grow, I would like to see better air conditioning, higher production quality, a bit more padding, and more computerized interactivity, but Boda Borg has surpassed the movie-set quality 5-WiTS (5 stars) as Boston's best reality gaming destination. Compared to escape rooms, Boda Borg:
• May not have as high a production quality with props, special effects, and computer screens. (But I  hear we missed trying these top notch quests: Potions, Spook House, Alcatraz, and Platoon)
• Isn't so overwhelming with a complicated backstory or dozens of props. You are given just one task at a time.
• Is properly balanced: challenging but you'll get it if you keep trying
• Is properly balanced: there's no need for the embarrassment of getting a dozen 'hints' from staff
• Is less disheartening if you fail. Just try again or find a different quest
• Is more physical, and thus more accessible for kids as well as adults.
• Doesn't leave anyone out. Everyone in your group will have something to do.
It's a better concept! I'll give a full 5 stars to Boda Borg.
For more, see Boda Borg's Boston webpage.