Blenheim Palace in the UK is a Historic and Beautiful Estate (4.5 stars)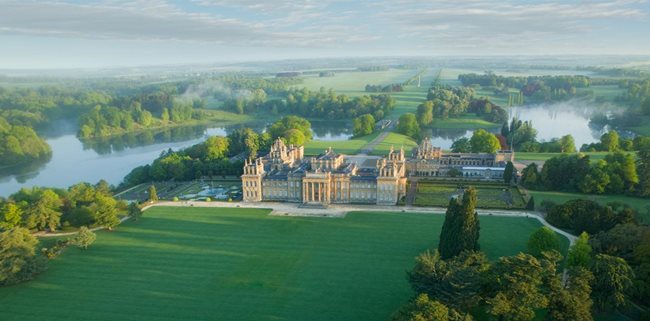 Blenheim Palace is a World Heritage Site and one of England's largest houses, built in the 18th century for the Duke of Marlborough.
The estate is large, so you'll do a lot of walking in-between attractions. This can be just a lovely walk in the park, but you can and should drive to save yourself time.
It took us quite some time to find and enter the Pleasure Gardens, which are beautiful and contain the Lavender Garden, the Garden Café, Butterfly House, and Marlborough Maze, the second largest symbolic maze in the world. The maze isn't too hard, taking just 25 minutes to complete. It's beautifully manicured, and comes with two bridges that, if you discover them in the maze, give you a view of the entire maze and make the topography a bit more interesting. You can't just follow the right wall of the maze to solve it, because those bridges make the pathways three-dimensional. It was the second best outdoor maze we found in the UK, after Leeds Castle, with other destinations like Longleat House and Hever Castle having hedge mazes with paths that were too narrow or that did not contain interesting artwork or other surprises to discover inside.
There's a cute miniature train but only runs occasionally not constantly, so it's not actually super convenient to use it to get around, but you can get from the Palace to the Gardens and back on the train. The grounds are extensive with interesting looking squat fat trees that look twisted with time. Unfortunately, the main palace was closed by 5pm, so we didn't get to see the state room tours, Churchill exhibition, and other displays, which include a historical movie. They have a full calendar of events, including a jousting tournament, a circus, food festivals, auto shows, outdoor films, and horse shows.
You'll find a beautiful bridge called the Grand Bridge, where you'll find ducks, a kingfisher, a Grey heron, and other birds. It was peaceful and at the time we went, in May, didn't have very many visitors. It was nice to see people just walking their dogs, jogging, and enjoying the grounds. And even though the house was closed it was beautiful from the outside. The views are worth it, but watch the geese droppings as you stroll the grounds. You can take a "buggy" ride, presumably a horse-drawn carriage, around the grounds.
On the plus side, Blenheim Palace is not too commercialized. Most of it is just a large park. However, with slightly more infrastructure we would have found more staff on the grounds to point the way. It is easy to get lost. We accidentally ended up in a private, no admissions area without anyone seeming too concerned.
Unlike anything in America, Blenheim Palace is certainly worth a visit if you're in the UK for more than a week, but we found so many other excellent locations in Britain that it's hard to give five stars and recommend it to people coming to the UK for one week or less — unless Blenheim is having a festival day. Because the attractions are spread out, there's too much walking and I'll take a guess, having not been inside, that other attractions such as Warwick Castle, Hampton Court, and Hever Castle better bridge exhausted tourists to the knowledge and fun of the past. Also, this is not an attraction that you can go through quickly. Expect to spend at minimum two hours on the grounds, plus at least an hour for a tour in the house.
Blenheim Palace could easily be the focus of your UK visit. It gets a hearty 4 stars for the park, but call it 4.5 stars for the amazing maze and the inner palace we didn't get to see.
See blenheimpalace.com.