Big Apple Circus – A Dog and Pony Show and So Much More! Five Star Family Entertainment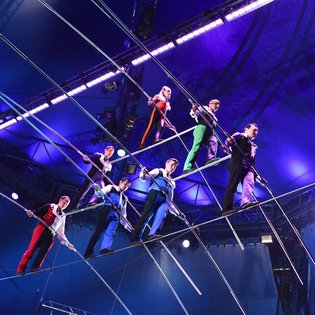 For anyone who ever dreamed of running away to join the circus, you can live your fantasy by checking out the Big Apple Circus.  Now in its 40th year, The Big Apple Circus has set up tent (literally) in Assembly Row in Somerville Massachusetts from now until May 6th.  The experience of this circus is truly unique for our modern times since you get the authentic experience of entering a genuine Big Top Tent that harkens us back to the roots of the circus as a traveling show. 
The Big Apple Circus is a show for the whole family.  To start off the show children can get a pony ride, or have face painting done.  The lobby had a playful atmosphere without seeming overdone.  Once you enter the performance space you realize that there are no bad seats in the entire place.  No one is far away so everyone gets a close up view. 
Out comes your host, the Ringmaster as he introduces the show and strikes up the live orchestra.  You get to see are the classic acts one thinks of when you see a circus as well as many with a more modern twist!  Among the modern would be Elayne Kramer, contortionist.  Her ability to balance and flex into near impossible positions would be impressive enough.  But can you believe she shoots a bow and arrow with her feet, while upside down and bent in half!  It is truly a sight that needs to be seen to be believed. 
Of course no circus would be complete without clowns.  Brent and Joel serve as the comic relief between the various acts.  More importantly, they are the bridge between the stage and the audience since, nearly every moment they are visible, they are engaging in audience participation.  Numerous kids join in with the clowns in various ways from making music to flying around the tent.  Don't worry, they get the big kids involved too!
Animals have a big part in this circus as well.  For it is a true dog and pony show.  As the stallions stampede right in front of you, you can feel the rumble of their hooves and even get the authentic scent of a horse for those that know it.  The ponies are of course family favorites and as mentioned you can have a photo taken with one or even ride one in the lobby.  And if you prefer man's best friend, then there are plenty of pooches too giving it their all. 
It is the amazing feats of skill and acrobatics that truly mark the show.  Jugglers, tumblers, the Rolla Bola and roller skating gymnasts all entertain.  No two acts are at all similar and the variety is impressive.  All of the acts do their part to build suspense as each works up to bigger and bigger stunts.  They never stop the wows coming from the audience as each tops his own last performance.
Two high flying acts grace the tent as showstoppers.  The first, would be The Flying Tunizianis Troupe of trapeze artists.  Much credit is given to the ring crew who hastily erect a safety net.  And then, off fly the acrobats who give us all the stunts we know such as multiple flips and catches. 
The ultimate act were the Wallenda Family of tight rope walkers.  Riding a bicycle on a thin wire would be impressive enough, but doing so while a women hangs from her teeth and spins around in circles is far beyond what you expect.  The Wallendas are known for their seven person pyramid on the tight rope and unfortunately I did not get to see it as I was later informed one member was sick and could not perform.  Well, that's something to see for next time.
It would also be worthy to mention that a trip to the Big Apple Circus at Assembly Row can easily be a whole day long experience since the newly built area has a multitude of other attractions.  You can see a movie or visit Legoland for kids activities.  You can get coffee before the show and head to the American Fresh Brewery after for craft beers and dinner.  There is pizza, Asian cuisine and good old southern food as well as much more.  All that and a ton of shopping at numerous outlets.  You can plan to spend a whole day or more just walking around the area before or after your circus visit.
The Big Apple Circus is five star family entertainment, in one of Boston's best new neighborhoods.  They will be in Assembly Row until May 6th, so plan your visit soon.