Beyoncé and Jay-Z's On the Run Tour II Lives Up to Its Hype (5 stars PLUS)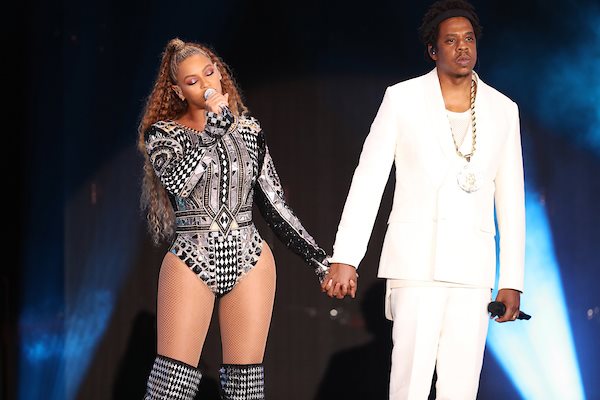 08/08/18 by
admin
Gillette Stadium
Foxboro, MA
by Perrie Isidore and Johnny Monsarrat
Opening act DJ Khaled called the On the Run Tour the biggest tour in the world, and this could be true, with the concert series forecast to earn as much as $200 million, with nearly 50 stops from June to October this year. I'm glad to report from seeing the show in Boston that it is worth the aggressive pricing. You get the full experience at this concert. Instead of sitting and zoning out, you stand, participate, scream, and take part in the Beyhive, the fandom of Beyoncé and Jay-Z. The tour is timed to promote their new joint album, Everything is Love.
The show featured two opening acts, which kept to the right and then to the left of the giant stage. The first was Chloe X Halle, whom you may know better as actors than musicians, the co-stars who play twins on Grown-ish, the TV spinoff of Black-ish. Not actual twins in real life, in 2018 they released a new album The Kids Are Alright and with a song featured in the film A Wrinkle in Time. At the On the Run II concert, the duo sang to pre-recorded tracks, with a girl pop vibe that was entertaining but drastically different than Beyoncé & Jay-Z — more styled like Coachella, which they played in April. Their act was small, featuring just the two women with a computer, microphones, and a conspicuous computer. 
The next opening act was DJ Khaled, who started with a video and engaged the audience with great crowd work, using the time-tested but overused tricks of mentioning our city by name and calling on us to "make some noise". DJ Khaled danced a little and sang some of his own songs, and then went to a DJ setup to play pieces of Drake and Biggie songs — instead of complete songs, only the most popular excerpts, and sometimes with too-abrupt transitions. The energy was good and the crowd went wild, with cameras zooming in for audience closeups projected on the giant video screens at the back of the stage.
In his own songs, DJ Khaled encouraged the audience to sing, which we at first enjoyed, but then he went too far with it. It's not enough to cut the music and ask us to sing for long periods; we would have liked DJ Khaled to sing along with us or provided at least a beat. He spoke to us as well as performing, and brought out a backup singer briefly (King Konze?). After raising the audience to an emotional height, we thought he might have played Beyoncé onto the stage, but instead his act was followed by a long break, probably to allow the audience to get merch, food, drink (performers often get a cut of concessions).
Having expressed a couple of nitpicks about the opening acts, believe me when I say that when Beyoncé and Jay-Z performed, they brought it big time. At many concerts, you come because you like the songs and music videos, but then when you attend live, the artist is autotuned or a humming to a prerecorded track that they're not really singing to. They either sway or jump around without choreography, focused on hyping up the crowd more than their act. (I'm thinking of the recent TDE's The Championship Tour at the Xfinity Center.) That's not what you hope for when you pay top dollar for tickets and "handling fees".
At the On the Run Tour, you get the full experience. The concert makes use of a giant stage with two "thrust stages", corridors jutting out into the audience with conveyor belts. On stage, behind the performers, are three giant video screens, one of which retracts later in the show to feature three levels of backup dancers, live musicians, and even three contortionists.
Beyoncé's stage performance was similar to her music videos, with every move choreographed and timed with mastery. They know how to build up the audience, but then take it down so that they can build it up again. Special effects included bursts of flame, a conveyor belt, more than a dozen backup dancers and musicians, and sections of the stage that rose and lifted itself out and over the front section of the audience! These were all mixed in a way to give variety, with many effects held back until late in the show.
Beyoncé gives her all in the dancing, consistent to her other city tours. At one point, Jay-Z stopped his song and turned lights on the audience so that he could see, really caring about working us up, and even calling up to the balcony. They maintain high energy over a long concert, more than 3 hours, engaging with the audience without grandstanding, ego, or resorting to "I can't hear you!" stunts. Each sang solo, but also together with great warmth, fitting for their new album, Everything is Love. Well-orchestrated retreats backstage allowed each to take a break and change wardrobe, without leaving gaps or delays in the performance, except for some videos that were genuinely interesting, rather than filler. For example, they showed video of the couple's baby twins, who haven't been shown on social media.
Beyoncé played newer hits including selections from her most recent album, Lemonade, and her new album, Everything is Love, plus a few oldies such as Crazy in Love and Ring the Alarm, avoiding older hits like Single Ladies which have been a bit played out and were part of the last On the Run tour. (Beyoncé does not play her old Destiny's Child hits without the other members of that group.) Jay-Z sang hits from his last few albums. His work has mostly been collaborations, but instead of bringing in other singers, Jay-Z sang along with prerecorded voices or had Beyoncé sing those roles.
The backup performers were both given a chance to take center stage and filled it well. Dancers came out for Drunk in Love and the middle of the stage opened for live musicians. Beyoncé, Jay-Z, and the backup dancers made full use of the thrust stages, walking along alleys through the audience. Players of trumpets, a tuba, violin, and other musicians paraded, dancers leapt on a conveyor belt, and took advantage of moving platforms and a multi-level stage. Dancing and pacing were on point, and we especially enjoyed the trumpets. Jay-Z's wardrobe varied and was well-matched to his songs, but Beyoncé's clothing was sometimes confusing. In the heat, she did not need multiple layers, especially the gold and the purple cape. She matched her shoes and outfits.
As well as moving the audience with the beat and power of their stage performance, Beyoncé and Jay-Z through their songs spoke to moving topics. Beyoncé's song Sorry implies marriage difficulties. Jay-Z's song 99 Problems speaks to the black experience with police enforcement, and another song, The Story of O.J., came with video-projected cartoons showing how black people in society are perceived in stereotype. Beyoncé and Jay-Z treasure black pride, with Beyoncé having a style of showing slave history and family history in her music videos. She also gives scholarships for students going to historically black colleges.
Overall, Beyoncé and Jay-Z lived up to their hype. They looked like they were in love during the performance. They show was consistently good, without any sags. We two reviewers came from different backgrounds — an out-of-touch white man and a young black woman, and we each found the concert accessible and moving. Despite the heat, we did not get tired of being on our feet for more than two hours, as we have with other concerts. This was a joyous, woke, upbeat, high energy concert that deserves our rare 5 stars PLUS.
Gillette Stadium is a world class venue with comfortable seats, if you are not an oversized person, and thank goodness smoking was negligible in the audience around us. With a couple of exceptions, you're not allowed to bring in bags, but we saw fans tailgate partying in the parking lot before the show.
Tell your friends to catch the On the Run II tour heading across the United States at beyonce.com.
And find other Gillette Stadium shows at gillettestadium.com including Kenny Chesney and Ed Sheeran. Of course Gillette Stadium is the home of the New England Patriots, hosted at Patriot Place, a diverse mall including Muse Paintbar (4.5 stars), 5-Wits Escape Rooms (5 stars), and a movie theatre.