Bespoke Lifestyle Management's Vieques Snorkeling Tour in Puerto Rico (5 stars)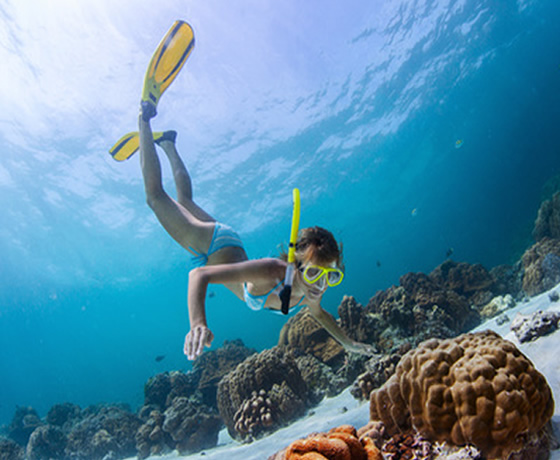 On my recent trip to Puerto Rico, I made a thorough study of tour guide companies and found that none offers as many tours as Bespoke. With Bespoke you can literally access every adventurous experience on the island, from a simple garden tour to the most adventurous caving expedition. We took two trips with Bespoke, and the first happened to be a snorkeling expedition to Vieques Island.
The trip takes 6 hours, assuming you need a pick-up from your hotel in San Juan, where tourists are likely be based. A tour guide from Bespoke picks you up in a van, takes you out to a waterjet boat, and you zoom out to Vieques Island. There you can swim, walk the beach, go snorkeling, and then it's back to the boat, back to the van, and back home.
A waterjet boat is necessary because Vieques Island is almost an hour from shore, and the boat is actually operated by Pure Adventure, where you can rent kayaks, snorkeling gear, and diving equipment. But Bespoke isn't just a taxi service. Our guide, Christine, stayed with us for the entire experience, taking photos and helping us learn to snorkel. So even in a large group of people, we got personalized service. (Some of the other Bespoke Tours are not outsourced to other companies.)
The van ride out was long, but comfortable, in an upscale, air-conditioned vehicle. Bespoke provides a lunch, but it's only fast food takeout, so bring your own. The boat ride was incredibly fast and rough over waves on the way out, and less rough returning. On the way out I admit to motion sickness — though I seemed to be the only one. The sunlight is bright and direct, but there's plenty of shade on the boat to hide from it if you burn easily. The boat carried some 20 people, but most seemed like locals, friendly people, a lot of happy families, not college kids ready to go wild. They had some beer on the boat, but no one got drunk. It was not that kind of outing. They had plenty of snacks on the boat, of the basic variety, including communal salsa and chips, and some unrefrigerated cheese and crackers.
There are plenty of beaches in San Juan, but Vieques Island is striking and seemingly pristine, though we learned it was a former US Navy base, where the military practiced dropping bombs on the eastern half of the island. We visited the western shore. It's a public beach but we heard that it doesn't get crowded except on big weekends. Even though we arrived as a group, the guides didn't make us act as a group. Instead we could go swimming, stay on the boat, go snorkeling, or interact with the guides, independently. We must have been there 2 or 3 hours, plenty of time to relax, with no rush at all. You'll find giant sea shells on the beach.
Most of the guests didn't try snorkeling, instead swimming, sitting on the beach, or going for a walk. You can bring your own floatation device and some did. Bring water shoes if you have them. But you don't come all the way out here just to sit on the beach, so we tried the snorkeling. The crew gave us fins and snorkel gear. They had paddleboards available as well.
Snorkeling took some getting used to. The water wasn't choppy but wasn't perfectly flat either. It was cool (in March) but didn't make us cold. Carlos, Carlitos and Juan were the three tour guide handlers, and Juan went out with us. Christine joined us too and they were very accommodating. One of our group couldn't swim and needed help and encouragement with a life vest to get around, but it was no problem. They didn't make us feel like weren't macho. The guides very kind, helping us keep our masks adjusted, and pointing out what we were seeing under the water.
It was beautiful there. Snorkeling, we saw coral reefs, puffer fish, butterfly fish, angel fish, and sea urchin, but there wasn't a huge abundance of fish there, like we found at Icacos Island. That probably varies based on the weather. Also, even small waves would swamp our tiny snorkeling air tubes sticking only 5 inches out of the water. It was occasionally problematic. Back on the boat, they had a clear water gun on the boat for rinsing off.
Vieques Island I'm sure varies based on the weather. For us, it was a bit too choppy and not filled enough with sea creatures for such a long van ride and such a long waterjet boat ride. However, having Christine from Bespoke transformed the experience. She entertained us in the van and taught us about San Juan. She stayed with us taking photos and helping us swim and appreciate the sea life. We got a lot of specialized attention, and that made it very worthwhile.
We took many tours in our week in Puerto Rico, but Bespoke had the highest level of customer service. I'd wish for better food and to have seen more sea creatures, but the environment, the guides, and the location were perfect. I'll call it 5 stars! Just ask questions about the weather and wave conditions the day before you confirm your booking.
See more at bespokeconcierge.com.