Battle for the Airfield at the American Heritage Museum is Both a Spectacle and Military History (5 stars PLUS)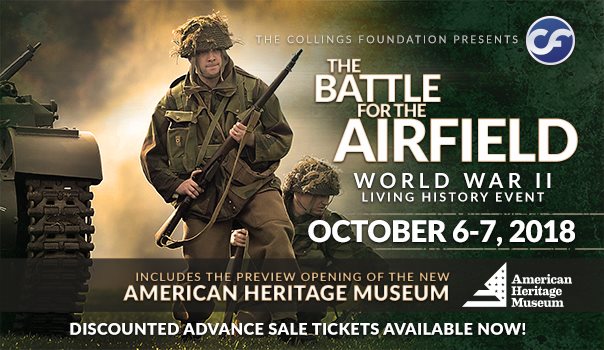 As the managing editor of Events INSIDER, it's my job to find gems of wonder in New England, and the Collings Foundation has been on my radar for a while. Now I am kicking myself for missing out on their events for so long. Based just west of Boston, the Collings Foundation and their new American Heritage Museum run living history events and caretake hundreds of military aircraft, jeeps, and other vehicles — even tanks!
I finally got a chance to attend their annual Battle for the Airfield event, which was so interesting that I attended both Saturday and Sunday, which I can't recall ever doing at a weekend festival before. The event takes place on an extensive open field of tents, and a parade field. Portable toilets and the newly built American Heritage Museum are to one side.
At this event, you'll find a World War II military encampment with 200 re-enactors displaying tents, gear, uniforms, and vehicles. I've only ever seen two World War II events in New England — our living history events focus mainly on the American Revolution — and it was eye-popping to see such a big one. You'll encounter old-timey machine guns and five tanks! Each day they had two re-enactments, with the Allies winning half and the Axis winning the other. The re-enactments took a while to get going but were easily the most impressive I've seen, with the tanks and machine guns firing blanks and explosions all over.
It struck the right note, both showing respect for the sacrifices of military servicemen, and being a visual spectacle but one that didn't glorify war. Half of the re-enactors seemed to be there solely to hang out with their buddies, but the other half welcomed visitors and taught us about history. You'll see American and British forces, with the Chinese and Soviets, who at the time were our allies. (Our Chinese friends in WWII fled to Taiwan during the communist takeover of China, so they're our allies still.) If Japanese re-enactors were there, I didn't see them. But they had a large German army encampment, which surprised me.
Sure, I'll see the British at American Revolutionary War re-enactments, but the Germans killed so many people, so recently. I was told, and this is true, that the German Nazis were different than the German Army, but still. Well, no one besides me seemed to find it odd, and I even met a guy portraying Colonel Stauffenberg, the German officer who tried to sneak a bomb in to get Hitler. With real war veterans all around me, I had no choice but to think, if it's okay with them, it's okay with me. It's a taste of the confident generosity with which the America's Greatest Generation fought to liberate Europe but then did not become conquerors and occupiers. The Americans win half of the re-enactments, and for the other half they let the Germans win. As someone who's unfit both mentally and physically for warfare, I found it humbling and educational to be amongst them.
For example, I met two brothers, Paul and Mike Desgroseilliers, mechanics who bought and restored seven old-time World War II vehicles, and are setting a new company to rent them out for corporate events, weddings, school events, and any occasion when you'd like to learn and ride around in some history. (You can write Paul at uniqueviewsuas@gmail.com or on Facebook.) I got a 60-second ride in their old Ford GPW, a kind of jeep with a mounted machine gun, and was delighted. Woo hoo!
The event was already by far the largest and best World War II festival that I'd ever seen, but then I got to go into the museum and it is Stunning with a capital S! The place is enormous, with 30 tanks from all wartime eras, plus a hangar with 8 old airplanes (including a 1909 Bleirot Type XI), a missile launcher, troop transports, and dozens of old-time race cars, including Indy cars from the 1960s through the 1990s. They even have a horse-drawn carriage from 1867, an old juke box, and old pinball machines. You'll see an exhibit on Leondardo da Vinci, the Enigma cipher machines used to send secret codes during World War II, a howitzer, and an old steam-driven… tractor?!? Yes, a steam tractor! Even more airplanes and cars are stored somewhere else, according to their website, and through the Wings of Freedom Tour they tour the airplanes around the country and let visitors take airplane flights.
I've seen airplane museums before, and they do their best, but the curation is often low-to-middle interesting, a warehouse of stuff with no easy way to navigate it — unless you're given a guided tour. The American Heritage Museum is  thus refreshingly high-tech and modern, with video presentations and signage explaining everything, including the emotional traumas of war. You can get right up close to the tanks without barriers in the way, and — at least on this festival day — a ton of volunteers were available to personally tell you their stories. Many of them are "tankers", former tank operators. Astoundingly, they say they just purchased a fresh collection of 130 tanks, the Littlefield Collection in California. They already have so many tanks! I may have a new favorite museum in New England.
I'll give Battle for the Airfield my rare 5 stars PLUS.
Here's some video of the event.
For more, see Battle for the Airfield, The Collings Foundation, and the American Heritage Museum, which is open for a limited preview through November 25, 2018, in expectation of a full opening April 2019.