Ausable Chasm Combines Tremendous Views, Adventure, and Convenience in Eastern New York (5 stars PLUS)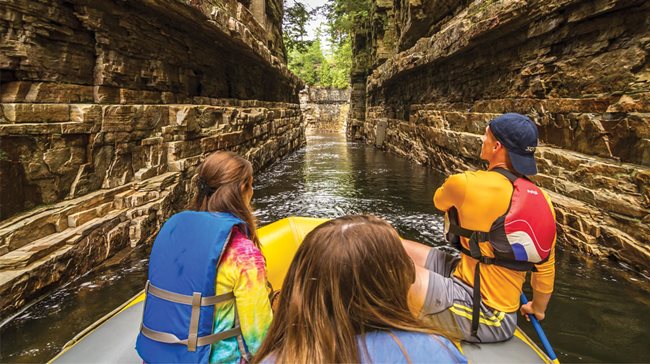 Based in the mountains of eastern New York, the Adirondacks, Ausable Chasm is a gorge cut by the Au Sable River. There you can go hiking to see the waterfalls, rock walls of the gorge, and mini-chasms nearby. Below on the river, you can raft or float by inner tube down the water between the chasm walls. High above, you can go rock climbing, rappelling, or walk a ropes course. You'll learn about the geology and history of the place, or just commune with nature, with out-of-this-world views. They have a campground, evening tours, and more. I'm pretty sure it's pronounced "The oh SAY-bell chasm", after the town of Au Sable, New York.
Only two miles long, Ausable Chasm may not be, as they claim, the "Grand Canyon of the East", but it's a strikingly beautiful place that, unlike many parks, is well supported by activities far more "bucket list" than canoeing. To me its small size just makes it convenient. You can do it in a half-day and be on your way, and there's more to do if you stay.
Arrive at the surprisingly large welcome center. It's modern, brightly lit, and has a gift shop where they sell the usual T-shirts and jackets, key chains, mugs, and earrings. They also sell "dry bags", to keep your stuff dry in the river, which you won't need for the rafting or tubing, and water safe footwear. You'll get your shoes wet for just a minute just stepping into or out of the rafting and tubing.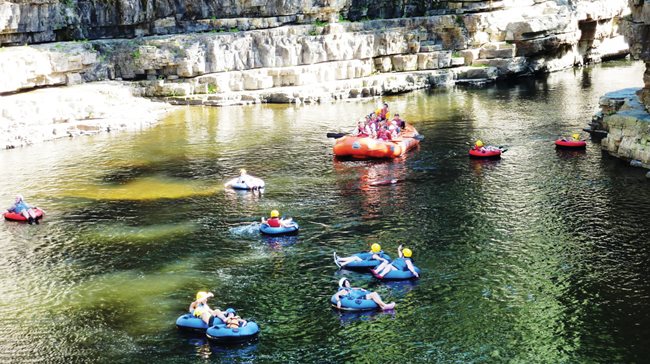 There's also have a café with plenty of seating, where you can order a sandwich, ice cream, roasting nuts, pizza, cinnamon rolls, and drinks. We had no problem finding a power outlet to charge our cell phones. Staff are friendly and eager to help you plan an itinerary, for which we were grateful — there is a lot to do and it can be confusing to prioritize. One common route is to take the Adventure Trail to the tubing center, and then raft/tube down the river to the end of the gorge, where a bus returns you to the welcome center and your parked car. Or you can hike back.
Disappointingly, there's no Wi-Fi at the visitor center, and our cell phones had no service. So this is going to be all off the grid, old school style. My hands didn't shake too much from being off of Snapchat for a few hours.
If you have the time, stay at the campground, which has swimming, frisbee golf, volleyball, basketball, playgrounds, and off-road bicycling. Or go for a hike along the trails, which vary from easy to difficult. We chose the Adventure Trail, which is marked "most challenging", but is really more like "most courage", not requiring much athleticism. It's a short ropes course, meaning lots of guide wires and foot bridges, that takes you over the chasm, along a rock cliff, and back over the chasm.
Open-toe shoes are not allowed, and you'll get a harness and helmet. Rent a GoPro camera from the welcome center for $20 to attach to your helmet, keeping your hands free. I suspect you get to keep the SD memory card at the end, so that price is a low one. The video will make you look like a superhero, but the ropes course is not that difficult physically.
Our guide at the Adventure Trail was Ben, who was friendly and supportive. His calmness kept us going high above the gorge, and he didn't make us feel bad if we weren't feeling brave or macho. Whenever we had a hiccup he'd give us advice or come over to help. The ropes courses that I've previously reviewed give you physical obstacles on purpose: for example, crossing a gap by stepping on a series of hanging swinging logs. These challenges are fun for athletes but too much for the rest of us.
I'm glad to say that the Adventure Trail was the least difficult ropes course that I've been on. And it features stunning, otherworldly views that you can't get elsewhere in the US Northeast, even at Letchworth State Park (in Western New York, and also claiming to be the Grand Canyon of the East). Also unlike other ropes courses, our guide stayed with us for the entire route, which we really appreciated. Don't leave us out here!
For safety, you are connected to wires overhead via a double carabiner system, and I would call the fear moderate. I was more worried about the discomfort of falling and getting jerked by the belay system than falling to my death. It's the perfect combination of scary but you-can-do-it, to me safer-feeling and far less physically challenging than rock climbing. Still, it is a type of rock climbing, as you go sideways along a cliff wall. Woo hoo!
You will also need to climb up and down tall stairways, and you'll need to be willing to make some difficult footsteps. Pro tip: if you're reaching out with your right foot to stand on a small platform, put your right foot on the right side of the small platform so there's room for your left foot to come in on the left side of that platform.

The chasm and the water are beautiful. It's impossible to relate in words the presence of the cliffs and the trees! Among the excitement, it's easy to be overly focused on the high path and your balance. Don't forget to stop and take it all in. You won't get wet on the ropes course.
With your day pass, you get a choice of tubing or rafting. With the rafting, you get a guide who will tell you about the geology and nature of the chasm. Pro tip: ride an inflatable tube instead. The tubes are more intimate because you're not sharing the ride with strangers. You'll having the chasm all to yourself for a moment, for goofing around or flirting. The tubes also go slower to make best use of short course, which is only a mile long. Another pro tip: you can learn a lot by overhearing the rafting guides as they pass by.
The views are spectacular, and you will need to exit the tube (getting your feet wet) once to walk around a small waterfall drop, and then again at the end to get out of the river.
The day that we came, crosswinds and a slow current left us stuck. Be prepared to paddle with your hands. (Hand paddling moves you so slowly. Perhaps they should hand out paddles to tubers on overly calm days.) Pro tip: They tell you not to grab the rafts, because it's annoying, but if you ask nicely, well — one rafting guide took pity on us and saved us 30 minutes of paddling at the very end. If you are very careful, you will only get your feet wet, but if you have things in your pockets, they will probably get a little wet.
It was peaceful to float along, looking way, way up at the rock walls. Even on an August weekday, if you come in the morning before the buses of camp kids come, there weren't many people around. Rafts came through occasionally to interrupt our feeling of be alone in nature.
Then a super-convenient bus takes you right back. On a tight schedule, we couldn't stay longer, but I wish we'd tried the rappelling course and visited Rainbow Falls. They claim to have a couple of caves as well, but I assume they're either tiny or more like rock clefts than caves.
Ausable Chasm is a remarkable taste of the Grand Canyon, and so much closer to us in New England. Combine it with whitewater rafting and visiting caves in your trip to Eastern New York or on your way out to Niagara Falls! It has tremendous experiences and views, combined with convenience — we got in there and out of there so efficiently. Ausable Chasm deserves my rare 5 stars PLUS.
See ausablechasm.com.