The Atlantic House Hotel is the Center of Narragansett, Rhode Island (4.5 stars)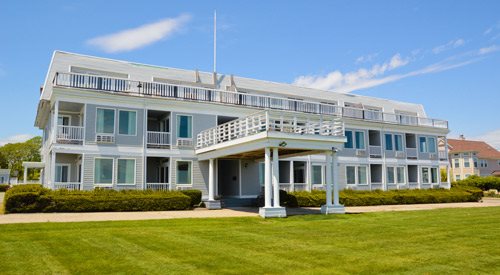 A neighbor to Newport, Narragansett Rhode Island is another idyllic tourist town in the southernmost part of the state. There at the center of its amenities you'll find The Atlantic House Hotel, which was one the town's earliest founded hotels and was recently renovated.
Everything about its location is perfect. It's located directly on the water, with most rooms having an ocean view. The Chamber of Commerce with tourist information is directly across the street, next to the scenic Coast Guard House restaurant. There you'll see an outdoor fountain and "The Towers", which looks like a castle gate. It's the last remaining part of the old Narragansett Pier Casino from the 1880s.
Just a 3-minute walk away is Narragansett Town Beach, and Pier Marketplace with its coffeehouses, galleries, ice cream stores, water sports stores, and the South County Museum with living history actors showing 19th century life.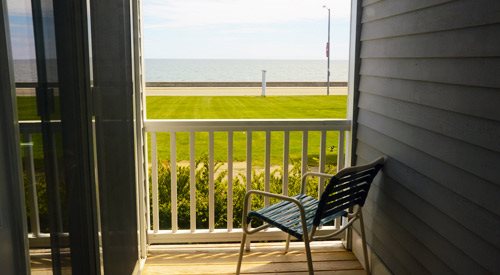 Our room at The Atlantic House Hotel was a small suite, with a primary bedroom, sitting area, and a small deck — an outdoor area to sit on a lounge chair and admire the waves and sun. We were glad to find a full sized work table, medium-sized fridge, coffeemaker, and microwave oven. Decorated in summer blue and yellow colors, it was delightful, clean, and comfortable, though not out of the ordinary for a hotel. Its large shower and high ceilings added to the sense of space, and the bed was comfortable.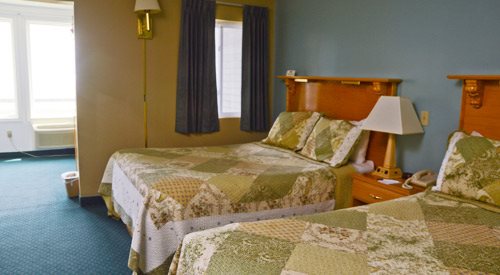 Breakfast was free but unappetizingly basic. Nothing is really set out. Instead in the closet kitchen you open cabinets and the fridge to find your own cereal, orange juice, jam, and bread. There are muffins in the freezer.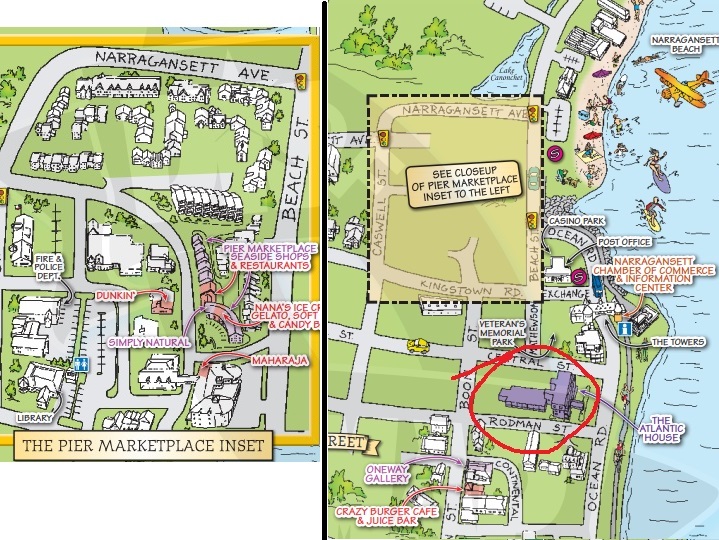 Although there's no pool, gym, spa, or other amenities, ask the front desk for lawn games, including bocce and badminton. Or just go for a walk and explore. Why stay in the hotel when all of Narragansett is your playground, so conveniently nearby? Of course you can rent the hotel's front lawn for parties, weddings, and corporate events.
Lacking in amenities, but comfortable and located centrally with stunning ocean views, I'm glad to give The Atlantic House Hotel 4.5 stars.
See theatlantichouse.com.