The AMC Highland Center in New Hampshire Will Jumpstart Your Hiking Vacation (4 stars)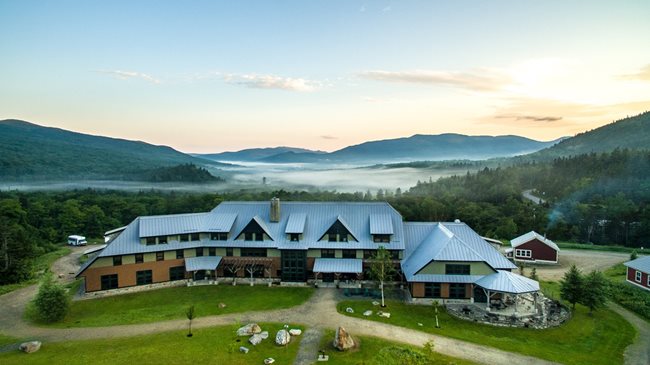 Just driving up to the AMC Highland Center gets you so close to the mountains, and then the view is breathtaking. Their lodging space in New Hampshire's White Mountains is set on a hilltop with 360-degree views of the nearby mountains. Although the Appalachian Mountain Club is known for its determined thrill-seekers going hiking for days, the AMC Highland Center also hosts 'front country' guests who just want a glimpse. It's essentially a hotel with amenities based around hikers.
The Center is attractive, with high ceilings, helpful staff — even when we asked dumb questions — and a dining area with light wood tables and chairs indoors, and metal chairs and tables outdoors. There's no pressure to be macho; they even have an elevator.
Our room was unremarkable but solid, with two bunk beds and a queen bed, heat, a thin but acceptable mattress, and a large shower with a seat for the elderly. (I admit it, being a weary traveler, I used it too.) There's no air conditioning, but they have a fan. It was small but not so small as you'd expect at a hostel or campground, and clean, not worn-looking. You get fantastic views of the mountains, though don't just sit around — get out and explore them!
Unlike in Maine, where we loved the AMC Medawisla Lodge and Cabins (5 stars), the AMC doesn't own extensive property in New Hampshire, so you won't find kayaking or other nature activities on the grounds. But get a map and staff will help you find your way to hiking trails for any ability. They also host events such as BBQs, yoga, rock climbing, evening slideshow presentations, and nightly astronomy programs when the sky is clear, and we learned that their "huts" along the hiking trails have telescopes. You can go on a guided hike, including to the area's many waterfalls, to learn about the natural history, cultural history, and geology in the area. Or join them for a campfire and s'mores.
There's also a conference center. They have an LL Bean branded gear room in the basement, with rentals such as hiking boots, poles, and rain gear. And of course there's a gift shop selling t-shirts, jackets, hiking poles, baseball caps, backpacks, thermal gear, socks, trail maps, books, glasses, water bottles, popcorn, trail food, and more.
A good moderate destination is Mt. Willard, which is 1.6 miles with 900 feet of elevation gain. Nearby of course is Mt. Washington, the tallest mountain in New England. Mt. Pierce is a popular 4-hour hike. Being exhausted from travel, almost asleep on our feet, we took the super-easy hike to Elephant Head. There the trails were well maintained, clear of obstructions and with planks placed over any place there could be mud.
Dinner and breakfast are included with your room at the AMC Highland Center, and you can buy a lunch, which is soup, salad, or hot or cold sandwiches. The breakfast buffet is your choice of cereal, bacon, cinnamon French toast, vegetarian quiche, juices, coffee, ice cream, scrambled eggs, home fries, and a "granola bar", like a salad bar but with oatmeal and other yogurt toppings.
Dinner was served buffet style, with indoor and outdoor seating. Although there are long tables for socializing with others, of course most guests seemed hesitant to mingle. We sat outdoors at round tables with great views. Delightfully, they had plenty of vegan options. They served summer squash, baked chicken, chickpeas, spicy potato fries, mac and cheese, and peach cheesecake for dessert. While dinner was good, not amazing, it was solid, nourishing, and far beyond what you'd expect at a campground.
The chickpeas were filling, a nice alternate protein for vegans, who usually only get served tofu. The peach added to the cheesecake was unusual and intriguing, its graham cracker base a good substrate. When I went back for seconds, it was the cheesecake and bread that drew me.
At we ate, we took in world class views. Instead of trees blocking your view, the expansive meadows at the AMC Highland Center give you a long look in every direction. We sat as the sun set, its light dimmed, and clouds rolled in over the hills and below the tops of the mountains. In August it was windy but not too cold, with the meadow's tall grass waving in the wind. It's a slice of heaven, though not exclusive property and there are many amazing views in the White Mountains.
While the AMC Highland Center is beautiful, with competitive rates, there are other hotels nearby and it didn't have the on-site amenities or community-building of the astounding AMC Medawisla Lodge and Cabins in Maine. However, the Highland Center is an uplifting hub where you'll meet outdoor enthusiasts of every level and could make a new friend. 4 stars.
See the AMC Highland Center for more.