Adventure Calls Outfitters Offers the Best Views and Easiest Whitewater Rafting (4.5 stars)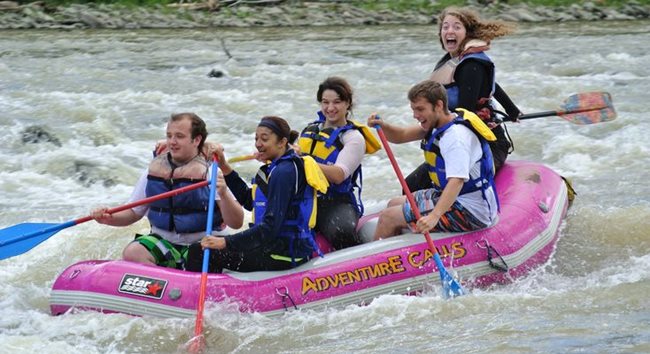 In western New York, near Buffalo and Niagara Falls, Letchworth State Park is the "Grand Canyon" of the Northeast, 17 miles of the Genesee River that has cut a gorge with rock walls of up to 600 feet. You'll find the usual hiking and campground activities at Letchworth, but also whitewater rafting with Adventure Calls Outfitters!
Anyone can do it, because the river is only a whitewater Class II, the second easiest category. The trip takes about three hours, assembling at 10am and back by 1pm.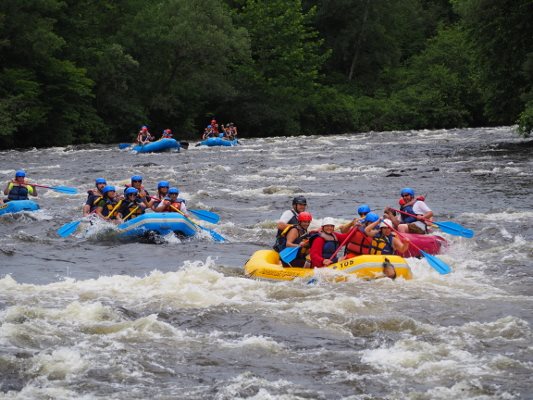 The guides come from a summer camp culture, with over-the-top energy, making jokes, and teaching us about nature. Views from the gorge were beyond fantastic — the trees, the rock walls, the water, and the relatively easy river made it possible to take it all in. We saw an eagle and plenty of turkey vultures in the sky. We stopped in a wonderful little cove with a waterfall and a pool that you could jump into. I believe they sometimes serve lunch, but they didn't the day we went they ended simply with lemonade and store-bought cookies back at base, which has a locker rooms and showers.
Unlike other whitewater trips we've taken, we didn't have to carry our raft in or out. The safety lecture might have been given partially on the half-hour bus ride, to save time. Our guides were knowledgeable and didn't make us feel like we had to be macho. It is wonderfully photogenic and makes you look like an athlete, without requiring any real courage or effort. You could almost skip paddling, and your danger of falling in is remote and would be harmless at this level of whitewater rafting.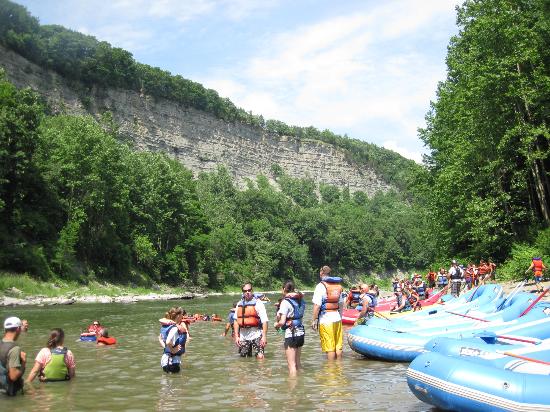 Because of the easy nature of the rapids, not every raft got a professional guide. Pro tip: ask for a guide. (Or if you attend as part of a large group, you're more likely to get a guide assigned.) As an unguided group, we got taught quite a bit about safety, but surprisingly, they did not teach us how to paddle. So we went at it the best we could, but our unguided group was disorganized, always drifting towards the left instead of keeping straight. One of us (okay, it was me) tried to shout orders, but I think I annoyed my group more than helped it, and our drift continued. We felt more distracted and confused than we would have, with a guide.
You should also ask for a guide that matches your group's personality, whether you are Wahoo Energy, Nervous Nellies Needing Calming, want to get super educated on geology and nature, or just want to commune with the planet quietly, without a guide's chatter.
Beautiful, but only a half-day activity, with our group left guideless, and not as thrilling as nearby whitewater rafting in the Adirondacks, I'll give 4.5 stars for Adventure Calls Outfitters. They also host whitewater rafting on the Salmon River and Cattaraugus Creek, nearby in Western New York, a ropes course at YMCA Camp Hough just a 30-minute drive from Letchworth State Park, and licensed guides can take you fishing through the gorge as well. Sometimes they have dinner or wine-tasting paddling events.
See adventure-calls.com.