Adult Night at LEGOLAND Discovery Center Boston Lets Adults Become Kids (4.5 stars)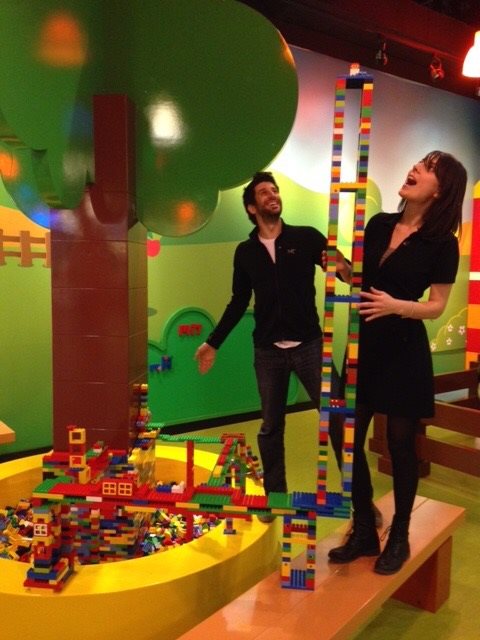 01/13/20 by
Matt Martino
LEGOLAND Discovery Center
Somerville, MA
LEGOLAND in Assembly Row gives adults an opportunity to be kids again when they host Adult Night. Many of us have memories of LEGOs as children, and this gives grown up a chance to play and be a part of the kids' world if only for one night a month.
When you enter into LEGOLAND Discovery Center, the first thing you see is a room that recreates many famous Boston landmarks out of LEGO bricks. You can see the Zakim Bridge right next to the TD Garden. They recreate Fenway Park,  Gillette Stadium. Faneuil Hall, and Quincy Market too. Additional spots show the Bunker Hill Memorial and Logan Airport plus many, many more. It is fun to try and figure out what famous Beantown places they had made.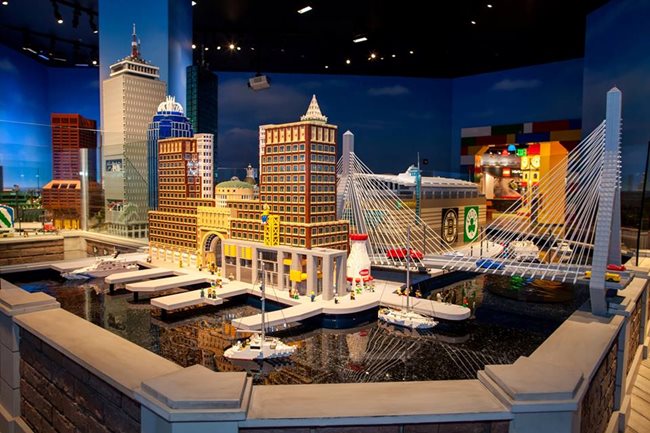 This massive diorama is also a fun game. There is a scavenger hunt you go on. Since the theme of the night was the 1980s, we had to find various 80s themed LEGO sets like the Delorean from Back to the Future and the Ecto 1 from Ghostbusters. Each had a letter next to it that spelled out a clue. All the correct answers were entered into a raffle for prizes later in the night.
The 80's theme continued as a DJ played music from the Reagan era. Bon Jovi and Toto were among the many tunes spun. At one room, you were encouraged to build 80's themed LEGO sets. Some of the highlights included a cassette tape, Slimer from Ghostbusters, and Ziggy Stardust (he's from the 1970's, but David Bowie is classic). Adult Nights often feature alcoholic drinks, too.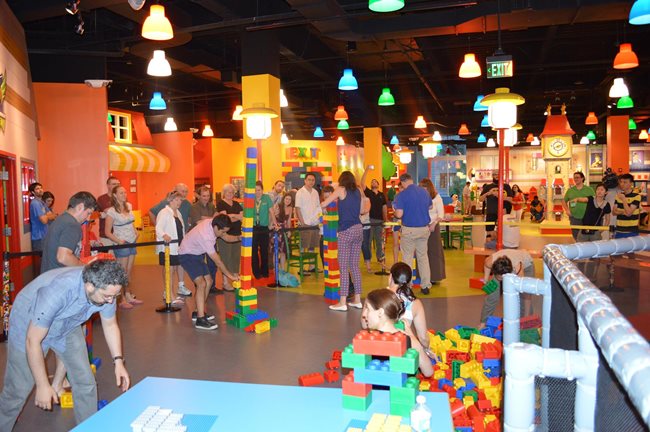 LEGOLAND Discovery Center Boston has 3 small theme park rides as well. The first is Merlin's Apprentice, a type of carousel that allows you to pedal in order to go higher or lower. On the LEGO Race VR ride, you sit down, put on VR goggles and get a fun little experience that mimicked a roller coaster. These are for kids, so don't expect a thrill ride, but they're good introduction to Virtual Reality. If you never tried VR before, this is a great way to get your feet wet.
The third ride was Kingdom Quest. You sit on a mine cart that heads into a medieval tunnel, armed with a medieval themed laser gun. As your cart rolls through the maze, you fire red beams at various targets, scoring points. At several points you fire at animatronic targets, and at others fire at a video screen that is like a video game. You get attacked by bats, spiders, trolls and skeletons. At the end you get to compare scores with your friends! This interactivity made it by far our favorite experience.


Finally we saw a LEGO movie in 4D – not just 3D! We put on 3D glasses and watched as a villain entraps heroes in a comic short movie based on The LEGO Movie. At various times you get hit by water and even bubbles for a more immersive experience. There are a total of 4 movies, so you could see each one if you wanted to. These rides and the movie are all included with admission.
LEGOLAND Discovery Center Boston also has a café, which serves basic fare such as hot dogs, drinks, and coffee. I would not plan a meal there, but there's plenty of eat in the Assembly Row shopping district. You can make LEGOLAND part of your movie or shopping experience, a way to give you more to do while you are there. 

One highlight of Adult Night was meeting Megan, North America's only Master LEGO Builder. She gave a tour of her office which has rows of LEGO bricks sorted by type in special containers. To become a Master Builder, she beat out numerous others in a competition. So kids, if you want to play with toys for the rest of your life, be sure to stay in school because she got a degree in architecture.
Adult Night at LEGOLAND is a worthwhile trip to see just what they have to offer. Eat first and snack at the Café during the event. Enjoy the rides and exhibits. Be a kid again and maybe just maybe, you don't have to grow up.
For more information visit the LEGOLAND Discovery Center Boston website.