With More Activities Than Vermont Has Trees, Smugglers' Notch Resort in the Summer is Perfect For Families (5 stars PLUS)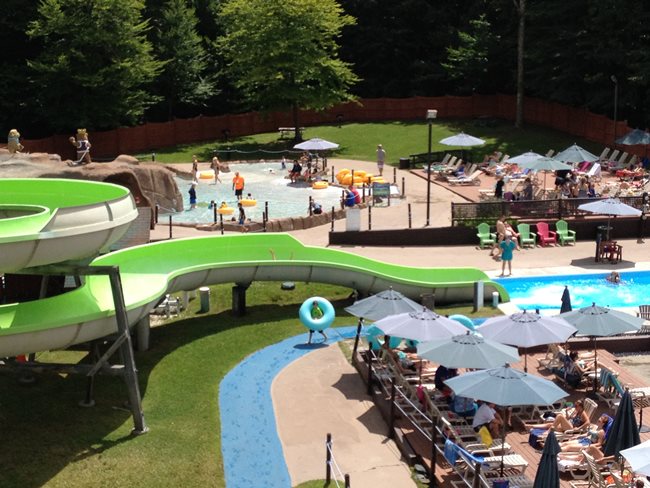 Set in northern Vermont, Smugglers' Notch is one of New England's foremost ski resorts in the winter, and they've made a heavy investment into the summer season as well, with dozens of attractions and hundreds of special events. We visited them in August.
Smugglers' Notch is a giant campus organized around "communities", groups of condos that are available for full ownership or rent as a timeshare. Each community has their dedicated amenities, such as swimming pools, and they share the central, public amenities.
There are too many summertime attractions to list, but they include three pool complexes, a tennis and family fun zone, disc golf courses, restaurants, mountain bike rentals and hiking, a spa, nature and discovery museums, the ArborTrek Zip Line Canopy Tour and Treetop Obstacle Course, and a couple of outdoor ponds hidden away, if you know how to find them.
Smugglers' Notch got its name from being a mountain hideaway for smugglers coming down from Canada before the War of 1812. Now it's a hideaway for you and your family. Smugglers' Notch is independently owned, but Wyndham Hotels manages some of their condo rentals.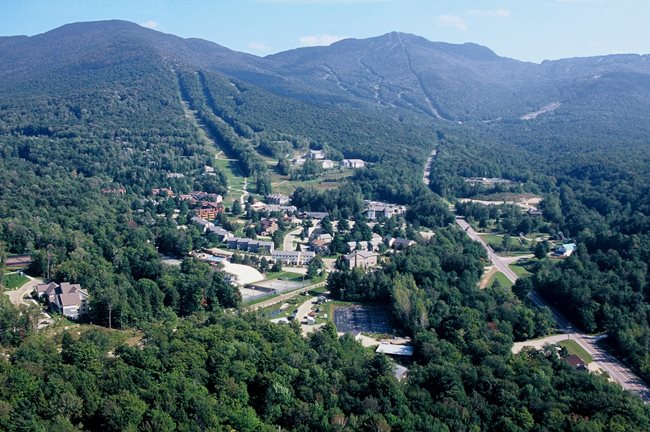 With some exceptions, the central amenities are all included when you book a Smugglers' Notch package, even babysitting at the day care center. It's not far to walk, but Smugglers' Notch has a network of golf carts and air-conditioned shuttles that whisk you from place to place. You can call for a ride, but in our experience there are so many rides that one will come to each major attraction in a few minutes. Across Smugglers' Notch, you can expect good cell phone reception.
Activities
On top of that, you'll literally find hundreds of activities at Smugglers' Notch. I've had a lot of experience with campground activities and it's usually Yoga on Tuesday, Yoga on Wednesday, Adult Swim, then Kids Swim. Fine, but Smugglers' Notch has such creative and better activities! There are STEAM activities (science and engineering) like designing a safe package to drop an egg from a tall height without breaking it, a canoe trip with ice cream, a Pirate Family Sing-Along, French Gourmet Winery Experience, Devil's Gulch Hike, Vermont Maple Walk, laser tag, and family Pictionary. Holey moley! Did I mention yet that you can rent Segways or take a Segway Tour? There are outdoor movies, bonfire sing-alongs, a blacklight party with volleyball, and more. There really is everything for easy excitable kids, rather bored teenagers, and adults-only, from zero-movement relaxation up to moderate hikes up to athletic adventures. I've never seen anything like it at a resort.
Oh! And they have lots of evening performances intended for adults, including comedy, live music, and a weekly magic show. You can go on a trek with their resident naturalist, a former professor, to track animals and see bear claw marks on beech trees.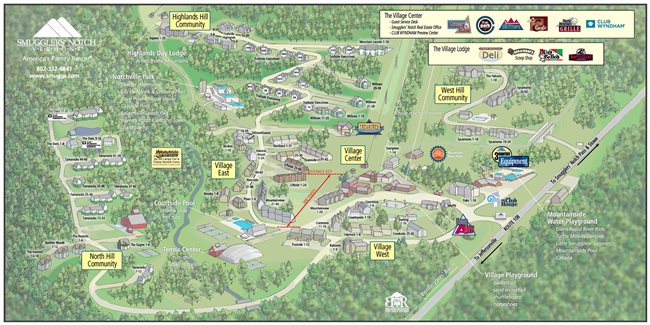 Attractions
We began with the tennis and family fun center, called The Fun Zone. There they have a giant chess board, ping pong tables, a pool table, foosball, inflatable bounce houses for crawling around, a rock-climbing wall, a racetrack for 'slot cars' (toy cars that are guided by a groove in the track), and a videogame arcade. You can guy a bag of sand and gems and let your tiny kid "pan" for gold like a miner. They  have both an indoor mini-golf course and an outdoor one alongside a babbling mountain brook. And we were impressed by the inflatable obstacle course and variety of inflatables including a slide and inflatable basketball hoops.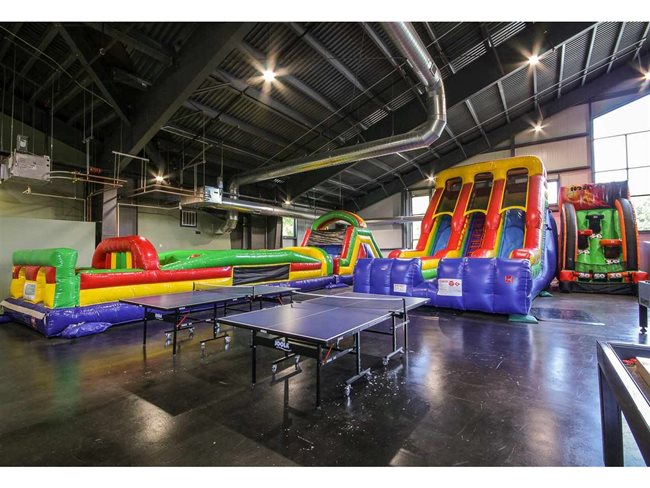 Being all indoors, the Fun Zone is open also in the winter. Immediately next to it, the Courtside Pool is outdoors but has a bubble dome they throw up in the winter to keep it open year 'round, too. They've got tennis courts too, and the pool has a small waterslide and hot tubs. Pro tip: If the chaos that seems to follow children everywhere is getting to you, the Courtside pool, because it is deeper, will have the fewest kids, of the three major pool complexes.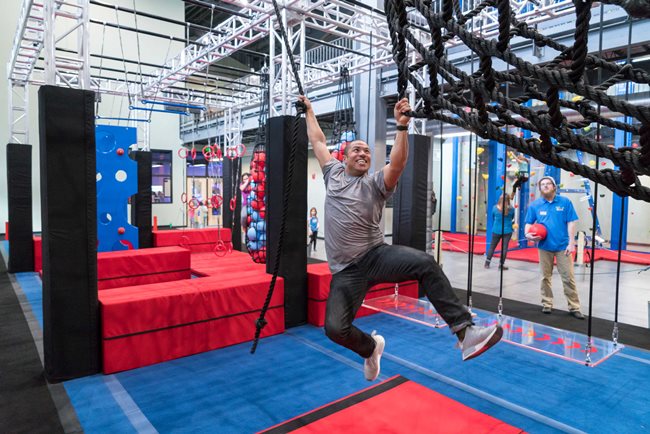 Their second pool center, Notchville Park, takes the action up a notch! It's three levels of shallow pools (safer for kids), plus a splash pad. (Splash pads are the in thing these days with insurance companies who don't like kids in deep pools. It's just 3 inches of water and lots of splashing, squirting sculptures.) There's a larger, twisty waterslide. The "Sugar House" is a playground turned into pool, with mounted water guns everywhere for you to squirt your friends. I spent some time in the Cove Pool, which is the setting for the Sugar House, and kids went so nuts with the water! We just laughed and laughed at them and with them. Pro tip: Take a look and you'll be able to find a shady spot to both swim and not worry about sunburn. Other pro tip: remember to reapply sunblock when you get out of the water.
Best of all, Notchville Park has a "lily pad", floating step pads for kids to try to cross the pool from one side to the other. Some crawl. Some leap. Some splash into the water. If you like cute kids, you will have a great time people-watching them and cheering them on. This is some next level stuff, a real waterpark, and except for the slide, there's no waiting in line. You just go. We didn't see it, but I read that next door to Notchville is a giant swing and bungie jump trampoline, too. In the summer, Notchville Park is where I would most want to be.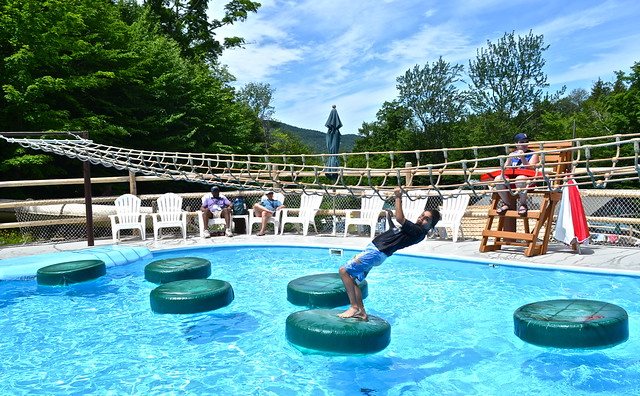 Don't discount the Mountainside Water Playground, though. They have the largest waterslide on site, which is two stories tall, a mini-slide for little kids, and a "lagoon" where you can explore a cement 'bear cave' whose tunnel leads you into the water, where you can splash around like pirates. There's a lap pool, too. Pro tip: Think fast to get a beach chair. They may be all taken but there's lots of turnover. So use your eagle eyes for people who are leaving. For all the pools, guests are expected to bring their own towels, life vests, and kiddie floatation devices. There were floating pool noodles at Courtside, though.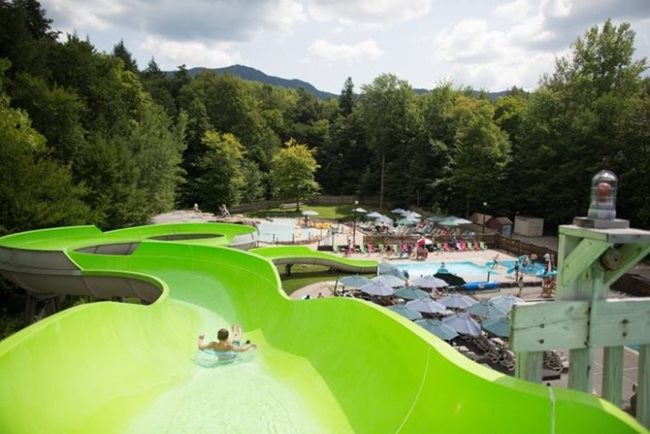 Staff at Smugglers' Notch were courteous and helpful, even when as hapless tourists we needed more handholding than reasonable. At registration, a staffer told us about the resort patiently and at length, helping us get oriented as we struggled to organize the huge amount of resort information. Next door, at the pizzeria, you order your food at the counter, and expect to be called to the counter to pick it up. Instead the staffer there, because it was not busy, took the initiative to bring our food to our table. Thank you!
Hidden Retreats
Mike Chait, who handles media at Smugglers' Notch, kindly showed us some of the resort's hidden treats.
In the summer, take a shuttle or drive to Bootleggers Basin, a hilltop with a 360-degree view of Vermont's mountains. Just to go picnic and hike it's a stunning location. And they have a volleyball court and a freshwater reservoir where you can swim. In the water, try the "Aqua Jump", a giant inflatable water trampoline, where you can bounce off into the water, or get bounced off by your partner.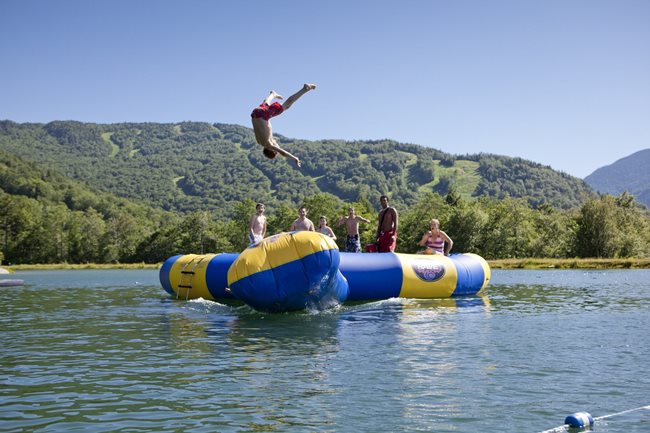 Bootleggers Basin is next to one of their courses for disc golf. Disc golf is like regular golf, played on long stretches of manicured lawn, but you play it by throwing frisbees instead of whacking balls with a golf club. As a guy with back pain, and who never culturally got into golfing, disc golf seems like just my thing. Pro tip: ask where the disc golf course for amateurs is.
We also visited Rumrunner's Reservoir, the best kept secret at Smugglers' Notch. You can only get there by hiking up, but then you've got a chance of having a hilltop all to yourself for an hour, with spectacular mountain views. There's also a water reservoir there where you can swim. This place seems especially romantic at sundown or at night.
We learned that in the summer, Smugglers' Notch runs STEAM programs (a science camp). In the winter, they have 'narrow lane' forest skiing. That's when the ski trail is relatively narrow, so it feels more like you're skiing through a mountain forest instead of an open plain. They also have nighttime tours on a snow cat — it's that tank tread machine they use for grooming and driving up snowy slopes. You ride up in the snow cat at night and then ski down the mountain. They also have an 'adventure dinner' where you ride up the ski lift, have a 4-course dinner in a candlelit ski lodge, and then take a guided snowshoe hike down.
Interview
Mike also generously agreed to an interview.
Events INSIDER: How is Smugglers' Notch different from other mountain resorts in New England?
Mike Chait: One of the greatest things about Smugglers' Notch is that it's still independently owned. We see the owner every day. He's walking around the village, he's mingling with guests, and he receives feedback from our guests all the time, which he can take directly to our operational meetings.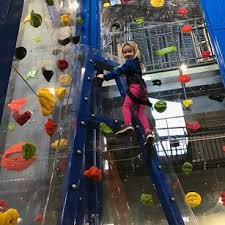 Mike Chait: People see, when they come back year after year, that we've put their feedback put into play. We bill ourselves as America's Family Resort, and we're family here. There are a number of staff members here, on a very large staff, whose kids come here every day. I've raised my daughter at Smugglers'. She's 4 old now, and she's been coming here 4 days a week since she was 8 weeks old.
Mike Chait: We like to train our staff that the guests who come here is an extension of our family. We look out for your kids like they're ours, and that's reflected in guest feedback. It's a breath of fresh air to come out of a metropolitan area, where they feel like they need to keep their kids on a tight leash, and come up to a place like this where they can let them be more free range and be comfortable with it.
Events INSIDER: So parents who need a break from the kids can let them run around.
Mike Chait: We have full-on summer camps for kids. We [get the kids in the morning,] release the kids to their parents at 4 o'clock and they are tired. Our owner likes to say that we're in the exhaustion business. A woman from Boston a couple of weeks back — she had a five-year-old and a three-year-old — said, "We've never had a vacation with our kids. We've always unloaded the kids on the grandparents, and then we've gone off on our own. This is our first time diving in and really traveling with our kids. I was nervous on Day One, and by the last day, she says, I could just stay here. This is great. I could just stay here. My kids have never slept so well. They're happy, they're getting along with one another, they're excited to go back to camp the next day, they've got new friends." That's the experience that we try to foster for kids.

Mike Chait: Every family is different, and therefore we need to be able to think on the ball [to accommodate them], because families need that flexibility in order to have a stress-free vacation. Let's say your oldest really doesn't want to get out of bed in the meeting time, and you miss the meeting time, there's a hundred different activities that you can get into in the next hour.
Events INSIDER: The fences of course help keep the kids safe. But they also block the views. We're in Vermont, but at times I felt we could be anywhere.
Mike Chait: As you go up higher onto these hills, you'll get better views. Vermont is so wooded that we don't have many of those expansive vistas unless you go up.
Events INSIDER: You seem to take disc golf way more seriously than elsewhere. I didn't know there even were professional disc golf athletes.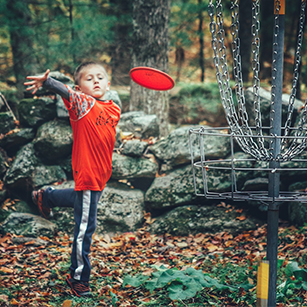 Mike Chait: We have three total courses on our resort, two 18-hole courses, and a 9-hole course. Our 18-hole courses are our championship-level courses. In the six years since the inception of our disc golf program, we have hosted the world championships of disc golf through the PGDA, and the Master's World Championships, and the second year in a row this year we hosted the US Junior Disc Golf Championships. These are big scale events where the top pros in the world come to play. These guys are making six figures on disc golf.
Mike Chait: [On our courses,] the wooded holes require a lot more accuracy, and the longer holes require a lot more strength. That's why we're such a perfect destination for these world championships, because we really test the players. One player might be great at hucking a disc far, but lacks the accuracy to make it through the forest, or vice versa. So it levels the playing field.
Events INSIDER: Do you cater to beginners, experts, or both?
Mike Chait: Morse Mountain consists only of beginner terrain. Having beginner terrain [all to themselves] allows beginners to have their sacred space. They can learn, they can build confidence, and feel good [without others skiing around them in circles]. Experts, intermediates have Madonna and Sterling mountains, which are interconnected, where the terrain is some of the most challenging on the East Coast.
Events INSIDER: Thank you.
The Morse Mountain Grill
Smugglers' Notch has the Hearth & Candle, the Bootleggers' Lounge with a full bar, karaoke, and dancing, the Morse Mountain Grill, and smaller restaurants. We chose to eat at the Morse Mountain Grill, where even in the summer they have a wide menu.

You can get appetizers including hearty soups, two-cheese nachos, Garlic Cheese Toast, and an Avocado Hummus Platter. The Sycamore Salad is a full meal, mixed greens with apple slices, dried cranberries, walnuts, and Vermont cheddar cheese, with maple poppy dressing. Or try the Vermonter Flatbread Pizza, with apple chutney, bacon, honey mustard, and an in-house cheese blend. In addition to all sorts of burgers, chicken dinners, and wraps, main entrees include marinated pork ribs in a house maple barbecue sauce, the Bombay Salmon, which has an Indian tomato sauce and tzatziki sauce, and a Beef Brisket Mac & Cheese Platter — it's nice that a restaurant has finally thought to add some protein to the carb-heavy favorite.
We tried the Roasted Brussel Sprouts, which were hearty and not bitter. They were cooked but retained their crunch, and weren't dominated by the cheese, like the Superman version of lettuce. We also tried the Boneless Pork Chops, brined in apple cider and served with roasted apples and mashed potatoes. The presentation was straightforward, served on a plain white circular dish, string beans on top of the potatoes, and apples on top of the pork chop. The potatoes were rich and buttery, whipped perhaps too smooth instead of having little nuggets of potato. The pork chop was a bit dry and homogeneous, and the salad not noteworthy. However, we appreciated the Smugglers' Mountain Chili Platter, which is chili served in a bread bowl. It was delicious, seasoned well, and the bread bowl wasn't soggy because the soup wasn't watery.
While not the finer dining that you would get from the next door Hearth & Candle, the Morse Mountain Grill gave us hearty, rejuvenating comfort food that kept us weary travelers going. And delightfully, the Morse Mountain Grill features a pirate-themed breakfast and a pirate-themed dinner, once a week. And each week a magician comes table to table performing close-up magic. We saw his tricks. They made our hair stand on end!
Overall
While I can't speak personally to wintertime, Smugglers' Notch is enormous, with 1,000 acres of skiable terrain (#3 in New England) and a 2,610-foot vertical drop (tied for #3 in New England). Last winter Smugglers' was #1 overall according in a SKI Magazine poll, though note that reader polls sometimes just show who's more willing to strongarm their community into voting.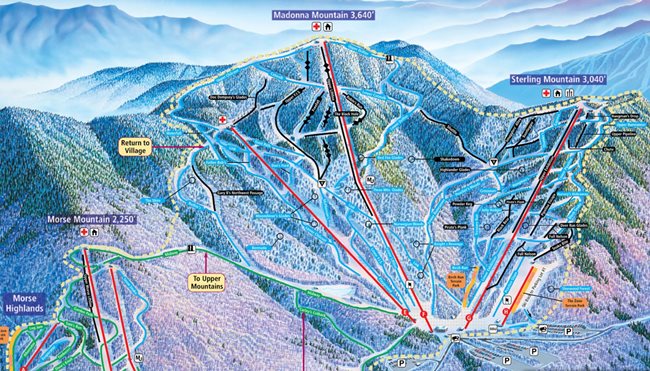 In the warm season, the first week of June to the first week of September, Smugglers' Notch is a notch above other resorts. As an events journalist, I'm jaded by the ordinary, so was so glad to find truly extraordinary experiences at Smugglers' Notch — mountains of them. I can see why you would buy a condo there instead of just rent. Come and park your car just once. Let Smugglers' Notch take care of the rest. That being said, here are two observations.
First, there's so much to do at Smugglers' Notch that you could let it overwhelm you. I didn't even mention the Village Recreation Area with basketball, sand volleyball, shuffleboard, and horseshoes. And the art classes. And the terrain park for mountain bikes! And another one for skateboarding! And there's a Ben & Jerry's! And we didn't even really talk about winter! I just learned that they have a whole suite of evening programs for teens, who don't want to do kiddie stuff and want some independence from their parents at night. They literally have so many activities and attractions that I can't even list them all in a long article.

So it's great that they have such an array of restaurants and activities, but it makes Smugglers' Notch so contained and self-sufficient that it's like visiting Disneyland, where you can forget that Florida exists. To keep kids close to their parents, the many fenced-in areas at Smugglers' Notch sometimes lacked views of the mountains. Oddly, the ski lifts are closed at Smugglers' Notch for the warm season, making the peaks accessible only to hikers.
So it takes some intentional planning at Smugglers' Notch to get the full Vermont experience. On site, don't forget to go hiking and mountain-gazing, which they have plenty of, and take a canoe trip or other Smugglers' Notch excursion — to be fair, they have plenty — that gets you out into the countryside. Then use some willpower to leave the resort for a time and explore the region on your own. Nearby towns have plenty of arts and architecture, and the cities of Montpelier (the capitol) and Burlington (on the shore of Lake Champlain) are each within an hour's drive.
Second, if your kids have wild energy, and won't easily entertain themselves on a campground with one pond and one trail for a week, Smugglers' Notch is absolutely the place to go. (As a child, I had to be dragged away from videogames and found it boring to sit by a lake all day.) However, if you come to Smugglers' Notch without children, going just with friends or on a romantic getaway, you will need to occasionally steel yourself against the wild energy and noise of other people's kids. Though as we saw, there are romantic retreats and grownup entertainments at Smugglers' Notch, they are not its main draws.
With the above caveats in mind, if Smugglers' Notch is the type of vacation that you are planning, it is an outstanding, must-see resort. I'm pleased to give Smugglers' Notch our rare 5 stars PLUS. And check out their upcoming September festivals, the Discraft Green Mountain Disc Golf Championship, the Fall Fest music and brew festival, and AppleFest, with apple picking, cider making, and orchard strolls.
See smuggs.com.