AcousticaElectronica is the WTF Circus Dance Party Not to Miss (5 stars PLUS)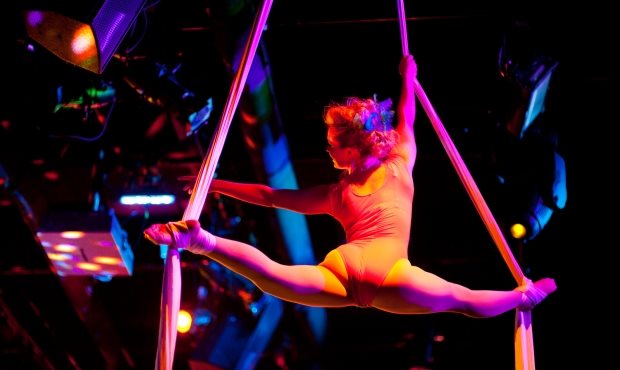 It's impossible to describe AcousticaElectronica except to say that you must see it. It's very much the kind of show that comes to OBERON, Harvard's second stage, which is also a nightclub with a full bar and plenty of seating.
The show contains circus acts, but is more powerfully viewed as a series of electronic rock skits, performance as a dance without words, in which the group takes over the entire venue. They perform on dance, from above, and on rolling box "stages" that can be pushed through the audience. The actual circus performances, including aerial silk dancing, don't reach the highest levels of athletic prowess, but the interpretation and "plot" are more the point of the show. In one act, an audience member is pulled onto stage and then through magic is transformed into a dancer. In another act, a reluctant guitarist has a musical fight. At other times, a virginal white dancer is beset by a villain dressed in black. I wouldn't say that I'm jaded, but I've seen a lot of rock party dances, and this one made me think, astonished, "What the fuck is going to happen next?" Without dialogue they are able to communicate the passion of the characters they play. It's deep at times, but doesn't take itself seriously.
I'm really at a loss for words. I've seen a lot of shows at OBERON that combine dance music and performance, and this may be the most innovative. They are always bringing out some kind of new props or trick. One of the acts is done in complete darkness (they need to tell morons with cell phone cameras to put them away entirely) with body suits that flash as though the dancers are teleporting around the stage. Meanwhile, I'm thinking that the show is only halfway done. How are they going to top this? They do.
Unlike with other OBERON shows I've seen, the action does not stop for a moment, even as one scene melts into the next. You have a great view from anywhere, but shame on you if you try to sit through the production. The dance music will get you tapping your toes and at a few moments dancing did break out. They might have encouraged audience dancing more during the show, especially at intermission. Finally when the show ends, their DJ does host a dance party for the entire audience for a couple more hours. Also, the show begins with a yoga class that I missed. I wonder what the deal is with that. I believe OBERON is 18+, and the show is not sexed-up, so it would be safe for kids, though I didn't see any there.
It's inspiring when a group takes creative risks, even when it doesn't quite work. AcousticaElectronica works. It's the performance version of the rock fantasy you have in your mind when you're singing in the shower. It's like a rave for people too classy and sober to go to a rave. They play piano, guitar, and add in a touch of opera to the dance club music. It's the best act I've seen at OBERON excepting the Donkey Show, which you should also see.
An easy 5 stars plus for AcousticaElectronica, a rating above 5 stars that I rarely give.
Tell your friends from New York: their next show is in Brooklyn this week on Saturday, April 14 but they are sure to return to OBERON soon.
See AcousticaElectronica and OBERON websites.