49 Holiday Lights and Santa Parades This Week Near Boston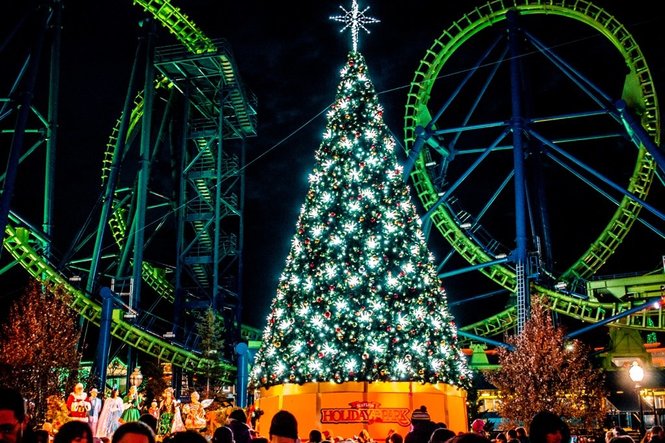 Holiday lights are here! Every year, you can drive or walk through city parks and theme parks with thousands of lights, or see a parade where Santa arrives by boat, fire truck, parachute, or helicopter.
Here are the ones happening this week near Boston!
 
Boston Metro
Mon
11/26
Tue
11/27
Wed
11/28
Thu
11/29
Fri
11/30
Sat
12/1
Sun
12/2
Stone Zoo's Zoolights (4.5 stars)
617-541-5466, Stoneham, MA
Winter wonderland of tree-lined paths lit by thousands of twinkling lights. Animals, including reindeer, and Santa. A magical holiday world filled with fairy tale characters and dancing plush animals.
x
x
x
x
x
x
x
Boston Common Tree Lighting and Frog Pond Skating Spectacular (4.5 stars)
Boston, MA
One night only. Figure skating show, stage show with live music, tree lighting, vendors.
x
Everett Christmas Tree Lighting (B?)
Everett, MA
One evening. Tree lighting, giant slide, giant snowglobe, train rides, horse-drawn sleigh rides, Santa arrives by fire truck.
x
Blink! at Faneuil Hall (C?)
Boston, MA
Commercial event at a mall with blinking trees and music. Ice sculptures, Santa.
x
x
 
Metro West
Mon
11/26
Tue
11/27
Wed
11/28
Thu
11/29
Fri
11/30
Sat
12/1
Sun
12/2
Massachusetts Horticultural Societys Festival of Trees and Snow Village (A?)
Wellesley, MA
Indoor decorated trees and model train, but outdoor gardens to stroll and horse-drawn rides.
x
x
x
x
x
A Little Women Christmas at Orchard House (B?)
978.369.4118 x106, Concord, MA
Re-enactors portraying historical characters found in ""Little Women"".
x
x
Concord Holiday Tree Lighting and Parade (A?)
Concord, MA
One night. Parade and tree lighting.
x
Norfolk Santa Parade and Holiday Celebration (B?)
Norfolk, MA
One night. Parade.
x
Fatima Shrine (C?)
Holliston, MA
Religious Xmas lights.
x
x
 
North Shore
Mon
11/26
Tue
11/27
Wed
11/28
Thu
11/29
Fri
11/30
Sat
12/1
Sun
12/2
Christmas in Salem (C?)
Salem, MA
Trolley, house tour, historic homes with staff in costume, and local businesses are open as usual. One weekend.
x
x
x
Marblehead Christmas Walk (B?)
Marblehead, MA
Weekend of tree lighting, caroling, candlelight stroll, chorus, and outdoor (?) dance.
x
x
x
x
 
South Shore
Mon
11/26
Tue
11/27
Wed
11/28
Thu
11/29
Fri
11/30
Sat
12/1
Sun
12/2
Light in the Darkness (A?)
Plymouth, MA
Enter the house of an English family celebrating Christmas, and then another of a Puritan Family. From there, stroll to our Visitor Center, transformed to showcase the 'gifts of Christmas'. Sample gingerbread and learn about the craft of candle making. You will then meet a very special guide who will prepare you to meet Queen Elizabeth! Your Majesty may call upon you, the members of her court, to perform for her!
x
x
x
x
x
x
x
Enchanted Village at Jordan's Furniture (C?)
Avon, MA
Indoor ice skating rink and indoor old-timey Holiday dioramas from the 1960s.
x
x
x
Edaville Railroad's Christmas Festival of Lights (5 stars)
508-866-8190, Carver, MA
Arguably the most-loved festival of its kind, having earned generations of loyal fans. Passengers relax comfortably in warm and dry coaches while riding through a spectacular holiday setting featuring an explosion of lights.
x
x
x
x
x
East Bridgewater Christmas Parade (B?)
East Bridgewater, MA
Morning parade.
x
 
Southeast Mass
Mon
11/26
Tue
11/27
Wed
11/28
Thu
11/29
Fri
11/30
Sat
12/1
Sun
12/2
La Salette Shrine Festival of Lights (4 stars)
508-222-5410, Attleboro, MA
More than 300,000 lights covering 10 acres. Very religious.
x
x
x
x
x
x
x
Middleborough Festival Of Lights (A?)
Middleborough, MA
Drive-through acres with 200,000 lights, Santa and the Grinch, stroll the village, model trains, alpacas, cabin decorating contest.
x
x
x
x
Breakfast with Santa at the Buttonwood Park Zoo (B?)
(508) 991-6178, New Bedford, MA
Day event. Breakfast buffet, Santa, animals, train and carousel rides, face painting, and crafts.
x
x
x
Christmas Stroll on Nantucket Island (C?)
Nantucket Island, MA
Weekend event. Shopping area features ""hundreds of decorated trees"", and caroling events. Santa arrives on a Coast Guard ship.
x
x
x
Lights On Festival (A+?)
Taunton, MA
One day event on the town common, but they have fireworks!
x
Taunton Christmas Parade (A?)
Taunton, MA
Daytime parade. Seems small.
x
Fall River Children's Holiday Parade (A?)
Fall River, MA
Afternoon parade that includes giant balloons and Santa and Mrs. Claus arrive by helicopter!
x
 
Worcester
Mon
11/26
Tue
11/27
Wed
11/28
Thu
11/29
Fri
11/30
Sat
12/1
Sun
12/2
Night Lights: Winter Reimagined (A+?)
Boylston, MA
Daytime and evening lights at this botanical garden, with smores and additional special Christmas events.
x
x
x
x
x
x
Spencer Christmas Parade of Lights (B?)
Spencer, MA
Evening parade. Seems small.
x
Christmas by Candlelight at Old Sturbridge Village (C?)
800-733-1830, Sturbridge, MA
Gingerbread contest, live music, storytelling, sleigh rides, festive foods, bonfire, stroll the 19th century decorated village. Nightly tree lighting, Father Christmas, Santa Claus.
x
x
Sutton Chain of Lights (B?)
Sutton, MA
One day only. Trolley rides, hay rides, animals, kids' activities, live music, Santa Claus, Xmas tree lighting, caroling.
x
Worcester Festival Of Lights Tree Lighting and Holiday Celebration (A?)
Worcester, MA
Just one night. Ice skating rink, live music, Santa parade, tree lighting, ice skating performance. Behind city hall.
x
 
Lowell
Mon
11/26
Tue
11/27
Wed
11/28
Thu
11/29
Fri
11/30
Sat
12/1
Sun
12/2
Winterlights at the Stevens-Coolidge Place (A?)
North Andover, MA
75,000 lights throughout the gardens, orchards, and grounds, with performances and activities for kids and adults. Santa and ice princesses nights, fire dancer, local choirs.
x
x
x
x
Visit with Santa at Smolak Farms (C?)
978-682-6332, North Andover, MA
Kids only events. Tree lighting, crafts, visit Santa in a barn, storytime with Mrs. Claus. Animals?
x
Cape Cod
Mon
11/26
Tue
11/27
Wed
11/28
Thu
11/29
Fri
11/30
Sat
12/1
Sun
12/2
Heritage Museum Gardens Aglow (A+?)
508-888-3300, Sandwich, MA
Garden and museums lit for Xmas. Carolers, fire pit, model trains, Santa in Model T Ford, Mrs. Claus, giant Lite Brites, roast marshmallows, reindeer scavenger hunt, live music, carousel, ice carving.
x
x
x
Cape Codder Enchanted Village (B?)
855-861-4370, Hyannis, MA
100,000 lights with caroling and Santa at this hotel with an indoor water park.
x
x
x
x
x
x
Santa's Boat Parade at Hyannis Harbor (B?)
Hyannis, MA
One day festival and boat parade.
x
Train To Christmas Town (B?)
Buzzards Bay, MA
Elves, music, train ride to magical lighted town.
x
x
x
 
Springfield
Mon
11/26
Tue
11/27
Wed
11/28
Thu
11/29
Fri
11/30
Sat
12/1
Sun
12/2
Bright Nights at Forest Park (4.5 stars)
413-733-3800, Springfield, MA
Drive-through experience with nearly three miles of lighting displays.
x
x
x
x
x
Winter Wonderland Light Display and Santa's Trains (C?)
413.584.5457, Florence, MA
Free. Drive-through light displays, carols, Santa, Mrs. Claus, Breakfast with Santa, miniature villages with model trains, fire and cocoa.
x
x
x
x
x
x
x
Mayors Tree Lighting Ceremony and the Lantern Light Parade (B?)
Westfield, MA
Evening parade. Seems small.
x
Six Flags New England Holiday in the Park (5 stars)
Agawam, MA
New Englands largest holiday celebration in a theme park with more than 50 rides, shows, and attractions.
x
x
 
Rhode Island
Mon
11/26
Tue
11/27
Wed
11/28
Thu
11/29
Fri
11/30
Sat
12/1
Sun
12/2
Newport Beach Christmas Boat Parade Of Lights (B?)
Newport, RI
Buy tickets for a boat cruise that sails past holiday lights.
x
x
x
x
x
x
x
Blackstone Valley Polar Express Train Ride (A?)
Woonsocket, RI
90-minute train ride, Santa, sing-a-longs.
x
x
x
Pawtucket Winter Wonderland (A+?)
401-728-0500 x251, Pawtucket, RI
Walking trail with 400 decorated trees, twenty Victorian buildings, 18-foot-tall snowman, Santa, train rides, hay rides, carousel, food court, dance and live music. Opening day has a parade.
x
x
Official Opening of Christmas in Newport (C?)
Newport, RI
One day with tree lighting, live music, and canon shot, that opens a month of business as usual tours, but also decorated doorways, caroling, participatory Messiah sing. Mansions listed separately.
x
Bristol Christmas Festival Grand Illumination (C?)
Bristol, RI
Tree lighting, music, performances, and Santa. One night.
x
Santa Sundays at the Newport Mansions (B?)
Newport, RI
Three mansions are decorated for regular tours, one day each for The Breakers, Marble House, The Elms has Santa.
x
Hope Street Winter Stroll (B?)
Providence, RI
Parade, music, entertainment, food trucks, beer garden. One day event.
x
 
New Hampshire
Mon
11/26
Tue
11/27
Wed
11/28
Thu
11/29
Fri
11/30
Sat
12/1
Sun
12/2
Santa's Holiday Express (A?)
603-356-5251, North Conway, NH
Two-hour train ride to the North Pole Theater and back. Hot chocolate, Santa, elves.
x
x
Gift of Lights at New Hampshire Motor Speedway (B?)
765-664-3918, Loudon, NH
See how over-the-top decorating looks while being able to brag youve driven around the track.
x
x
x
x
x
x
x
Christmas at Canterbury (B?)
603-783-9511, Canterbury, NH
Candlelight stroll through the Village, old-time magic show, horse-drawn wagon rides, silent film with live organ. Father Christmas, hot cider, fiddlers.
x
x
x
Horse and Wagon Rides at the Rocks Estate (C?)
603-444-6228, Bethlehem, NH
Horse-drawn wagon rides, Santa, at a xXmas tree farm.
x
x
x
x
x
x
x
Christmas Lights at La Salette Shrine & Center (3.5 stars)
603-632-7087, Enfield, NH
45,000 evening lights spread across 30 acres.
x
x
x
Lighted Winter Wonderland & Santas Big Party at Charmingfare Farm (B?)
603-483-5623, Candia, NH
Lighted Winter Wonderland isa separate event. 30-minutes horse-drawn ride through thousands of lights. Santa, costumed characters, train ride to live reindeer, petting zoo. Takes 2 hours.
x
x
Candlelight Stroll at Strawbery Banke (5 stars)
603-422-7514, Portsmouth, NH
Guided Holiday House Tours at this re-enactment museum focusing on the 18th century. This event features live music, a bonfire, participatory caroling, performances on period instruments, Masonry, hundreds of candles, a gingerbread house contest, and more.
x
x
Christmastime at Santa's Village (A?)
603-586-4445, Jefferson, NH
Large Xmas theme park with reindeer, Santa.
x
x
Portsmouth Christmas Tree Lighting & Illuminated Holiday Parade (B?)
Portsmouth, NH
Tree lighting and parade. One night only.
x
 
Connecticut
Mon
11/26
Tue
11/27
Wed
11/28
Thu
11/29
Fri
11/30
Sat
12/1
Sun
12/2
Holiday Light Fantasia (4 stars)
860-742-2267, Hartford, CT
2-mile drive-through park event with 1,000,000 night-time lights.
x
x
x
x
x
x
x
Lantern Light Tours (A?)
860-572-5365, Mystic, CT
Theatre show that moves you to several locations in this 19th-century maritime village museum. Horse-drawn carriage ride, a spirited holiday dance, the beautiful glow of lanterns, Santa.
x
x
Fantasy of Lights (B?)
203-777-2000, New Haven, CT
Drive-through park with 60 attractions that include 100,000 lights.
x
x
x
x
x
x
x
North Pole Express at Essex Steam Train (B?)
Essex, CT
Train ride with live music, Santa and Mrs. Claus, sing-a-longs, hot chocolate.
x
x
x
x
Northern Lights Limited and Santa Express (B?)
Thomaston, CT
Indoor / outdoor festival of lights with train right and Santa's Train Workshop. Mrs. Claus, elves.
x
x
x
Holiday Lights at Lake Compounce (B?)
860-583-3300, Bristol, CT
Thousands of bulbs and spectacular light shows every half hour set to music. A selection of children's and family rides will be open. Santa.
x
x
x
Winterfest and the Tunnel of Lights (B?)
East Windsor, CT
Trolley ride, Santa.
x
x
x
Shore Line Trolly Winter Wonderland (B?)
East Haven, CT
Trolley ride to Santa, model trains, holiday lights.
x
x
Festival of Silver Lights at Hubbard Park (B?)
203-630-4259, Meriden, CT
Dawn to dusk. No admission, just you drive through this decorated park with 350,000 twinkling lights and more than 200 figures and buildings.
x
x
Ivoryton Illuminations (B?)
Ivoryton, CT
Just one night. More than 400,000 lights, caroling, tree lighting, Santa.
x