37 Holiday Light Displays and Santa Events Near Boston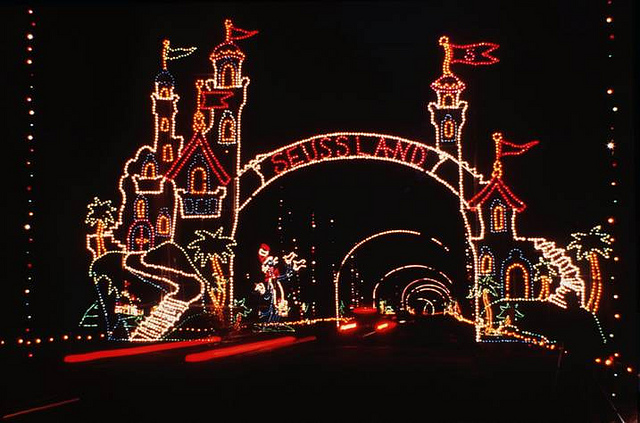 November is a slow time for the arts, but this week kicks off holiday nighttime light displays!
Even if you don't have kids, it's thrilling to celebrate the holidays at night, outdoors, admiring thousands of lights and displays. With some attractions, you walk in the cold, but others you can stay warm in your car. You'll find parades, lantern walks, outdoor theatre shows, and can meet Santa, the Grinch, and others. Sometimes Santa arrives by boat or fire truck. Sometimes he arrives by parachute! Some events are held at theme parks, have horse-drawn sleigh rides, ice sculpturing demonstrations, or fireworks. At some, you can pet animals — even real reindeer.
Of course Events INSIDER runs the largest list of holiday lights in New England. We track 126 outdoor holiday events. Make it an excuse to drive an hour or two out from Boston and see something truly unique. To start, here are the 37 events that are open this week, hand curated and with the dates marked. (Note, many events will have a special night such as a parade or Santa visit that don't happen every day, so check listings.) Only a few are overtly religious — most are Frosty the Snowman stuff, safe for people of all backgrounds.
So don't just go to a mall this year. Do something arty. Get out and have some fun!
Holiday Light Displays and Santa Events
Boston Metro
Mon
11/19
Tue
11/20
Wed
11/21
Thu
11/22
Fri
11/23
Sat
11/24
Sun
11/25
Stone Zoos Zoolights (4.5 stars)
617-541-5466, Stoneham, MA
x
x
x
City of Quincy Christmas Parade & Festival (A?)
Quincy, MA
x
x
x
Metro West
Mon
11/19
Tue
11/20
Wed
11/21
Thu
11/22
Fri
11/23
Sat
11/24
Sun
11/25
Massachusetts Horticultural Societys Festival of Trees and Snow Village (C?)
Wellesley, MA
x
x
x
North Shore
Mon
11/19
Tue
11/20
Wed
11/21
Thu
11/22
Fri
11/23
Sat
11/24
Sun
11/25
Beverly Holiday Parade (B?)
Beverly, MA
x
Gloucester Christmas Parade & Tree Lighting (B?)
Gloucester, MA
x
South Shore
Mon
11/19
Tue
11/20
Wed
11/21
Thu
11/22
Fri
11/23
Sat
11/24
Sun
11/25
Edaville Railroads Christmas Festival of Lights (5 stars)
508-866-8190, Carver, MA
x
x
x
Light in the Darkness (A?)
Plymouth, MA
x
x
x
Enchanted Village at Jordans Furniture (C?)
Avon, MA
x
x
x
Lighting of the Pilgrim Monument (C?)
Plymouth, MA
x
Duxbury Holly Days (C?)
Duxbury, MA
x
Southeast Mass
Mon
11/19
Tue
11/20
Wed
11/21
Thu
11/22
Fri
11/23
Sat
11/24
Sun
11/25
La Salette Shrine Festival of Lights (4 stars)
508-222-5410, Attleboro, MA
x
x
x
x
Breakfast with Santa at the Buttonwood Park Zoo (B?)
(508) 991-6178, New Bedford, MA
x
x
x
Middleborough Festival Of Lights (A?)
Middleborough, MA
x
x
USA Christmas Town / Brockton Holiday Parade (A?)
Brockton, MA
x
x
North Attleborough Santa Parade (A?)
North Attleboro, MA
x
Worcester
Mon
11/19
Tue
11/20
Wed
11/21
Thu
11/22
Fri
11/23
Sat
11/24
Sun
11/25
Christmas by Candlelight at Old Sturbridge Village (C?)
800-733-1830, Sturbridge, MA
x
x
Lowell
Mon
11/19
Tue
11/20
Wed
11/21
Thu
11/22
Fri
11/23
Sat
11/24
Sun
11/25
Visit with Santa at Smolak Farms (C?)
978-682-6332, North Andover, MA
x
Springfield
Mon
11/19
Tue
11/20
Wed
11/21
Thu
11/22
Fri
11/23
Sat
11/24
Sun
11/25
Bright Nights at Forest Park (4.5 stars)
413-733-3800, Springfield, MA
x
x
x
x
x
Six Flags New England Holiday in the Park (5 stars)
Agawam, MA
x
x
x
Winter Wonderland Light Display and Santas Trains (C?)
413.584.5457, Florence, MA
x
x
x
Moonlight Magic and Parade of Lights (B?)
Shelburne Falls, MA
x
The Lighting of the Quadrangle & Holiday Happenings (B?)
Springfield, MA
x
Rhode Island
Mon
11/19
Tue
11/20
Wed
11/21
Thu
11/22
Fri
11/23
Sat
11/24
Sun
11/25
Visit with Santa at Carousel Village (C?)
401-941-4998ext 316, or 401-785-3510 ext 343, Providence, RI
x
x
x
Newport Beach Christmas Boat Parade Of Lights (B?)
Newport, RI
x
x
x
New Hampshire
Mon
11/19
Tue
11/20
Wed
11/21
Thu
11/22
Fri
11/23
Sat
11/24
Sun
11/25
Gift of Lights at New Hampshire Motor Speedway (B?)
765-664-3918, Loudon, NH
x
x
x
Horse and Wagon Rides at the Rocks Estate (C?)
603-444-6228, Bethlehem, NH
x
x
x
Christmas at Canterbury (B?)
603-783-9511, Canterbury, NH
x
x
x
Santas Holiday Express (A?)
603-356-5251, North Conway, NH
x
x
x
Connecticut
Mon
11/19
Tue
11/20
Wed
11/21
Thu
11/22
Fri
11/23
Sat
11/24
Sun
11/25
Fantasy of Lights (B?)
203-777-2000, New Haven, CT
x
x
x
x
x
x
North Pole Express at Essex Steam Train (B?)
Essex, CT
x
x
x
Northern Lights Limited and Santa Express (B?)
Thomaston, CT
x
x
x
Holiday Lights at Lake Compounce (B?)
860-583-3300, Bristol, CT
x
x
x
Lantern Light Tours (A?)
860-572-5365, Mystic, CT
x
x
Holiday Light Fantasia (4 stars)
860-742-2267, Hartford, CT
x
x
x
x
Winterfest and the Tunnel of Lights (B?)
East Windsor, CT
x
x
x
Shore Line Trolly Winter Wonderland (B?)
East Haven, CT
x
x
x
Trees in the Rigging Community Carol Sing & Boat Parade (A?)
Essex, CT
x