191 Halloween Attractions in New England for 2019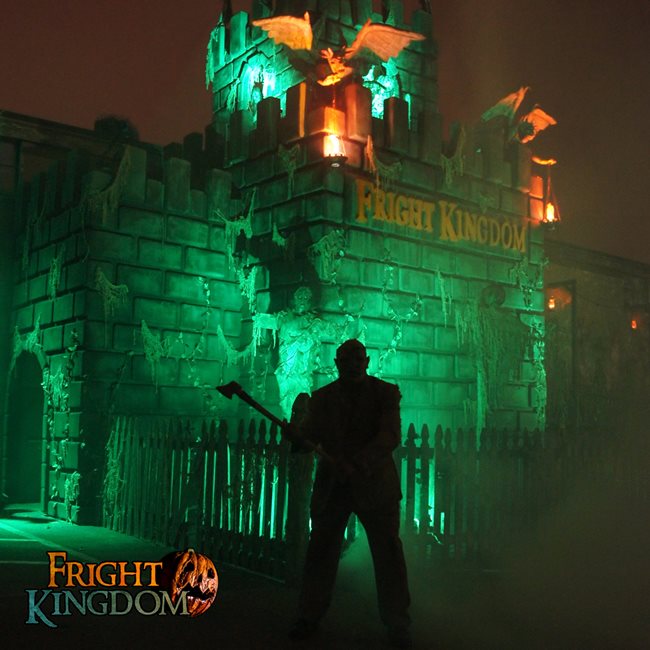 It's time! Every year, Events INSIDER tracks more than 200 Halloween destinations, including ratings and reviews for more than 60. Here are this year's attractions we believe are open for 2019!
Boston Metro
Cemetery Cinema (A?)
Cambridge, MA
Outdoor movie at the Mount Auburn Cemetery, run by the Coolidge Corner Theatre arthouse.
Tales from the Crypt at King's Chapel (A?)
Boston, MA
Candlelit tour. Walk among the 21 tombs to learn about historic burial customs and the people laid to rest under the chapel!
Frightful Fridays at Gore Place (B?)
781-894-2798, Waltham, MA
One-hour historic mansion tours with spooky stories.
Monster Bash at Cypress St Park (B?)
,
2017: One night only. Haunted graveyard, spooky storytelling, face painting, a balloon artist, dancing, music.
Jack O'Lantern Journey at Franklin Park (4 stars)
Boston, MA
Skipped 2019. Pumpkin trail, pumpkin carving demonstrations, pumpkin patch, food. drink, interactive experiences.
Pru Boo at the Prudential Center (2.5 stars)
800-SHOP-PRU, Boston, MA
One day event. Daytime. Kids thing in a mall. Trick-or-treat at over 50 participating stores. Face painting, magic shows, and activities.
Zoo Howl (C?)
Boston, MA
Kids-only daytime event at a zoo.
Wilson Farm Hay Maze (C?)
781-862-3900, Lexington, MA
Daytime only hay maze with some decorations.
Ewok Village (C?)
Canton, MA
2018: 5-8:30pm. Daytime event. Star Wars theme. One day only.
Metro West
Spirits of the Manse (B?)
978.369.3909, Concord, MA
2018: 30-minute spooky tours of this historic home. Two nights only. S'mores.
Sleepy Hollow-een Tour (B?)
Concord, MA
Daytime tour through historic Sleepy Hollow Cemetery with a guide.
Hanson's Farm Haunted Farm & Hayride (B?)
508.877.3058, Framingham, MA
2018: Fri & Sat, 7-10pm.
Nightmare Marlborough (B?)
Marlborough, MA
Free. Bring a food donation for charity to enter. Seems like a private residence?
First Parish Haunted House (B?)
Bedford, MA
Two nights only. In a church. And a not-so-scary Sunday.
Haunted Woods Hayride (B?)
Grafton, MA
Haunted hayride. Spooky kid dancers.
Halloween Prowl at Moose Hill Wildlife Sanctuary (C?)
781-784-5691, Sharon, MA
Haunted Driveway (C?)
Bedford, MA
Just a driveway of a private home. Halloween night only.
Holdsworth Haunted House (C?)
North Grafton, MA
Uncommon House of Horrors (C?)
Maynard, MA
Private home haunt. Halloween night only.
North Shore
Halls of Darkness Fears and Phobias at Hammond Castle (4 stars)
978-283-2080, Gloucester, MA
2019: 7-10:45pm.
Interamersive: Interactive Theatre (4.5 stars)
Salem, MA
2019: Shows start at 8pm, 90 minutes, plus 30-minute audience talkback. Interactive theater experience for 30 people, like a murder mystery dinner theatre without the dinner. Daemonologie: Blood and Bone. Takes place in Cotting-Smith Assembly House, with up to 8 costumed actors including some from history. Seems literary, Victorian parlor with seance. Work with a dramaturge and historian.
Ravenwood Haunted Farm (4.5 stars)
Haverhill, MA
Cornfield, woods walk, concessions.
Running Dead Zombie 5K Challenge (A?)
Salem, MA
Skipped 2019.
Maudslay is Haunted (5 stars)
978-465-2572, Newburyport, MA
2018: Spooky theater shows that may be outdoors. Show on Edgar Allan Poe and then Maudslay is Haunted.
Hysteria at Connors Farm (5 stars)
978-777-1245, Danvers, MA
5 different attractions
Cry Innocent! (4.5 stars)
978-867-4767, Salem, MA
One of many performances by History Alive! More Salem history than spooky.
Castle Hill Halloween Party (B?)
Ipswich, MA
Lanterns in the Village (B?)
978-744-8815, Salem, MA
Jack-o-lanterns line the pathways of an old historical re-enactment village. Ghost stories shared by the fire. Cocoa.
The Salem Haunted Magic Show (B?)
Salem, MA
Magic and circus stunts, oddities.
Imprisoned! 1692 (B?)
Salem, MA
15-min historical walking tour
Homestead / Tales at the Witch House (B?)
978-744-8815, Salem, MA
In Homestead, the audience wanders through a historic mansion, like Sleep No More, seeing performers in every room.
Halloween Celebration and Fireworks (B?)
Salem, MA
Legacy of the Hanging Judge & Spirit of the Gables (re-enactment) (4.5 stars)
978-744-0991 x104, Salem, MA
Haunted Happenings Harbor Cruise (3.5 stars)
978-825-0001, Salem, MA
2018: 90-minute boat cruise with spooky stories. Formerly ""Haunted Harbor Cruise"". Do they still have facepainting?
Count Orlok's Nightmare Gallery (C?)
978-740-0500, Salem, MA
Open daily. Monster Museum. Celebrity guest events.
Chambers of Terror (C?)
Salem, MA
Frankenstein's Castle (C?)
Salem, MA
Run by Salem Wax Museum
The Haunted Witch Village (C?)
Salem, MA
Run by Salem Wax Museum. Vaguely, ""open weekends in October
Haunted Movie Series on Salem Common (C?)
Salem, MA
Outdoor movies! Bring a blanket. Free.
Salem Horror Fest (C?)
Salem, MA
Festival with horror film celebrities, live podcast, movie screenings.
Carnival on Derby Street (C?)
978.741.3252, Salem, MA
Small traveling carnival in downtown Salem.
Outdoor Movie Night at Far From the Tree Cider (C?)
Salem, MA
Wednesdays.
Halloween Happenings at Ipswich River Willdlife Sanctuary (C?)
Ipswich, MA
Kids' guided nighttime tour of a wildlife sanctuary where you meet creatures and learn about nature.
South Shore
Barrett's Haunted Mansion (5 stars)
781-871-4573, Abington, MA
Alden House (B?)
781-934-9092, Duxbury, MA
One night only? Spooky tour of the Alden House, the previous residence of Mayflower voyager John Alden.
Not So Spooky Halloween at Edaville Railroad (B?)
508-866-8190, Carver, MA
Haunted train ride. Non-spooky for kids. Formerly ""Pumpkins Aglow"".
Haunted Woods at Old Colony YMCA Camp Clark (C?)
Plymouth, MA
Haunted Hallways (C?)
781-341-2016, Stoughton, MA
Active in 2017, seems skipped 2018.
Southeast Mass
Fear Town (5 stars)
Seekonk, MA
Spooky Sundae (4 stars)
Swansea, MA
Bring a flashlight, go on a dark ride then walk through the corn maze. Finish by making your own sundae. Website vaguely says ""every"" Fri-Sun, 6:30-9pm.
Lakeville Haunted House (A?)
508-923-0053, Lakeville, MA
Haunted house. 2019: Closed.
Factory of Terror (4 stars)
Fall River, MA
Haunted house. Rt 195E to exit 5. Left off exit. Behind Dunkin Donuts. See website coupon. Flashlight nights scarier with much lower lighting!
Boo at the Zoo at Buttonwood Park Zoo (B?)
New Bedford, MA
Spooky Express train ride, Trick or Treat Trail, Shipwreck Cove Maze. Seems like it might be not-so-scary, for kids.
Halloween Spooktacular at Attleboro Springs Wildlife Sanctuary (B?)
Attleboro, MA
Guided not-so-spooky nature tour at night where forest inhabitants share the history and science of the natural sanctuary.
Octoberfest at Winslow Farm (3.5 stars)
508-285-6451, Norton, MA
Haunted walks both scary for adults and non-scary for kids. $10/7 for kids.
Battleship Boo Bash (C?)
508-678-1100, Fall River, MA
Kids' daytime event, go trick or treating on a battleship! Reservations required. 2018: Thursday. One night.
Norfolk Aggie Haunted Hayride (C?)
Walpole, MA
No posting yet for 2018. Haunted hayride.
Worcester
Sleepy Hollow at Old Sturbridge Village (5 stars)
Sturbridge, MA
Outdoor theater show in old-time living history village museum
Factory of Terror (3.5 stars)
Worcester, MA
Flashlight nights scarier with much lower lighting!
Century Sportsman's Club Haunted Hayride & Haunted Forest Walk (3.5 stars)
Auburn, MA
Spooky Acres Haunted Hayride (C?)
757-588-2841 / 535-4828, Millbury, MA
2018: Haunted Hayride.
Lowell
Witch's Woods (5 stars)
978-692-3033, Westford, MA
Hayrides, carnival, woods walk, indoor attractions at an upscale restaurant at a ski resort.
Lost Lake Cemetery (C?)
Groton, MA
Halloween night only. Walkthrough cemetery and haunted house.
Third Degree of Terror: Cathedral of Chaos (C?)
Ayer, MA
It's a private home's large garage. Free.
Springfield
DementedFX (5 stars)
Easthampton, MA
2018: 20,000 square feet of giant monsters, hollywood quality sets and props
Fear on the Farm at McCray's Farm (5 stars)
413-533-0775, South Hadley, MA
160+ Acres of haunted trails plus indoor attraction, hayride.
Fright Fest at Six Flags New England (5 stars)
413-786-9300, Agawam, MA
Haunted house as part of largest amusement park in New England. Fri 6-11pm, Sat 12-10pm, 12-9pm
Haunted Trail by Halloween Havoc (C?)
West Springfield, MA
Seems gone from Eastern State Exposition, new location.
Haunted Train (C?)
413-584-5457, Florence, MA
Haunted train ride. It's just for kids, it seems. 2018: 5-9pm.
Rhode Island
Jack O' Lantern Spectacular at Roger Williams Park Zoo (4.5 stars)
401-785-3510, Providence, RI
5,000 pumpkins, kid stuff. Soaring Eagle zip line. Nearby nighttime paddle boats. Special nights for Fairy Tales, Wizards, Super Heros.
Field of Screams (4.5 stars)
401.397.2600, West Greenwich, RI
2018: 3 attractions and Zombie Paintball! Outdoors.
Boating at Roger Williams Park (A?)
Providence, RI
Non-scary nighttime swan boat rides along pond with lights, next to the Roger Williams Park Zoo Halloween event. Weekends/Holidays.
Seven Cedars Farm Haunted Hayride (A?)
Smithfield, RI
Hayride: The ride winds through 21 acres of wooded trails. 2018: Fri-Sat 7-10, Sun 7-9.
Scary Acres (A?)
401-827-5000, Cranston, RI
Family farm with 30-minute haunted corn field maze and 20-minute haunted trail walk.
Fortress of Nightmares RiverFire (4 stars)
401-841-0707, Newport, RI
Rhode Island's only haunted fortress. Ghost hunts on the 19th and 31st. Fear at Fort Adams: 6-10pm
Underland (A?)
Pawtucket, RI
20 minutes mini-show for 50 guests at a time. Last night concluded with a party.
Factory of Terror (B?)
508-324-1095, West Warwick, RI
Flashlight nights scarier with much lower lighting!
13th World (4 stars)
Cumberland, RI
Outdoor trail.
Haunted Labyrinth (3.5 stars)
401-942-6571 or 401-943-8686, Cranston, RI
Catholic charity. Dance parties on Saturdays.
Slater Park Haunted Tunnel (C?)
401-728-0500 x252, Pawtucket, RI
2018: Fri-Sat, 6:30pm-9pm. Also known as the Daggett Farm Haunted Tunnel.
Nightmare Dominion (C?)
West Warwick, RI
Private home haunt. Free. Halloween night only.
Cape Cod
Sandwich Halloween Festival (C?)
Sandwich, MA
2018: Wonderful and extensive gardens. Not-so-scary, for kids. Garden maze, hayride, food, drink and more. Formerly Halloween Family Fun Night. One day.
Village Mire Yard Haunt (C?)
South Yarmouth, MA
2018: This is just a private yard display, not a real haunted house, but they have actors on 10/31. Drive by 10/1-10/30.
Halloween KidsFest (C?)
508-527-0189, East Falmouth, MA
2017: Tractor rides, haunted forest, and obstacle course. Daytime only. 11am-3pm.
Berkshires
13 Nights at Jiminy (4.5 stars)
413-738-5500, Hancock, MA
Tours, Soaring Eagle, and Giant Swing.
Ghost Tours at Edith Wharton's The Mount (C?)
413-551-5111, Lenox, MA
2 hours. Bring a flashlight. Partly outdoors. Museum tour with a ghost theme. Two tours a day. Fridays only. And an annual Halloween Dog Parade. Seems like they play up the paranormal in a way that's anti-science.
Northwest Mass
Hicks Family Farm Haunted Weekends (3 stars)
Charlemont, MA
Haunted corn field maze.
Haunted Hayrides around Silver Lake (C?)
978-249-9038 David Flint, Athol, MA
2018: Non-scary during the late afternoon, then scary after dark.
New Hampshire
Haunted Overload (5 stars)
603-868-2111, Lee, NH
Haunted house. Empty house day haunts. Must buy tix in advance.
Canobie Lake Screeemfest (5 stars)
603-893-3506 or 617-653-5959, Salem, NH
Canobie Lake Park is the 2nd biggest amusement park in New England, and while its attractions are bad (Merriment: C+, Dead Shed C, The Village C, Cannibal Lake C-, Demons of Darkness D), being at a giant carnival at night is glorious, thus the ""A""! Buy a $5 ""glowing charm"" for your kids and the actors playing the monsters know to not be so scary.
RiverFire5 stars
603-752-6060, Berlin, NH
A two-acre Haunted Village presented by Theatre North. Plus pumpkins, hay rides, live music, hot air balloon rides, 5K race, and they set the river on fire! One night. Claim 5,000 attend. Associated with zombie-themed ATV (all terrain vehicle) decoration and poker tournament.
Fright Kingdom (5 stars)
Nashua, NH
6 attractions. They have a not-so-scary day for kids.
The Ghoullog at Cranmore Mountain (4.5 stars)
603-356-5544, North Conway, NH
Board the ski lift for a Halloween experience on the ride up and on the peak! One night is a ""Lights Out"" event. Theme park rides include Mountain Coaster, Giant Swing, & Soaring Eagle Zipline.
Spooky World / Nightmare New England (4 stars)
603-424-2292, Litchfield, NH
2018: Hayride, midway, 4 attractions, Beer Garden with food vendors and bonfire, and fun park with go carts. Special ""Lights out"" event in November
Beans & Greens Farm Haunted Corn Maze (4 stars)
603-293-2853, Gilford, NH
Fitzy's Fright Fest (B?)
Newton, NH
Woods walk. Skipping 2018 but plan to return in 2019
Devil's Playground (B?)
Unity, NH
Haunted house, maze daily. Woods walk is only open Friday, Sat.
Ghosts on the Banke at Strawbery Banke (B?)
603-422-7514, Portsmouth, NH
2018: 5:30-8pm. Two-nights. Walk a not-so-scary historical re-enactment village meeting 17th, 18th century sea captains, shopkeepers, pirates, learning about history.
Haunted Corn Maze at Riverview Farm (B?)
Plainfield, NH
2018: No note on their website or FB, but I called them, and they're open this year. Two nights. 7-9pm. Costumed actors walk the corn maze scaring you.
The Salisbury Haunted Woods Barn and Trail (B?)
Salisbury, NH
Woods talk and barn. Fundraiser.
House in Haunted Hill (B?)
Hill, NH
Small but seem like enthusiasts.
The Haunted Trail at Emerson Park (B?)
603-249-0676, Milford, NH
2018: One weekend with fireworks on the Friday. Haunted trail, but seems to add a festival with pumpkins, fun run, talent show, craft fair, beer tasting, kid stuff.
Zombie Survival Saturday (B?)
603-642-4581, Kingston, NH
One night only. Formerly ""Haunted Lone Tree"".
The Dark Crop (B?)
Hollis, NH
Confirmed happening 2019.
Silly Spooky Halloween at Santa's Village (B?)
Jefferson, NH
2018: Large kids' Xmas theme park decorated for Halloween. Not-so-scary daytime attraction for kids. Only two days.
Harvest of Haunts at Chamingfare Farm (3.5 stars)
603-483-5623, Candia, NH
4 different attractions, viewed from a horse-drawn wagon. Previously ""Harvest of Horror"".
Ghosts of Folsom Tavern and Winter Street Cemetery Tour (C?)
Exeter, NH
Haunted Halloween Barn (C?)
Portsmouth, NH
Free. Every Tue-Sun in October.
Haunted Maze at Beans and Greens Farm (C?)
603-293-2853, Gilford, NH
2018: Haunted corn field maze. Dates are vague. Fri-Sat?
Waterville Valley Halloween Celebration (C?)
Waterville Valley, NH
2018: Pumpkin carving Friday, then celebration Saturday and kids' haunted house.
Haunted Maze at Scamman Farm (C?)
603-686-1258, Stratham, NH
2018: Haunted corn field maze. One night only.
Haunted Woods (C?)
603-526-4821, New London, NH
2018: 1 night only. Kid friendly trick-or-treat at 5:30pm, then Haunted Woods 7:30-9:30pm.
Halloween Town at King Pine (C?)
Madison, NH
2018: Daytime kids' event with Bouncy House, Face Painting, Carnival Games, Story Telling. One day only.
Trunk or Treat at Bretton Woods (C?)
Bretton Woods, NH
2018: One day. People decorate their cars and park. Wagon rides, carnival, music, scavenger hunt.
Hollis Haunted House (C?)
Hollis, NH
One night only. At a school. Seems theatrical, with character scenes.
Tunnel of Terror NH (C?)
Hudson, NH
Halloween night only. Private home haunt with yard display.
Connecticut
The Haunted Graveyard (5 stars PLUS)
860-583-3300, Bristol, CT
Giant attraction in a theme park. Try the ""Behind the Screams"" to see how it's all done.
Legends of Fear at Fairview Tree Farm (5 stars PLUS)
203-944-9090, Shelton, CT
Trail and hayride, but Sundays they don't have the hayrides. 7 attractions. 2019: FS Open 7pm, last ticket sold 10pm. Sun Open 7pm, last ticket sold 9:30pm.
Nightmare on Wolcott Street (4.5 stars)
203-754-5000, Waterbury, CT
Indoor Haunted House. 10,000 square feet with 55 rooms of terror. 2019: 6pm-12am, last ticket sold at 11am.
Nautical Nightmares at Mystic Seaport (4.5 stars)
860-572-0711, Mystic, CT
Annual Halloween play that takes place in venues across a 19th century sailing village with historical re-enactors. Costume parade daily. 2019: Tours every 15 minutes from 6-10pm.
Haunted Isle at the Shore Line Trolley (4 stars)
203-467-6927, East Haven, CT
5-minute trolley ride and haunted woods walk. 2018: 7-10pm.
Fright Haven (3.5 stars)
Stratford, CT
An all-indoor space with three attractions notable for being open off-season for spooky but holiday-themed Christmas, Easter, Valentine's Day, and St. Patrick's Day.
Nightmare Acres 4 stars
South Windsor, CT
45-minute woods walk. 2019: Special ""Lights Out"" and ""Touch Me"" events. Most nights 7-11pm.
Sonny's Place Harvest Happenings (A?)
Somers, CT
It's only a fun park, but they have a Hayride of Horror. Carousel, VR, laser tag, mini bowling, rock wall, rides, mini golf, ziplines, go karts, arcade, batting cages. Halloween theming is light: pumpkin mini golf, zombie laser tag, crafts, spooky music. 2019: close at 11pm.
The Pumpkin Place at Nature's Art Village (4 stars)
,
Kids-only, not-so-scary attraction. Outdoor waterside trail, fire spinners, magic, pumpkins, inflatables, dioramas including dinosaurs in a mall location with separately ticketed other attractions..
Evidence of Evil (4 stars)
Southington, CT
Takes place at an upscale indoor arcade and bowling center. Very theatrical! 2019: Tours on the hour from 7pm to 11pm.
Haunt on Eden (4 stars)
Plantsville, CT
Ski resort.
The Trail of Terror (4.5 stars)
Wallingford, CT
Outdoor woods halloween attraction. Speed Pass tix available. Opens at 7pm.
Flamig Farm Halloween Hayrides (B?)
860-658-5070, West Simsbury, CT
Family farm hayride. Bonfire.
West Hartford Hauntings (B?)
860-521-5362, West Hartford, CT
Wasn't listed on main website, but their Facebook page had it. West Hartford Historical Societys spooky, theatrical cemetery tour.
Halloween at Old New-Gate Prison (B?)
860-653-3563, East Granby, CT
Howl-O-Ween & Boo at the Zoo at Beardsley Zoo (B?)
203-394-6565, Bridgeport, CT
Meant for kids 8-15, but can be scary. The Haunted Hayride, Farmer Beardsleys Farmstead, and the Ghastly Greenhouse. Magic shows, face painting, fortune tellers, dancers and more.
Hale Homestead Haunted Corn Maze (B?)
860-742-6917, Coventry, CT
A moderately scary walk through a corn maze with ""spooks in the dark"". I think that's dioramas, not actors.
A Haunting at Mill Hill (B?)
203-846-0525, Norwalk, CT
One-hour lantern tour through a cemetery and park with historic park, led by a historical society, plus a haunted maze.
Haunted Trail at Harrybrooke Park (B?)
New Milford, CT
Outdoors. Benefits nonprofits.
Rails to the Darkside (4 stars)
860-627-6540, East Windsor, CT
Haunted trolley ride.
All Hallows Weekend at the Connecticut Renaissance Faire (4 stars)
860-572-0711, Lebanon, CT
One weekend ""theme"" of many themed weekends, and it's not very Halloween-y.
Dark Manor (3.5 stars)
860-822-TOMB, Baltic, CT
2014: Fri-Sat 6:30pm-12am, Thurs, Sun 6:30pm-11pm. Matinees 10/13, 10/18, 10/25
Stew Leonard's Halloween Hayride Spooktacular (C?)
203.790.8030, Danbury, CT
Daytime hayrides. Not-so-scary, for kids.
Pumpkintown USA (C?)
860-267-0143, East Hampton, CT
Hayride through ""town"" of pumpkin dioramas. Daily. Non-scary, for kids. Pumpkintown Village where over 70 pumpkinhead people and animals enjoy life in their old-fashioned village complete with a church, post office, saloon, and more. Weekend activities include a huge Moonbounce Pumpkin, face painting, and a unique Sling-a-Ding game.
Children's Halloween Village (C?)
203-720-7071, Naugatuck, CT
This one's just for kids, so it probably isn't very high production. Through Parks & Rec dept on town website. Kids games, magicians.
Witches Dungeon Classic Movie Museum (C?)
860-583-8306, Bristol, CT
It's not a haunted house, but it's seasonal – a wax museum of horror movie icons
Wells Hollow Creamery Corn Maze (C?)
Shelton, CT
Haunting at the Hollow (C?)
New Fairfield, CT
Outdoors.
Woodbury Lions Club Haunted Hayride (C?)
203-263-4314, Woodbury, CT
2018: Haunted hayride. They have a not-so-spooky version for kids.
Graveyard Shift Ghost Tours at the Mark Twain House (C?)
860-247-0998, Hartford, CT
Haunted tours of the Mark Twain Museum. Fridays. Seems like, unfortunately, they have an anti-science, paranormal angle.
Halloween Hay Bale Theater (C?)
203-790-8030, Danbury, CT
2018: Fridays only. Note differing locations. Free children's Halloween-themed movie. Outdoors under a tent.
The Scream Haunted Attraction (C?)
North Haven, CT
Closed in 2018 according to their FB page.
Timeless Tales of Fairview Cemetery (C?)
860-826-3360, New Britain, CT
2018: Get Fall Brochure from website. Thu/Fri. Outdoor night tours where real historical figures tell their tales. Not so spooky.
Spooky Nights Haunted Haywagon Ride (C?)
860-774-5464, Brooklyn, CT
2018: One weekend only. Hay wagon rides, spooky houses, bonfire.
Cemetery Lantern Tour (C?)
860-643-5652, East Hartford, CT
2018: Historical society tour of a cemetery where live actors talk about history. Just two days.
New London Halloween Town (C?)
New London, CT
2018: One night only. Friday. Seems like a chamber of commerce thing where kids walk the waterfront meeting sponsors. Dance party. Pumpkins.
Northwest Creatures of the Night Walk (C?)
860-285-1886, Windsor, CT
2018: Not-so-scary kids' guided night walk through a wildlife preserve, meeting animal characters who teach you about nature. Just one night. Register in advance.
Nightmare on Main Street (C?)
Willimantic, CT
Theatrical, ghost story tours of a historic mill.
Haunted Miniature Golf (C?)
860-677-0118, Farmington, CT
2018: Called. Skipped 2018, but hey might do it next year.
Fields of Fire's Swamp Thing (C?)
860-449-4628, Mystic, CT
2018: not on their calendar. Left a mesg.
Maine
Fright at The Fort (A?)
207-469-6553, Prospect, ME
2019: 5:30-8:45pm. Tours run 15-20 minutes.
Mountain of Terror at Los Valley Ski Area (A?)
Auburn, ME
Ski resort haunt. Indoor and outdoor walk, Zombie Paintball Shooting Gallery, full bar, and restaurant. But can you go up the ski lift?
Ghost Trolley at Seashore Trolley Museum (A?)
207-967-2712, Kennebunkport, ME
Back for 2019
"Wicked, The River Valley Haunted Walk (B?)
Mexico, ME
Claim to have Maine's only blacklight maze.
Longfellow's Haunted House (B?)
Portland, ME
Bangor Zombie Walk (B?)
Bangor, ME
Haunted Grandview Manor (B?)
Lebanon, ME
Website says closed 2018. But they just bought land and are bound to return.
Destination Haunt (B?)
207-351-5443, Lebanon, ME
Cemetery, trail, and two buildings. 2013: Time varies. Check their calendar.
The Haunting at Parsonfield Seminary (B?)
603-539-5233, Parsonsfield, ME
2013: 6:30-9:30pm.
Ghost Train at Boothbay Railway Village (B?)
207 633-4727, Boothbay, ME
Haunted steam train rides in the evening. 2019: Say they're still doing something this year, not sure what.
Halloween Haunted Trail of Livermore (C?)
Livermore, ME
Seems to be a private home.
Wallingfords Nightmare on the Ridge (C?)
Auburn, ME
Seems to be an outdoor haunted walk on a farm.
J and Ps Farm Market Haunted House (C?)
Trenton, ME
Free Haunted House. Seems gone for 2018
Never Rest Graveyard (C?)
Lewiston, ME
Private home haunt.
Haunted Grandview Manor (C?)
Sanford, ME
2013: 7-9pm. Kids non-scary night Oct 17 & 24.
Haunted Woods Walk (C?)
207 764-6561, Presque Isle, ME
2019: Two nights only.
United Volunteers of Maine Haunted House (C?)
781-749-7800, Augusta, ME
Haunted house. 2019: confirmed active.
Halloween Hayride (C?)
207-557-3377, South China, ME
SKIPPED 2013. THEY?RE selling all theur halloween stuff. Site is down. 2012: Fri-Sat, dusk to 10pm.
Night Terrors Haunted Woods Walk (C?)
207-451-9279, Kittery, ME
Haunted trail with featured themes ever weekend. 2013: 6:30-10pm.
Trick or Treat Harvest Festival at Maine Wildlife Park (C?)
207-287-8000, Gray, ME
2013: 6-9pm. Hay rides, displays at this nature reserve.
The Junkins Haunted Estate (C?)
Kittery, ME
2013: 6:30-9pm. Private home, not an ""attraction"", but they claim it's the largest on the east coast. Adult must be present for kids to attend. Free.
Skowhegan Parks & Recreation Department Haunted House (C?)
207-474-6901, Skowhegan, ME
Just one day a year.
Haunted Hayrides at the Skowhegan State Fair (C?)
Skowhegan, ME
Kenduskeag Haunted House (C?)
207-991-3236 or 207-884-7140 or 207-991-3533 or 207-852-6271, Kenduskeag, ME
Just two nights
Haunted History Hayrides at Washburn-Norlands Living History Center (C?)
207-897-4366, Livermore, ME
SKIPPED 2013 2012: One day only.
Ghosts of Freeports Past (C?)
207-627-4471, Freeport, ME
Walking tours with ghost stories! 2013: 6-8pm.
Sandy River Farms Haunted Maize (C?)
Farmington, ME
Skipped 2019
Vermont
Nightmare Vermont (A?)
Essex Junction, VT
An immersive theater event and a scare maze.
Deadnberry Manor at Wilson Castle (A?)
Proctor, VT
Vengeance in the Valley at Gaines Farm (A?)
802-257-0409, Guilford, VT
Haunted hay rides and maze. Bonfire.
Dead North at The Great Vermont Corn Maze (A?)
802-748-1399, Danville, VT
Wagon ride, corn maze, and 3 haunted buildings. A mile-long walk through a haunted corn field.
Pittsford Haunted House (C?)
Pittsford, VT
Run by the Fire Department.
Emmons Island Haunted Trail (C?)
Grand Isle, VT
One night only. Woods walk. Food charity.
Spookyville Vermont (C?)
Essex Junction, VT
Kid-friendly, daytime Halloween walk through the Champlain Valley Expo, using storytelling, dance and theater, and special effects.
New York
Headless Horseman Hayrides and Haunted Houses (5 stars PLUS)
Ulster Park, NY
Haunted house. Outside New England but a ""Top Ten in USA"" haunted house according to the industry magazine. 9 attractions.
Field of Horrors (4.5 stars)
Troy, NY
Two Haunted Houses, a Haunted Corn Maze, Wooden Stockade Fence Maze, The Underworld Tunnel, a Trail through the Haunted Forest. Also included is the Psychic Sideshow and a Haunted Trolley Ride.