13th World is a Spooky Halloween Woods Walk (4 stars)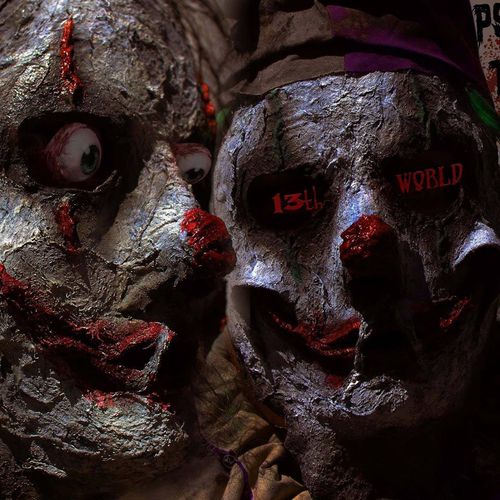 Based in the northeast corner of Rhode Island, only an hour's drive from Boston, 13th World is an outdoor walk through the woods of a public park. There's nothing better than being outdoors at night doing something creative.
They space out the groups that they allow to walk the forest trail, which is important to retain the element of surprise as to what's coming up in the darkness. Actors dressed as Halloween monsters jump out to surprise you, sometimes just growling to startle you, but sometimes with a 60-second theatrical vignette. Wonderfully, many of the actors are small children. The kid from the movie IT with a yellow rain jacket offered me a balloon! Spooky ambient mood music plays.
There are no stumbling hazards in the dark path. This is vital for a haunted woods walk, so that you can look around instead of watching your step. One exception: just after the clothesline, entering the tunnel is an unexpected step up that needs lighting.
Set design varied. Portions of the walk are not decorated, which is fine, because woods are naturally spooky. Some sections were uninteresting, such as clothes on a clothesline (sets a scene but not spooky), and a series of hanging rods (spooky but doesn't set a scene). Brick vinyl siding is a step up from basic plywood. Other areas showed creativity and resourcefulness in applying a low budget to good effect, including a corn field, a spooky gate to pass through, and an area where dolls hang from trees. In one spot, a monster zips down a zipline straight at you! Tarp walls don't make the most theatrically immersive (realistic) tunnels, but when they are lit with ultraviolet lights and filled with fog effects so dense that you must feel your way forward, it's great spooky fun.
You'll meet a pig man butcher, a spooky lean-to campsite, a military campground, caskets, the clown from IT, a sacrificial altar with a decaying body, and a ton of chainsaw monsters and blood effects. You'll enter a haunting mausoleum whose front is all skeletons, a barn filled with fog, a bridge made of wooden planks, an insane asylum, and a room of fog where laser light creates a glowing "lake" for hidden monsters to hide underneath — a sensational effect.
Although the 13th World's strength is set design and special effects, keeping it from a full 5 stars (and the website's claim that they are #1 in New England), costumes varied. Some costumes showed a theatrical design, but many actors simply wore street clothing and a mask. Some of the actors didn't seem to know what to do as we passed them, perhaps needing some training.
Better signage is needed, as I got a little lost both on the way in and way out of the park. 13th World is run by a non-profit, Haunted Hill, although if it has a charity purpose besides giving kids something to do in October, staff didn't know. They hold special events, such as not-so-scary daytime walk for kids on Sunday, October 21, and every Sunday is "date night", which is not described.
Though lack of animatronics at The 13th World indicates a low budget, they use creativity to do a lot with a little. Their 18-minute-long trail is long for a woods walk, but you wouldn't spend an entire evening there as with other venues, and costuming and actor training could be improved. So I'll give The 13th World a solid 4 stars, but it's more like a mix of some amazing 5 star portions and some 3 star portions that I'm sure will improve in future years. It's a lot of fun.
See 13thworld.com.