13 Nights at Jiminy Peak Has New England's Only Halloween Ski Lift Ride (4.5 stars)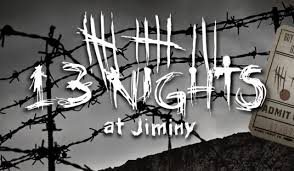 The best Halloween attractions give you more to do than just the haunted walk. Some take place in theme parks, or on a family farm, in a historic home or battleship, or at a historical re-enactment village. Just one in New England takes place at a ski resort with a nighttime ski lift ride to the top! That is 13 Nights at Jiminy Peak.
It is unique. You go through a haunted indoor location, ride the ski lift, walk a woods trail at the summit, ride down again, go through another indoor haunt, and then can ride their two open theme park rides, a zip line and a giant swing. You can even eat or get drinks at their pub, Christiansen's Tavern.
Begin at the Crane Lodge. While you're waiting in line, they play movies on overhead televisions (captions are needed), and monsters will come out to spook and entertain you, including a clown on unicycle and a headless dark bride.
Then you walk 3-minutes of corridors through a haunted family wedding. The set design is basic, with a lot of filler such as unpainted plywood walls, sheets with blood hanging on walls, cubical walls, and office material. However, the pews of the wedding scene and mannequins are creative, and I enjoyed the simple animatronics, coffin, library, basket of flowers, and projected video, which showed creativity. They do a lot with a little.
Then you walk up a path and to the ski lift, which carries up to six people at a time. It's decorated with skeletons and pumpkins, and they try to space out groups to every 5 chairs, so you don't get bunched up at the summit. You'll definitely want to bundle up in a coat, hat, and gloves, because the mountain summit is even colder than the surrounding region. The ride up is 8 minutes, and it's arguably the most glorious experience you can have at a haunted attraction in New England. The ski lift is open to the air, not an enclosed gondola, and the air smells so clean. You can smell the trees and wet leaves. You hear a stream rushing in the distance. If it's not cloudy, you'll see stars overhead. Going up, you can only see a little dot of light the summit. The rest are the silhouettes of trees around you, so dark that you can't see any color, just blackness against the sky. There's no music or any sound. It's just you communing with the nighttime sky, going up, up, up.
Then you'll spend 10 minutes at the summit. Staff will loan you a flashlight, and they'll say you don't need to use it, but you definitely should. While it's possible to navigate the forest trail by starlight, it has stumbling hazards such as tree roots, or slick rocks, especially if it's rained recently. Additionally, the trail is not lit well, so you won't be able to see the spooky dioramas without a flashlight — and the actors won't see you! I did pass a few actors who didn't see me coming and so I got to spook them.
You'll see tombstones with ghost sheep bleating, a simulated corn field, a guy with a sack over his head holding a baby sheep, and many other dioramas. The set design is basic, mainly filler such as wooden planks, white sheets, and simple netting, that don't allow suspension of disbelief. Actors mainly wear masks instead of makeup, and street clothing or bloodied "costumes" such as torn jeans, and some didn't scream or move. That being said, it's a tremendous experience to walk a mountain summit trail at night. I was glad that the big irrigation tube that you have to crouch to pass through came with carpeting. You'll meet an actor making sparks, one with a (fake) chainsaw, and the big finish is a 10-foot whoosh of flame! Then you return your flashlight and are sent back down the ski lift.
The 8-minute ride down is even better than the ride up, because the view is stunning. You'll see the lights of the base camp, the lights of the town beyond it, and behind them, far-off mountains. The silence makes you feel one with the night.
Then, you're set through yet another 3-minute haunted attraction, whose walls are mainly unpainted plywood and wooden forklift pallets, with filler netting and hanging cloth strips. You'll see a giant bear, sheep, haunted gloves, a butcher shop with shrink wrapped "meats", and spooky ambient sounds.
Finally, make your way to the Soaring Eagle Zip Line and Giant Swing, two theme park attractions. Better signage is needed so that visitors can find their way to them. The mountain coaster and other attractions are closed.
Manager Jason Griffin kindly agreed to an interview.
Events INSIDER: What's different about 13 Nights at Jiminy Peak?
Jason Griffin: One thing that we have unique is the chairlift, so we have a dark ride to the summit, we have this hidden gem at our resort, so we structure everything around it. We've got a couple haunted houses here at the bottom, but the big attraction is the dark ride to the top and the walk. It's about a quarter mile walk in the woods, so that's where most of the fun is.
Events INSIDER: Your parent company own also owns Cranmore Mountain?
Jason Griffin: That's where we got the idea. Cranmore has been doing a haunt called The Ghoullog. They've been doing that for quite some time, about 5 years longer than we were. A few of us were sent up there to take a look at it. They're 5 hours away, so we don't compete with each other, but we feed off each other for ideas. They do a really good job. They don't do their summit chairlift for their haunt anymore, but they've got a larger commercial space at the bottom that we don't have.
Events INSIDER: What are you especially proud of?
Jason Griffin: This year, the top is always fun. When you're trying to set up, weather plays in on you, and it always does. We spend a lot of detail on the haunted houses, but it doesn't take long to get through them. The bigger part of it is that walk and that unknown at the summit. There's a lot stuff that we haven't done before there.
With its limited production budget for set design, and only basic costuming, acting, and storyline, without many special effects, Jiminy Peak is not a full 5 stars, despite the must-do, unique-in-New-England ski lift, and the amazing nighttime theme park attractions and restaurant. However, it's much improved from my review 5 years ago, when I gave it 4 stars just barely. I'll give 13 Nights at Jiminy Peak an impressive 4.5 stars and don't doubt that 5 stars is in its future. It's worth the 2.5-hour drive from Boston, especially if combined with other Berkshires attractions.
See 13nightsatjiminy.com.